I'm offering: an ear, a market place, a platform, an audience, empathy, a chance to be an artist, to change the world, a safe place, a door into the arts' world, a beautiful environment, to go down in history as part of this artwork. To be wonderful. Shine. Be the hero of your own life. To be on the silver screen. For someone to hear you and laugh or cry. I'm offering you a witness.

I'll stop the carriage for a minute so you can lean forward without danger and grab the reins. Then we can go for a spin through your life. A scenic route. There will be mountains, and ditches, and sunsets, and sunrises. Your life a movie. Not silent anymore. But technicolour. A wagon train. An adventure into the past. You'll realise you're not a cunt. And everything has a reason. Not in a biblical sense but causes. A cause b, which cause c. Now you have the reins you you can turn around and head in a different direction. Maybe you don't like deserts and cactus. Maybe you were a city girl all along. And that palm tree up ahead is a mirage.

The only cost, your honesty. We'll start slow, like a wheel trundles out of a rut. It might feel a bit bumpy. It will gather speed. You have control of the wheel. Or maybe you just want to be a passenger. Your fee in that case is sit in the back, quietly, under the canopy, and enjoy the view. Sometimes, scared by a rattlesnake, we'll stop, career. We are pioneers. Prospectors. Looking for gold, A new way of life. Sick of being poor both financially and spiritually. Sick of being controlled. We want open skies. And moons that cry. And space to live our life.

Once we lived in a saloon. Now we couldn't jump from the balcony without breaking our back. It's good to reminisce. As long as you tell the truth. What's the point in a lie, at our time of life. But you might not realise it till you start talking. Come, be part of the gang, again, as we cross open land, again. There is safety in numbers. We will build a new homestead at the other end.

Priceless. Did your working class mum or your immigrant dad have this offer? Did anyone care? They weren't even a footnote. They weren't even a shadow. Who cares who cleans McDonalds? Who cared who worked in Pauldens? When you drive through a a cemetry our name is engraved deep as the next, no matter the size of the stone.

This is a one off offer. Tell the rest of that story. Not just a good husband, wife, daughter, but a thief, a stillborn carrier, someone who loved Daisy when Daisy loved Harry. And what it did to you when you travelled with them on the 53. Or heard your favourite track in your club when you were 17. When you felt the world in a different way. And friends, a community, you thought you'd never leave, now melted away.

A journey through your life is priceless.

If you can't spill the beans come sit in the back of someone else's wagon.

View our artefacts, excavation photos, films, memoirs, chat.

Help us imagine our future exhibition.
Join our wagon train. In the heading bar there's a contact sheet if you want to register to film your clubbing experience memoir. Join our Excavating The Reno FB Group if you want to be party to behind the scene. Watch the original memoirs. Tagged. Comment. We can't resist responding. Watch the excavation. Tagged. Marvel. Read my blogs. Funny. Sad. Furious. Political. 'Rape And The Royal Academy Of Art' is a white knuckle ride. Answer. There's a community here waiting to welcome you, too. Having trouble try a different browser. Chrome works fab. #excavatingthereno #therenolive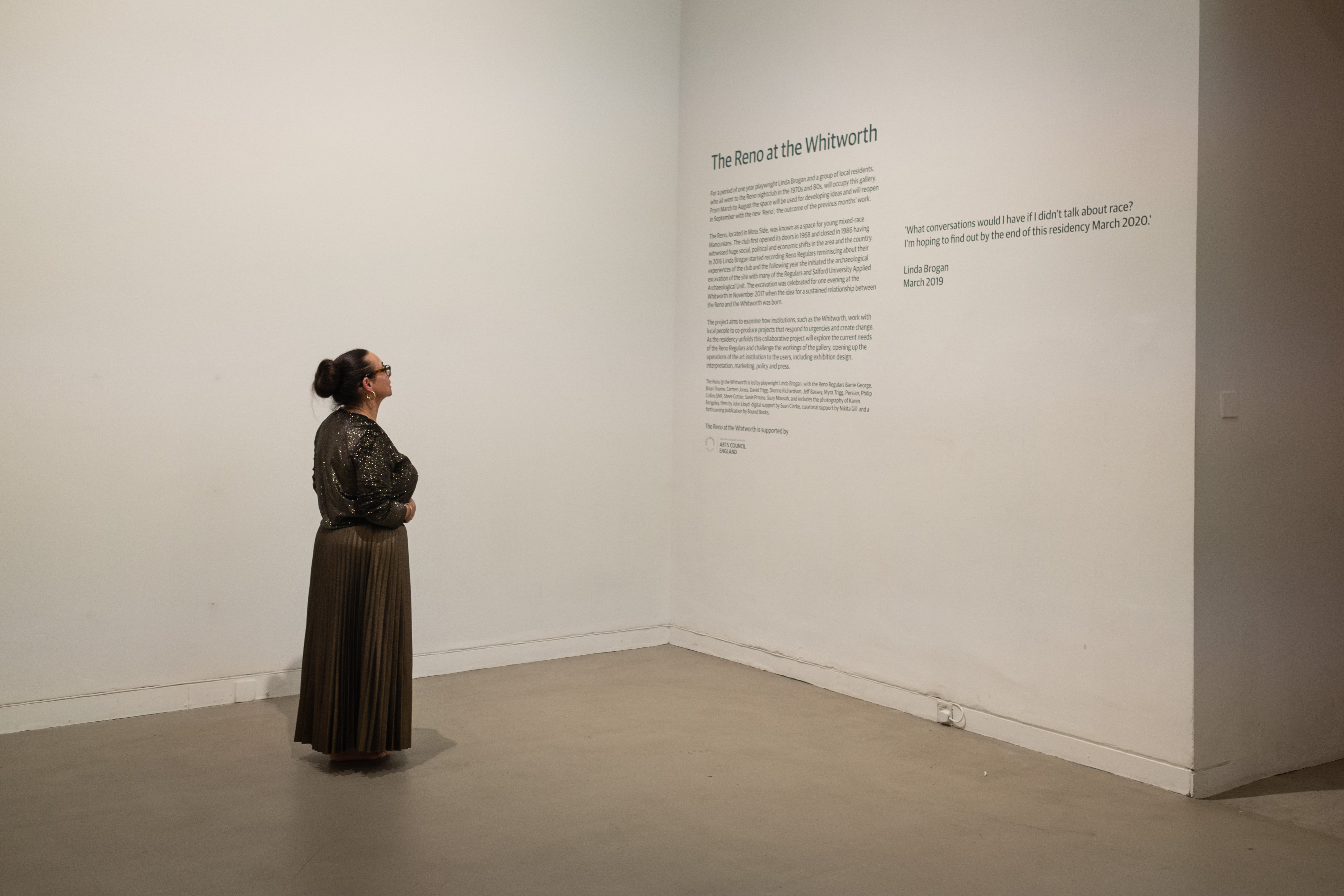 My mission during this year long residency is to find out:

'What conversation would I have if I didn't talk about race?'