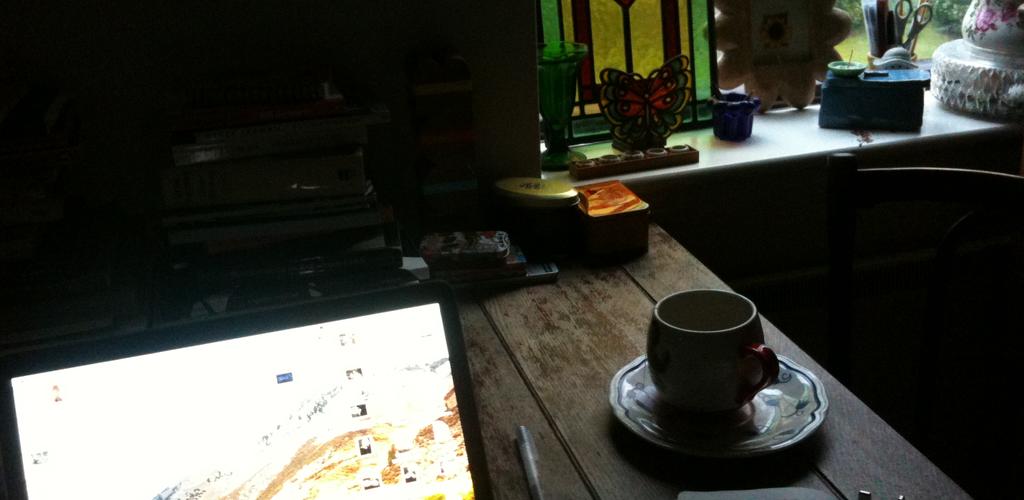 Everyone Was Sick Of Listening To Me
29 March, 2020
Comments ()
Chapter 13. Lockdown fever reclaims my office from Reno artefacts and unearths my broken heart.
I am writing this in my new/old office. It's the spare bedroom. The little one. It used to be my office. Till 2016, when the Reno took over my life. I'm not complaining. It took me 5 hours straight to get to grips with it. Box and stack the artefacts properly. In order to reach this table. Never would have had the time without the Lockdown. I used to love doing my house. I moved a small cupboard out of my office into the living room too. I've put my rubber plant on it. It really lifts the room. When I do shit like this I love walking back into the room and loving how good it looks. Anyone who is that way inclined will know what I mean. This was my total life when I was a mum and a wife. Rachel would go to school and when she got back I would have painted the living room terracotta. Once she went out and when she got back David Jawando had rebuilt the wall between the 2 living rooms. It was no longer a knock through, but 2 living rooms again like it was meant to be. I painted the back room terracotta because you couldn't get away from the dark. What's the word I'm looking for? The back room was dingy. Terracotta made it warm. And this table I am sitting at became my office. I left them then, metaphorically. They still joke about it, Tom and Rachel. 'Remember when you couldn't go in the kitchen, in case you disturbed her.' 1996. When I had to go to work because Rachel was 16 and I couldn't change my book anymore. I did sign on twice. Fucking hell, no more of that for me!
I remember the first day of work, standing by the window selling cards in the post office in Brazennose Street. Watching the birds, literally, in the trees, feeling trapped.

'You do realise you are very rude.'

'I do.'

The customer fucked off. What did she want me to say? She's lucky I didn't tell her to fuck off. Funnily enough the same customer bought me diamond chip earrings one Xmas because I had spent an hour listening to her in our quiet time before the 4o'clock rush, when her husband died. It's quiet in my office now.
1n 1996 I seriously began the run at being a writer. I am not staying in work. I am not getting on a bus every day. I only worked 3 days a week. I am not walking shoulder to shoulder with the hoards getting off buses in the morning. I am not being normal. It took me 5 years sat at this table — to work the fucker out. How do you write? My breakthrough came when I remembered my dad used to put whiskey on his head every morning from the whiskey bottle cap. I can't write that. I can. I can't write that. No one will believe me. Fuck if they believe me. No one will believe me. Only I have to believe me. Because I know it is true. Everyone remembers that moment in my play What's in the Cat. My mum throws over the Xmas table but no one remembers that. That bit isn't true. There is something magical in the truth. There is something that comes out of me and goes into you. Like the memoirs.
The memoirs began in Wales in 2012. Their seed began in Wales in 2012. When my heart was broken. My heart was in bits. Only then did I understand the meaning in love songs. My cynical mind had told me they were stupid. Nobody feels like that. I did. I do. I'm thinking a lot about Louise lately. In these special circumstances. About our quiet times. Our fun. Sat between her legs at the bottom of our spiral staircase on our terrace drinking our morning brews. The garden we built there in the sky, literally. But there was no room in her flat for this table. It was there. We ate our muesli, and our porridge, and our glorious Saturday fry ups on it. We ate our homemade lunch on it. For tea we indulged in her sensational pizzas, meatballs, curries, bread, my favourite: dumplings, her famous lemon drizzle cakes, the tomatoes I grew and she pickled on it. D'you know the maddest thing, the night I won Outstanding Contribution to Manchester Culture Award, Louise won Best Performance. We stood on the same stage. Isn't that mad. We didn't talk. Isn't that mad too. Yet, the other day when Tom and Rachel visited for Mother's Day, the three of us hugged, and only half joking, I said, 'We are a gang. And Leslie [Tom's girlfriend] is the getaway driver if the shit really hits the fan.'

'No, I'm the getaway driver,' Rachel demands.
The memoirs began when my heart was broken because unless you feel it, writing is only writing. And mere writing is shit. In Wales, in 2012, trying to run from my pain, for hours and hours I would write what was happening, what I was feeling. Everything I had been taught since 1996 went out the fucking window. My heart was bleeding. I was losing blood quick. It was all over the page. All over the floor. All over the road. All over the food I couldn't eat. There was no one to tell. Everyone was sick of listening to me.
I had never lived on my own till 2012.
Unable to comment use Chrome.

#excavatingthereno #therenolive #love #lockdown