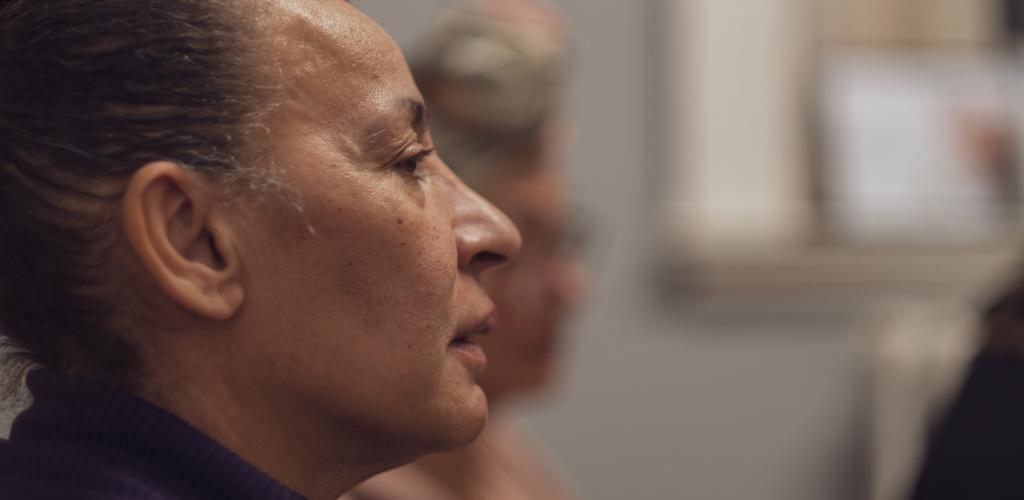 Good Cop Bad Cop
01 March, 2020
Comments ()
Chapter 9. We excavated the Reno. I have been running writing workshops on Tuesday and Wednesday afternoon that will produce 6 books that excavate individuals. One is mine. Benefitting from our collective digging, my personal excavation seems to have found its own rhythm. After preparing the ground in the first 7 chapters, serialised weekly here, last week's and this week's chapters unearth solid artefacts of my journey.
4 years ago, I began this journey, in 2015. You know the story I've just told you, about Ivern's death, and other bits from my life, I was gonna make them into monologues. That just means a self-contained short story like the last chapter. I was gonna get a famous white actress to read one chapter, perform one monologue. And a famous black actress would perform the next monologue. I was gonna stage it at the Royal Court. I had already sold the idea to Vicky Featherstone, the Royal Court AD.

'It's called Why I Want To Stab a Blonde White Woman In The Royal Court Bar.'

'I would have to see a play with that title,' say Vicky.

'It comes from one night when my play What's in the Cat was on here. Xmas 2005. There is a huge poster of my mum and dad beside the bar. I'm a toddler in it. My daughter Rachel is playing me on the Royal Court stage. It is a total coop. It is so unbelievably fucking poetic that I have pulled this off. 'It's her daughter playing her,' a woman says to her daughter as I pass them on the stairs. I'm sat at my table. With no dinner because it has taken years to write a play good enough for the Court and I only got £10,000 for writing it. And across the room in the Royal Court bar is a table of posh cunts. Their table is overflowing. It is full of dinner. Full of wine. And there are two blonde women. You know the kind with perfectly straight middle class bobs. And their husbands are pandering to them. You know the kind, Vicky.'

'I know the kind.'

'And I wanted to walk over and throw over their table. But d'you now what I know would have happened. One of them men would have decked me. At the fucking very least they would have held me down. I've got proof. When I worked at the post office 1999, this African woman is doing fraud and one of my colleagues behind the counter tells on her. The next thing the manager and the assistant manager, both males, run from behind the counter and get her in a headlock. Her kitten heels go west. Her fucking wig flies across the floor. The assistant manager slams her against the security door. The play is about what happens in each individual audience member. Because, I know for a fact, when the blonde posh actress performs her monologue from my life she will get far more sympathy, empathy, than when the black actress performs hers. Nobody in the audience has to tell me, you, or each other. They will just know. And, actually, if the blonde posh white woman had, for any reason whatsoever, thrown over my table, she would have been given psychiatric care that very same night, after being led away gently.'
Me and Vicky agree that I will ask the Art's Council for the money to write the play because £10,000 can't buy enough time to get to the bottom of things, and I don't want Vicky to be my boss: so she can't have any say in the process. So I get me a meeting at the Art's Council. And it is in this moment I begin to change. I get myself so overheated I begin to swear. AB looks at LP. Did she actually swear? I'm shitting myself. So I push it further. Every other word is fucking. But fucking releases my true excitement. Like the night Louise calls the cops during an argument. A stupid fucking argument. She is at the top of the stairs with a hockey stick. I am at the bottom. She is screaming at me to get out. Because it is a huge fucking mistake of mine to move in with her and not get a place of our own, one we share. But that's me understanding her home means everything to her because she was brought up in homes and I don't want her to leave this one. Then she comes down the stair. And as she passes she grabs me by the throat. It's not threatening. We've already had 2 fights over the 7 years we have been together. It is 2011. Both started by me. And I've learnt not to mess with her in that way: the bitch can make mince meat out of me. No, she grabs my throat to tell me she doesn't care. It's not a grab. She moves me out of her way by my throat to emphasis that I have no worth in this present situation.

I can't let her say that to me. 'One of us is gonna fucking die in here tonight.'

'I'm gonna call the fucking police.'

'Call the fucking police.'

She's actually scared because I've asked Rachel to go on holiday with me: it's been ages since me and Rachel have spent any real time together over the last 7 years. Rachel has asked if her dad, Tom, can come: it's been ages since Rachel has spent any real time with her parents, together, over the last 7 years. The 3 of us spent 21 years together. And even though Louise is saying she doesn't mind because this is the grown up lesbian thing to say, the supportive lesbian thing to say, she is actually freaking out inside. And I am freaking out inside because I don't want to go to a remote cottage with 2 people who are kind of mad at me because I didn't remain the attic for our family memories but instead have a fully fledged wonderful love life of my own. But to agree is like the good mother thing to say.

'All week I've been scared what if she likes them more than me. But now, I fucking hope you do.'

'You promised not to throw me out any more.'

"The police please.'

'AND WHILE YOU'RE AT IT TELL THEM YOU'VE JUST HAD YOUR HANDS ROUND MY THROAT.'

She puts the phone down.

'What's wrong?'

'The police are coming.'

'Why?'

'Because you screamed that.'

'Fuck.'

'We'll just tell them we're all right.'

'They have to separate us. They can't take the chance that you don't mean to kill me.'

'I'll go.'

'You're damn fucking right you will, I haven't done anything wrong.'
But then I leave. I'm just gonna let her deal with it. I walk round the block. But then I come back. 'When they've been and they're gone we're gonna talk about this properly.'

She always looks calm when I become the adult.

'All right?'

She's fucking shitting herself. I've been through this before. Louise hasn't.

I sit in my dining room chair by the table I brought with me. I have my long camel coloured smoking jacket on, the one that I use at the front door because we don't smoke in the flat now we're redesigning and decorating it to put both our stamp on it.
The older cops enters, 'we're gonna have to separate you.'

I carry on sitting in my chair, near my table, facing the door.

'I'm the one going.'

The young cop marshals Louise up the stairs to get some things for her over night stay. I've forgot one vital detail. This detail changes everything in the world for me. They knock on the door. Louise opens the door. I am sat on my chair. I am actually lounging on my chair. They walk in. In a flash, in an instant, the room becomes bad half-caste on the chair – innocent white woman with the door in her hand.
Bad half-caste on the chair is thinking about what she has been made to feel, as innocent white woman is going upstairs in front of stroppy young cop who is determined that bad half-caste on the chair should pay for her felony, and innocent white woman should be given all the understanding in the world.

'She'll be all right, once she calms down,' says old reasonable cop, because Louise is now playing to her audience in her new role.
'Just tell them to fuck off, 'I say, when I enter the bedroom behind them. 'You know and I know what is really going on here, Louise.'

But innocent white woman is loving being innocent white woman. 'It's not the first time.'

'I have to ask you to return downstairs.'

I'm gonna fucking throttle her.

'She's always …'

I have to go downstairs before I actually kill her. I'm laughing now.
I'm back on my chair. Lounging. Bad half-caste. Watching innocent white woman with cartoon length tears flying from her green eyes. Following her downstairs is young belligerent cop carrying innocent white woman's world cruise size suitcase.
'You see, there it is,' I say to Vicky Featherstone in 2015. 'It's endemic. Systematic. Hundreds of years old. Goes back to Little Eva. And I know without a shadow of a doubt Louise loved me. And it was even bigger than her.'
Can't comment use Chrome.

Thanks for listening.

#excavatingthereno #therenolive