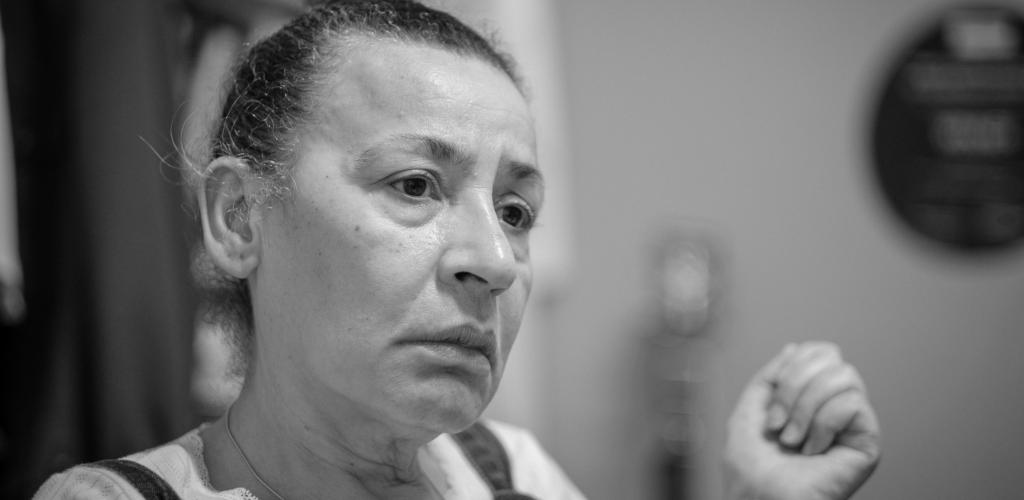 My Real First Night Down The Reno
23 February, 2020
Comments ()
Chapter 8. The real first night I went down the Reno. Pic Karen Rangeley.
I have a home now, and a brave feeling. No one can take this home from me. Unless, of course, I don't pay my rent. The first time I went down the Reno is not the day I have been saying. It only came to me last week. My living room/ bedroom was covered in paint. On the walls was wrote bitch, slut, bastard, in big dripping letters. Two weeks before my boyfriend had been stabbed on my doorstep. I had no support. My dad didn't say anything when I went home aged 17, 6 months pregnant, and my boyfriend stabbed, dead. But, it couldn't have been the same night. It couldn't be the night of the paint. Give me a minute. It had to be after the abortion. I can't imagine I could have picked someone up in the Reno when I was 6 months pregnant. And even if I would have done that I can't imagine that anyone would have come home with me when I was 6 months pregnant. It has to be between October 31st and Xmas 1976 when I went down with Mandy and Susie. I definitely lived back at home when I went down with Mandy and Susie. I went to Hulme with X. I don't remember anything about the Reno that night. I just remember I was on my own. I left the Reno with X. He came home with me. We walked up Princess Rd to Bonsall St in Hulme. The sex was stupid and horrible. No, I remember now. I was about 3 months pregnant. X wouldn't have known. Ivern was in prison. I had made up my mind not to be with him anymore. And to make that step I went down the Reno on my own. I picked up X. We came home to Bonsall St.
Ivern came out of prison. I opened the door in an orange floor length t-shirt nightie. 3 months had passed. I was now 6 months pregnant. The door knocked. I opened the door. My resolve was gone in minutes. He is coming along the hallway. We never seem to hold hands. I can't remember any conversations. The sex was fabulous. We did it more than once. The afternoon was turning into evening when I heard the first knock on the door. Pauline the other girlfriend was livid. She was banging the door down. She has spent the last 3 months taking him chicken and cigs and lager I think. Things were different then on remand. She has believed me when I said, 'You can have him.' I have believed me. I said it sat on the end of her bed in her living room/bedroom. That is where I got the idea of a living room/bedroom from. Hers was much posher. Her daughter, Ivern's daughter, was on the bed. It was during one of my I am a good person phases. I held the baby's hand and said, 'You can have him. I am sick of it.'

She was generous. 'Sit down.'
She was generous from the moment she opened the door. She stood out of its way and let me in. I walked over the threshold legally. I had been there plenty of times when she was at work and I didn't have a flat yet, when I was still at home. She attacked my mum in Moss Side Precinct with my earring, that my mum said I had left on purpose. Maybe I did, or didn't. The sex was wonderful.
She let me in.

'You can have him.' It seemed only fair. She has his daughter. I can get on with my life. Without all the killing each other in Spar. Without her friends hunting me down. Without waiting for him to pick me up from work. Without. Without. Without. This is my opportunity to get my life on track.
She is banging on the door. 'I know you're there. I KNOW YOU'RE FUCKING IN THERE.' She's screaming through the letterbox. He opens the door. She runs in the kitchen. She destroys it. This must have been when she got my cheap breadknife. He runs in the kitchen. He fights her back out the door. There are cornflakes everywhere. Coffee. Milk. He fights her out the door. Along the hallway. We don't know she has the knife. He locks the door. She's scratched all his face. I am in the empty bedroom. The only way out is to jump out the window. She comes back. With the baby. She's wheeling it up and down the landing. She's banging on the door. He had seemed different at the door this morning. I remember it for a long time. As if he knew he was going to die. She comes back. Why aren't we leaving when she isn't there? She comes back. She comes back again. She comes back again. It is intolerable. It is like the whole world is noise. Like the sea is smashing down our door. He opens the door. She tries to run in. She's fighting to get past him. He steps back. She runs off. He pulls his t-shirt to the side. It is a tiny hole. The width of my cheap breadknife. The knife is gone. She has taken the knife. I run to the phone box. We are sat at the top of the concrete stairs waiting for the ambulance. We don't cuddle. We wait. Side-by side. He is breathing. It is gonna be all right.
Unable to comment use Chrome

#excavatingthereno #therenolive #love