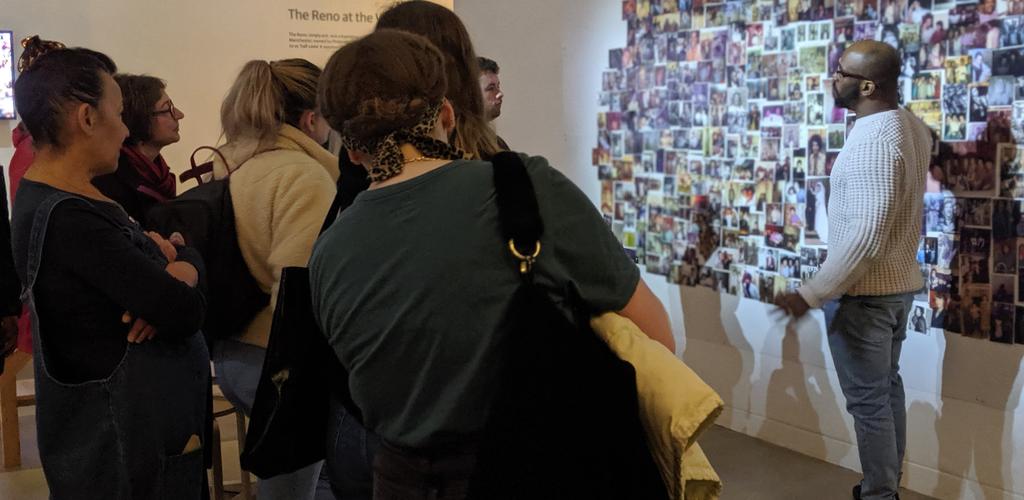 The Reno at Manchester International Festival
02 February, 2020
Comments ()
Chapter 5. A rollercoaster week. Piss myself right off on Monday. Off my knees by Friday. Answers given to me by the engagement with the project itself.
Monday, I fail. I can't believe this happens every time. Every time I am making a new relationship with an arts' organisation I think I have to do something that is worthy of what I percieve they do. My first thoughts are never original. I left Manchester International Festival meeting hating myself. And more so cos John had been there and watched me fluff my lines. I don't have lines actually. I do everything by ear, by instinct. And I'd talked myself into this big convoluted monstrosity, slaves on horses, the best cinematographers, the works, and when I came to say it in my meeting, I get all tongue tied, because I know Mark is gonna say, 'we've had huge music events with animation, and film, and random images before. How will the audience get your politics?'

My politics. I have a problem with that. If I weren't half black, if I wasn't working class, I wouldn't be expected to have politics.

I can't recover. 'If it's not right I promise to abandon it.'

He smiles, a weak disappointed smile, 'we'll still get/'

'You'll still get the Reno at MIF.'
When something like that happens I panic, I fucking flounder. Tuesday I'm in the Whitworth in our writing class with Carmen and Tia, floundering, panicking. I set them their task. They complete their task. They both now have a chapter of their story. Carmen's is truly poetic. We begin to unpack their stories. Nothing can shut them up, they are so excited to be heard and understood. 22 years apart and they have a really similar story. I also share their story. All 3 of our white mums have called us a nigger. We can't quite understand why. Though we do understand why. 'She was racist.' Carmen says. But it is far more complicated than that, both Tia and Carmen could pass for white. What sticks in my head is why would your mum say that when you don't look that way? It has to be something she thinks of herself and what she has done.
Wednesday, I'm still panicking because I don't understand my Manchester International Festival task. In the Whitworth in our writing class with Eugene and Posh Helen, Helen hands over her homework:10 pages of chronological notes starting with her birth. I print them off. Me, and Eugene sit opposite each other reading and making notes on them. Okay you've got to get the picture: Eugene is a 43 years old Moss Side black man, a gang boss, club promoter, who is now at university; Helen is a 65 years old white woman, posh, was a dress designer, then a PTSD barrister, now partially retired.

'I understand that.' Eugene feeds back on why he thinks Helen's dad left her mum stranded in the car. 'I'm like that.' He's using Helen's childhood to understand himself as a man. I'm spellbound, wishing I was wired. No one would believe this shit. It's only the 4th time they've met. But writing has taken them to the heart of Helen's story: to the heart of each other; to the heart of me. I identify with school, books, the library to escape 2 narcissists' all consuming love. I am so proud. I am so caught up in the moment. I want to hug them. But I leave them alone. Here is my politics. Here is what I know. Here is what I know is possible.

'I see what you mean. I've never thought of that.' Gwaan Helen. She is using Eugene's epiphany to have an epiphany of her own. She is talking to her dad through Eugene.

Like Tia and Carmen you can't shut them up.
On Thursday morning, Eugene takes his uni student colleagues through our exhibition. Pictured. He tells the story of his nana being a cook on the ships. How a passenger paid her passage here. How she opened shabeens. He tells it all without the fear he's been saying he feels in university because he doesn't come from the right side of the track. He calls Myra his step mum. He points out his dad, Sobers, in our teen photos. Sobers and Myra day-in-day-out excavated the Reno. He stops at the photo of Myra and her family christening the 'half-caste' baby she had before she was with Sobers. He tells us some of the stories Myra's Welsh dad Harry Trigg told him about the war. I hadn't thought of any of these family connections. He belongs. I watch him belong to us. He is proud. I watch him be proud. Their other teacher Jamaican/white Canadian middle class tries to steal the show with how it feels to be 'half-caste' but it's not about any of that. Your language is too academic. You are missing your heart. You are missing our heart. Our exhibition is teeming now. Pockets of people are talking all over the room. So loud we can't hear each other. I study the teen photos with Johnno, my brother-in-law. We tear up. We remember our family Xmases. Though silently. We're not speaking of them. And when Bill Smart leaves, he writes in Excavating the Reno FB group, 'our Community was our family and after the riots the system punished the community by separating us to the four corners of the region and beyond. But the Dig states Categorically. WE WERE THERE. Thank you All involved in the Exhibition. Emotional Me.'
Friday I take the day off. I write in my journal. The most important things are, our time, our friendships, our lives, who we were. What we have done. It opens conversations. It breaks down barriers. How this will fit together? No need to be clever. We have a methodology that can work. It doesn't have to be clever. Don't fix what isn't broke. People love talking. People love listening. No show. No more shame. We have all these other stories we haven't unearthed yet. We need to be heroes. We want to be the heroes of our own story. We lived the only way there was to be in our time. What films influenced us in our time? They put us outside society. And now we live outside society. People spat in our prams. Are you mad? Are you fucking insane? So there is, there is a little baby, innocent, looking out of a pram, and there you are. You look into the pram and you decide to spit. What the fuck is going on in your head? Think about it. At some point a big white face leans into a pram and spits. I've always imagined it this way after my mum told me. But suppose it was more glancing, less threatening. So the person is walking past and they casually spit in your pram because the white woman pushing the pram is disgusting. And then she can't really defend the baby or herself because she may well think she is disgusting. She has crossed a boundary. I know how this feels. I knew it when I first slept with Louise. 2004. I am 45. That feeling of how society would judge me now. How are you gonna tell your friends? How are you gonna tell your family? Your kid? There was a definite line in the sand. Louise was really proud when I walked up to her in Bridgewater Hall and kissed her. 'You didn't think nothing. You didn't hesitate.' I had made a decision. I loved her. I love her. My mum loved my dad. She loves him. My dad loved my mum. He would bring her jewellery. It seemed like every Friday when I was really little. In jewellery boxes like in a film. She would take it. Then throw it on the open fire. Not because they were arguing. She was playing hard to get. She was a movie star. She was Lauren Bacall. He was Humphrey Bogart. Till, years of systematic abuse relieved them of that privilege. Then they both became immigrants. There was a square iridescent blue, like a peacock, set, I particularly loved. They were in her special box in the bottom of our wardrobe for years. Earrings. Brooch. Necklace. I can remember the necklace lying against the flesh of her throat. That set gave me a lifelong fear of how to wear a brooch successfully.
Gradually over the week, I began to understand, our project is not about shows. It is about building an art infrastructure in our self, that influences each other, that influences the world around us, that will last into the future. The memoirs were talking therapy. The excavation was doing therapy. The Whitworth residency was viewing therapy. Our FB group is a way for us to stay authentic outside the remit of the arts. This is our brand. 1970. In the Reno we were art, artists, and audience. 2019/2020. The Whitworth was a prototype of the Reno as it would be at our current age. 2020/2021. In [place is secret for now] we'll remount our exhibit, add food, drink, evolve it with the art generated in writing, photography, painting, filmmaking lessons. We'll manufacture and sell our products we've germinated [secret for now]. Learn, clarify our brand, make our selves sustainable, so we have a real future and we aren't just box ticking. 2022. In MIF we'll repeat the process, collect deeper memoirs, missing memoirs, evolve new raw material, authentic engagement, and a relationship with MIF Factory. So it's not just a one off. And we can keep going back time and again as we evolve.
Our Podcast One Conversation Please this week reflects on the actual excavation. https://open.spotify.com/episode/2PUJemsaVQnbX43yhvRtM9

"New friendships...old friendships" "It was about the community" "A lost family coming back together again" Excavating the Reno October 9th to 28th 2017.
Having problems commenting below use Chrome.

#excavatingthereno #therenolive