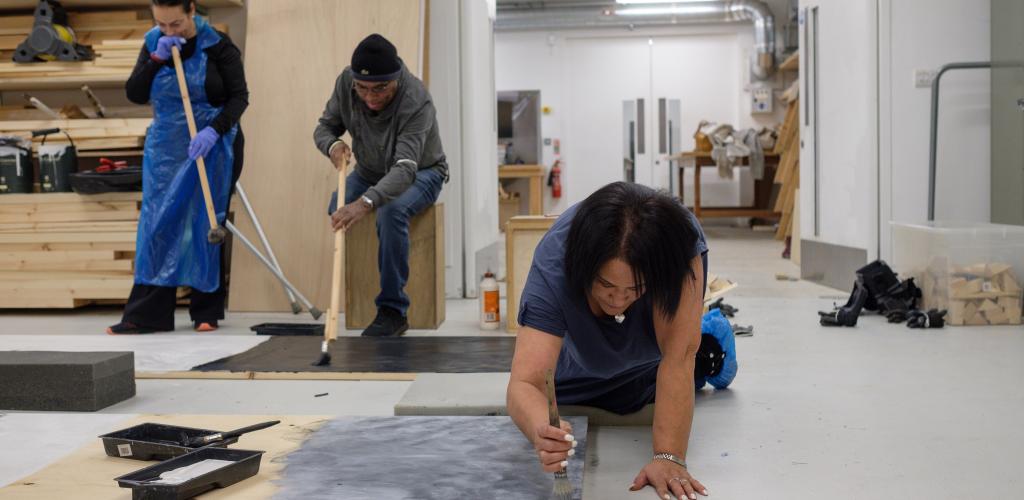 Painting, Glueing, Having a Ball
01 December, 2019
Comments ()
Of all the things we have ever done in this residency, this is my favourite. Our favourite. Making art with Paul Dodgson, Whitworth's head technician, an artist in his own right. D'you know how I know, we didn't demand our 7-30 tea-break, we didn't even notice 7-30 had come, past, and gone. I want you to experience making art too. That is my next venture. Pics are Karen Rangeley's.
Making art, man, I dunno, it just puts a smile on your face, in your heart, in your soul. It's something to do with the truth. It's something to do with being a child again. It's something to do with the trust you put into the other people making the art with you.
Before we started, Paul took us into the bowels of the Whitworth to see some art so we wouldn't be frightened to have a go. He particularly focused on abstract.
And when we didn't know what to do he held our hand. He wanted us to focus only on black and white to begin with to get a base line. To think about who we were, our baseline. He talked a lot in terms of music. Reno music was playing in the background.
We're working in pairs. Me and Sue went for using wood offcuts to build up Princess Rd. Beginning with the bookies, the Reno, the Nile, the entry, the Wycliffe, Dixons, Barrys, Meskis, the Veg shop, Reids butchers. Then Sue remembered the photographers where a pic of her as a toddler was taken. I won't show you the pic it will ruin our unveiling in 3 weeks' time. And then of course the pawnbrokers.
The most profound experience was had by Carmen. From nowhere she was taken back back. She said it felt like she was going under the Reno. She remembered her dad. And his suitcase that she has. And his scissors. And lots and lots of details from her life. Those moments are sudden and real and profound and sad and joyous. Without being pissed out of your mind the only way to access them is through art.
From this point on, now our exhibition is stable, and our photo-book is made, and we feel comfortable in the Whitworth, including me, like we belong, I want to expose those of us who want it to making art.
Beginning next Wednesday, weekly, 2 till 4-45, writing lessons in our space.

In Denton last Tuesday, with techniques I have been developing over 20 years, I got 12 participants to each write 2 chapters. 3 of them had never written anything before. You need to let me know below if you're interested. I know we have 8 for certain already booked. 12 is about the maximium.

But I'll be adding Monday afternoons as well after Xmas.
Writing is available weekly from next Wednesday 2 till 4-45.

Photography with Karen Rangeley will be available after Xmas: watch this space.

So will filmmaking with John Lloyd

And without a shadow of a doubt I will find a way to add painting. The physical feeling of glueing and painting has to be shared.
Can't comment use Chrome

#excavatingthereno #therenolive #art