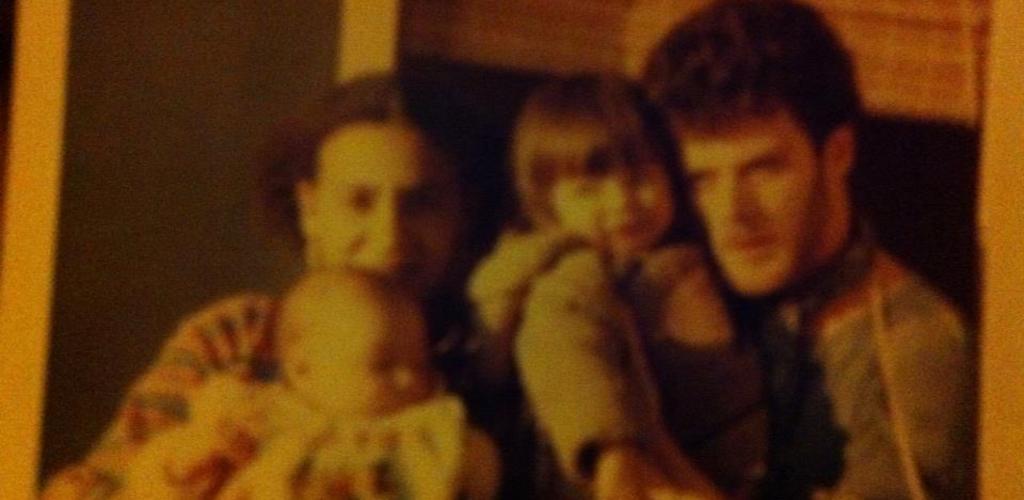 Reno Family Tree
17 November, 2019
Comments ()
Let's build a Reno family tree in the Whitworth by asking 3 questions.
1] How many of you are born to Reno parents: or have kids through Reno relationships? Stick their picture up. And name you kid. Or the other way round.
Mine pictured above. Rachel Lawrence. Born to me and Tommy Brogan 1979. We got married Xmas 1978. Met in the Reno Easter Monday 1977. I'm holding Rachel. Tom is holding Rachel's cousin Maria.
Here's 3 to give you a flavour of the pics we received in our FB Excavating the Reno group. You're welcome to join.
To which we got this fabulous suggestion from our resident genius.

Blue Mason Matthews: 'Wow Linda Brogan great question. Now you need to do the Reno family tree in your exhibition. Maybe have little tags that you can write on and tie onto the Reno family tree when you visit the whitworth to make sure your part of this wonderful project.

I love that it is a living organism that just keeps getting bigger and bigger.'

Then Blue went one step further: 'Just another thought Linda Brogan, why not have a Reno family fun day where all the families can come to the Whitworth see the exhibit together and make the tree as well as some other activities and you can record it for the exhibit and do some family interviews to add to those you have already....just a thought.'
To which I replied 'Blue Matthews-Mason fucking hell what a thought. Perfect. Let me get the 21st November party out of the way that you better be coming too and then you can help us organise it if you will. But I just had a thought too, Reno kids and grandkids coming to 21st party can bring them pics with them as well. You really are onto something fabulous. You're proper clever girl.'
Karen Rangeley replied 'What about a 'real' tree that people could tie tags on? Guessing it'd need a lot of branches!'
That started me thinking. What if we turned our teen photo montage around so it looked like a trunk? Instead of being veritcal it was horizontal And somehow our kids are on its branches. Don't know how yet. I imagine that the trunk is flat on the wall. But the branches stick out, so our kids dangle from them. But that means we need roots. Which led to the 2nd question.
2] Where did your mum and dad meet? Mine met in the Bowling Green on Grafton Street in Chorlton and Medlock where I was born. Again some wonderful photos and answers. Here's 3.
Then Blue Mason Matthews asked: 'Here's a question Linda Brogan.

3] How many of the Reno's children got together and went on to have Reno grandchildren and great grandchildren?'

No one has answered yet.
Look at all those stories there we have yet to capture. Kids of Reno regulars have to do memoirs. Parents of Reno regulars have to do memoirs. Grandkids of Reno Regulars have to do memoirs. All those generations. All those decades. All the changes in language. In politics. In expectations. We need to capture as much as we can before we leave the Whitworth April 12th 2020.
We need to put pressure on June Brencher Prouse to be the first. She knows most of our parents. She knows most about the life before we were born. Keep bothering her until she relents. It is her duty. Here's June answering Philip Collins Snr about where his parents Aruna Agbaku and Dot Collins met.

June Brencher Prouse 'More likely the Mayfair club.The Lagos lagoon not opened until after you were born Phil. Or there was John Tottohs club a haunt of most Nigerians. Also the first club in Manchester I went to. Live band and treated with respect always. It was called the Cotton Club. Also a bit more info,originally John was in partnership with Mr Taylor who went on to open the Palm Beech before he in turn sold it to Roland West ,who sold it then to Phil.The rest is history, and we had the Reno. x'
So see you this Thursday 21st 6 till 9 The Whitworth. We have a lot of work to do yet. So let's chill together. Have a drink, laugh, a dance, view our excavation book, pat ourselves on the back for our award, before we enter the next stage.
Feel free to post pics and answers to any of these questions here.

Unable to comment use Chrome.

#excavatingthereno #therenolive #familytree #decades