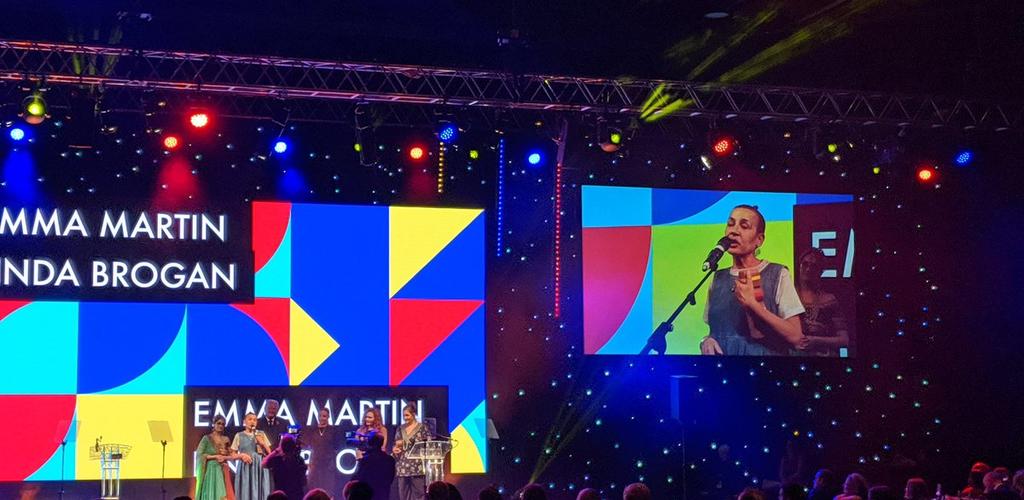 We Are Winners Of The MCR Cultural Awards
10 November, 2019
Comments ()
Outstanding contribution to Manchester's Culture. That's our award in my hand. Already told us in Excavating the Reno Group, FB. As I should. But wanted to document it on our website. Where you can document your comment if you want too. Write your comments here. So that we will be able to read them in the future, and they won't just be lost under FB avalanche.
In the name of us who did the Reno memoirs, nosey us who loved them and watched them, all who excavated, all who were re-united there, those who mashed up the marquee, all who sent Reno teen photo, all who trusted us with their loved one on our memorial wall, all who came to colonise the Whitworth for one night back in 2017, all who have commented on our website, here, in the comment books in The Reno at The Whitworth, which was impossible without the Reno 12. All who have visited our exhibition there and been blown away. To us for us who have changed the game for us who do not engage with the arts according to the Art's. Us who have raised £250,000 in funding to prove them wrong, that's 1/4 of a million, that we most definitely do engage when we give a damn when it is something we relate to. In the name of this project Excavating the Reno we have most definitely made an outstanding contribution to Manchester Culture.
Told yer we were gonna win.

How good are we? Ours was the last category of the night. 'Outstanding Contribution to Manchester Culture.' Which we have genuinely made. Excavating the Reno is global now. Our category was given a real big build up like a drum roll. Manchester's Lord Lieutenant introduced it.

We got the best cheer of the night when our win was declared. People were screaming. People shouted out well deserved. I went really nervous and brought my daughter Rachel on stage with me. Rachel said I looked about 4.

Kept speech short and sweet. "If you wanna know what we are about come on the 21st Whitworth 6 till 9. Buy our book. Cost £50 to produce. Then held up our award ' This is for Moss Side.' Got a huge cheer. Then fucked off. Hahahahaha. Then left. Can't get cooler than that.

The last word of the whole night, the entire Manchester Culture Awards ceremony was 'This is for Moss Side.'
Rachel can't forgive me for not giving her the heads up to touch up her lipstick.

'She only went and WON!!! Manchester Culture Awards 2019 'Outstanding Contribution' WINNER Linda Brogan!!! Words fail me, my MUMMY...

She held the award in the air and said 'This is for Moss Side', nuff said! You're right Laura, legend!!!'

That's Rachel centre stage in black. All our kids will feel like this about what we've achieved.
Smug or what. Now we really have something to celebrate. See you on the 21st. 6 till 9. The Whitworth. x

Special super super congratulations to the Reno 12: Barrie George, Brian Thorn, Carmen Jones, David Trigg, Dionne Richardson, Jeff Bassey, Reno DJ Persian, Philip Collins SNR, Steve Cottier, Susie Prouse, Suzy Mousah, Melba Finni, photographer Karen Rangeley, filmmaker John Lloyd, and Excavating the Reno [Facebook] Group.
Can't comment use Chrome.

#excavatingthereno #therenolive #Manchestercultureawards