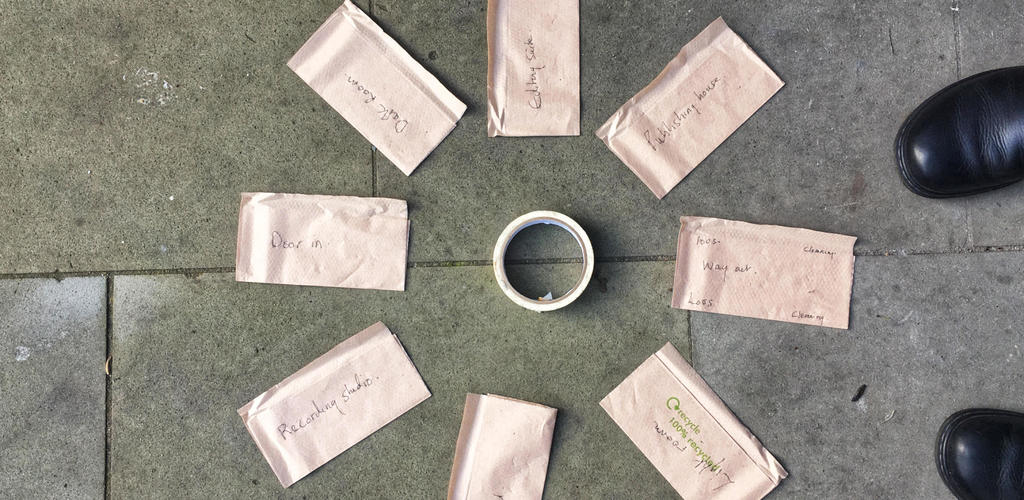 "You Build It They'll Come' Susie Prouse 19-09-19
20 September, 2019
Comments ()
That blasted Gail Allott who was our number one fan till she posted this about our marvellous Reno heritage/art's centre: 'Linda Brogan you know what, I think simplicity is the way. No grand gestures, no over the top architecture, no in your face extravagance. It's the Reno, pure, simple, a place to chill, relax, listen to music. Tasteful simplicity, job done.' As usual the bastard made me think.
So yeah the Reno bit, the bit on the edge is gonna be raw, simple and back to basics. We expose the Reno floor again. As much of the dance floor we can reach. Most of it is lost beneath the new pavement and road. Seal the floors under toughened glass so it is preserved and we can walk on it. We build back up its wall with the bricks that are scattered throughout the covered over site. And the gambling room. Reinstall the gambling fireplace. Have some fairy lights for Dionne Richardson. Have some pub tables. A bar. The little DJ stage. Make it as much like our old home as we can.
But there's all that land surrounding it. So today, me, and Karen went to measure it. We'd brought a laser tape measure but we couldn't make it work. So we walked it out. Her boot measured 10 inches. Mine 11 inches. We've arrived at a figure of 2500m square. A 200 seat arts centre costs approx £2500 a square meter. So now we know to make the rest of the site a totally beautifully functional, underground heritage/arts centre, before the cost of the totally useful garden on top, will be £6,250,000.
That's not including the staff. Our next budget.
Or the garden that will feed our excavation cabin cafe. Our next budget after that.
So this week's journey so far. Wednesday I wrote the first draft of the Heritage Horizon Fund expression of interest, that Kirsty Lloyd is checking. They want an idea of the money we're gonna ask for. Need to calculate the layout. Thursday, sold the layout to John, Riya, and Karen. Then sold it to the Reno 12. Where Susie coined our fab title phrase:'build it and they'll come.' Friday, today, me and Karen did the big measure in real feet. Me, Karen, John, Riya worked the basic plan into a working plan by asking questions. What a fucking great week.
The last drawing, pic by Riya Maria, Karen was too busy working out the scale. 1cm = 1m. She even worked out our amphitheatre size with a mathematical equation that includes Pi. The Reno is the corner closest to you.

Central will be an amphitheatre. Surrounded by a gallery. Surrounded by 8 rooms. Beginning on Barnhill Street where my pencil is pointing. Bear left. 1] 2 beautiful huge stones off the original Victorian roof, reburied in its ground, will mark the slooping accessible entrance, with admin office, and open office either side. 2] photographic studio. 3 ] wood, metal, glass, painting workspace. 4] rehearsal space. 5] exit with loos either side and cleaning cupboards, leading onto Princess Rd. 6] recording studio, attached to Reno. 7] all purpose. 8] editing suite. You are back at Barnhill Street entrance.

For Maxine Bellini, there will also be an entrance off Princess Rd into the Reno only. A recreation of the Reno doorway. Theatrical. No walls. Held up by trees. The ledge where Lati let us in, and Jinx and Jeff stood. The steep, steep stairs. If there is enough room, the turn into the Reno.

Riya is going to do a digital copy of our plans next week so you can really read it.
If you really want to keep up with our journey you should join our Excavating The Reno Group on Facebook. Or Twitter @excavatingreno Or instagram @excavatingthereno. Cos I post in them Monday to Friday logging our day's journey. By Friday I am too fucked to honestly make sense of it all. And you're missing huge chunks. All our interactions on Facebook for example. You should join in.
Join in here. Having trouble commenting use Chrome.

#excavatingthereno #therenolive #plans