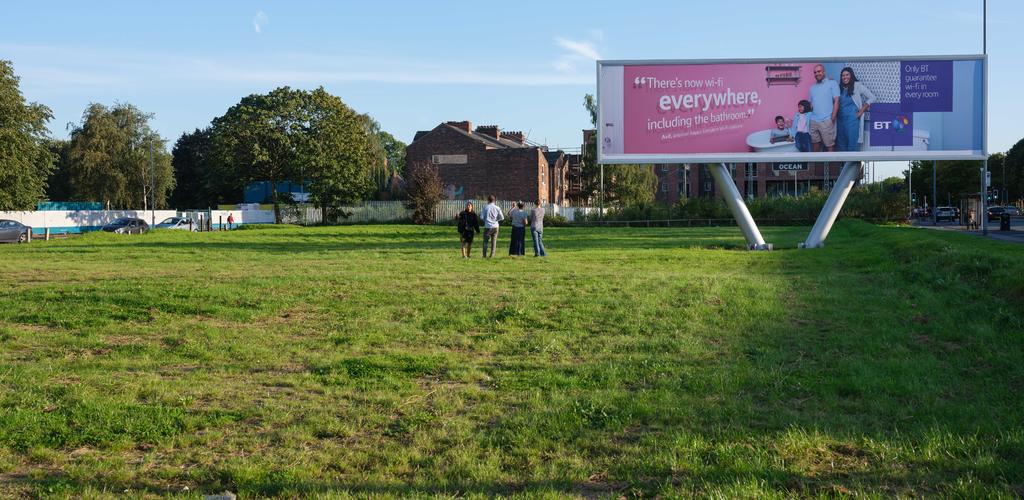 I Claim This land in The Name of The Reno
13 September, 2019
Comments ()
I want the Reno land on the corner of Princess Rd & Moss Lane East. It is a heritage site. Of significance to the Mixed Race community. Of significance to Moss Side. Of significance to all who graced its floors. We're stood where our amphitheatre will be. Pics Rude Gal.
I see the Reno footprint, its walls, its gambling room, including its undisturbed, original blue and red tiled floor reopening as a club.

Above ground I see the 3 excavation cabins returning as a cafe. Surrounded by a food garden. An orchard. That supplies our cafe. I see the whole plot enclosed in trees and bushes to keep out the sound of the road.

Above ground in the centre of the plot I see an amphitheatre of seats that act as a parliament like last night where we debated the riots and claiming this land in the Whitworth's Parliament of Ghosts. Our amphitheatre has a fire pit. Covered over when we use it as a theatre.

Rude Gal sees a dark room where we develop photographs. White John sees an editing suite where we make films. White John's wife Reno excavation archaeologist Kirsty, has already found the exact funding we should apply for. I see a recording studio. We can have a publishing house. Nobody tells stories like ours with passion like ours.

We have powerful powerful allies.

We want to create a space, so beautiful, so cool, so never been done before, the cool break down the door. And the little tatoo on your wrist, of Jacob D Green riding his stolen horse to escape slavery says you are a member.

Something profitable. We're worth a fortune. We just have to stop seeing things through the slave masters' eyes and see it through ours. The ones that used to burn when we came out of the Reno at 7am in the morning jazzed up, satisfied, laughs till we can't laugh no more.
This is possible.

Kirsty coined it 'A working class Eden
Tom, 83, interrupted our impromptu meeting to say we shouldn't have the opening bit of our timeline 'We fought in WW1' because it is justifying our existence. He's right.

He did a little dance when we took him over to the empty Reno land and excavation photos and told him our claiming the land plan. Middlesborough Tom pics by Rude Gal.
Tell us what you can see on our land?

Trouble commenting use chrome.
Me and Kirsty planning the Reno Live on our Reno land, pics by Rude Gal