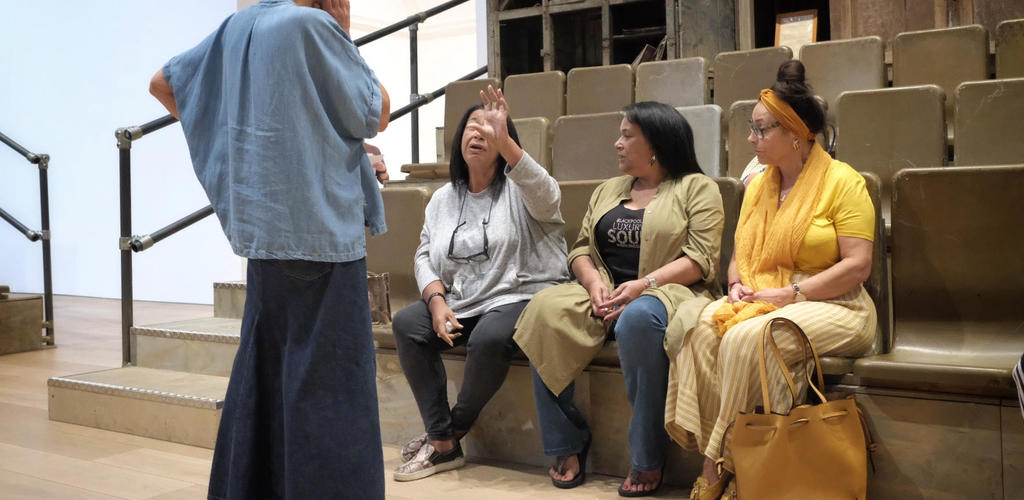 1981 Moss Side Riots: what did we learn?
06 September, 2019
Comments ()
We each hold answers. Woven together they become a blanket, like the old Moss Side, or any lost community, of people you can rely on. On the 12th of September 2019 in Whitworth Art Gallery exhibit Parliament of Ghosts we will set up that loom. You need to come and add your strand. Top pic taken by Rude Gal last night when we were sound checking.
Today I'm sat in the Whitworth looking at the park from the promenade upstairs. Where once upon a time, in November 2017, our artefacts were on display. Do you remember? And outside on the wall was a big, big screening of our excavation. Do you remember? Do you remember a time before we excavated the Reno? Before we did our memoirs? A time before you listened to them? Before we heard our own voice? Our own story? Before you came to the excavation site? Before you saw friends you hadn't seen for 40 years? Before we were all getting down in the marquee? Before the Reno floor was exposed? Lit up like Pompeii? Before we were resident here in the Whitworth for one whole year? Do you remember a time before you thought any of this was possible?
I remember when it wasn't even possible for me to think like that. When I was doing the dance to the tunes that were already playing on Society's Sound System. I am a victim. I am a devil. I am no good. I am from the hood. I am to be grateful. You should be grateful. We'll let you do a little arts project as long as you dance like us, and never dance like you.
Now we dance like us. We dance like we did in Old Moss Side.
Because we now know who we are, we are potentially worth a fortune. Nobody has ever done our dance before. Nobody has archaeologically dug up a nightclub in recent history. No project has brought together a community so successfully. No community is as passionately alive. We all have life skills now too. We have economically viable skills too. Even those deemed criminal. Someone who makes a fortune selling weed is still a great business man. It is time to pull it all together.
This week I have progressed at least 6 steps towards being able to let the cat out of the bag. I have initiated something we would have thought totally impossible back in 2015. Like, the idea of digging up the Reno. And one day we will also be saying do you remember a time before we . . .
But we all have to pull together!!!!
In The Moss Side Riots: what was that about? I asked PC Ian Mack, serving at the time, and Melba Finni, 13 at the time, to tell us their version of the riots.
Pc Ian Mack came to the screening. The after show discussion nearly caused a riot.
Watch both films.

Come to the Whitworth on Thursday 12th September.

6-30 till 7-30 we'll discuss the films.

7-30 till 8-00 have a break.

8-00 till 9-00 we'll come up with ideas that turn our unique dance into gold.
We each hold answers. Woven together they become a blanket, like the old Moss Side, or any lost community, of people you can rely on. Ours is a tapestry as valuable as any tapestry hanging on any castle wall.
Trouble commenting use chrome.

#excavatingthereno #therenolive #gold