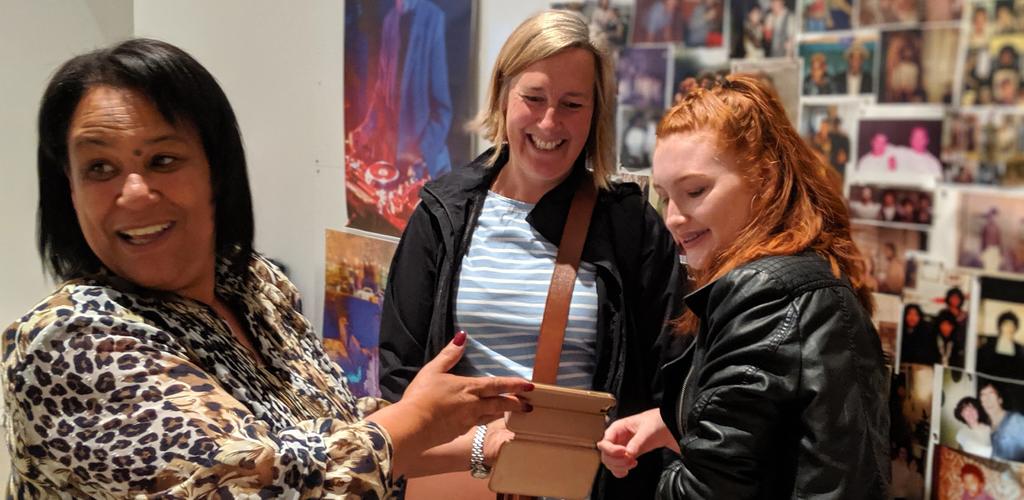 The Reno 12 Discussing our Moss Side Riots Enquiry
23 August, 2019
Comments ()
The 5 films I have shown this week are the hump of the rollercoaster. We have been chugging up hill, chugging up hill, chugging up hill, building up steam. From this moment on we will be in exhilarating freefall.
Filmed Thursday 15th, this video has got 4 movements.

1] Me, John Lloyd, and Suzy Mousah in the afternoon designing our business cards.

2] Greeting the Reno 12 at 6-30.

3] Discussing the riot enquiry that happened the 13th, Tuesday gone.

4] The run down of how the room will look by Sept the 12th our deadline.
This week's run of 5 films is about progress. Breaking down barriers. Investigating our past. Planning our future. Enjoying the now. You keeping in touch with all that goes on. Us learning to relax. Trying out a new camera.
Seeing as it is Friday I'll tell you my favourite moments this week.

1] This relatively posh woman walks in. Annette. She's with her daugher. Polly. Her husband used to go to the Reno. He went to a gym. 'The Phil Martin gym?" 'Yeah,' she says. As we're talking her daughter goes, 'there he is, there he is.' There he is In the Phil Martin. They are ecstatic. Suzy takes a photo of them with his photo. John takes the photo above of Suzy showing them.

2] 3 fab women, Annie, Billie [like Billie Holiday, her words], and forgot the other girls name, and can't read her writing, come all the way from London Thursday to see our exhibition. They love it.

3] Dionne Richardson, Sabina Quarcoopome, Suzy Mousah and I think Carmen Jones who may not have yet but says she doesn't care if she has to, have shagged Triggy's chauffeur Bruce with the Juice for his homebrew. The one they were necking 2 weeks back when they didn't come back into the session and Suzy Mousah had the cheek to ask me how it went when I came out at the end. This week Bruce produces 12 bottles from his cooler, when we are leaving, like a drug pusher. They hide them in their bags like it is the best heroin. I wish I had filmed this moment. Better than any other shit we have ever done.

4] Karen Rangeley loses her car keys. Karen goes outside to a note on her windshield. Someone has found them, and waited from 4 till 6 to hand them back. It's now 9. Karen rings the daughter, Abbie. She ring her dad Richard who is still in Fallowfield. He comes back to give them to Karen outside the Whitworth. Turns out he was there at 4 with his mum-in-law to see our exhibit. Then tells us when he was a kid the whole of Everton and Liverpool FC went down the Reno cos they couldn't find a drink between 3 and 5 when the pubs were shut. And him and his school mates were looking at them going down from the bus. Karen kindly gives Richard her Bruce the Juice homebrew to thank him. [pictured below]

5] Academic Paul travels all the way from Limerick In Ireland where my mum is from to see our exhibition.
Problems commenting use Chrome.

#excavatingthereno #therenolive #homebrew #Limerick