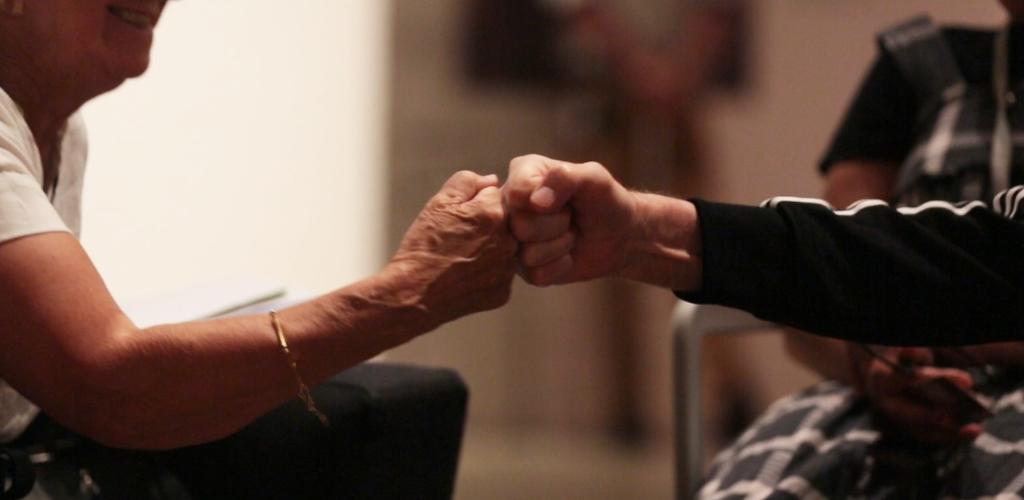 2 Friends of The Whitworth Visit The Reno 12 Aug 8th
21 August, 2019
Comments ()
2 Friends of the Whitworth come to visit. I've been to visit them the Tuesday before. A bunch of posh ladies, and a shy bloke. In this video we feel like their equals. We don't sell our selves. Shit. In fact we listen to their grievances. And incite them to riot. Laughing. It ends up being really funny. That's Triggy after asking Tricia: 'touch me'. Photo Junior Lloyd.
On Monday we put up our 2ndriots after show discussion. I didn't realise there was still so much hurt. No, let's get real with this shit. About a year ago we started our relationship with the Whitworth. It is around the time of our first meeting last August. We were scared. Well apprehensive. We were very diferent people. In our heart and soul we didn't think they really wanted us here. I can only talk for myself. I believed they were only ticking boxes. But I didn't care. We were on a roll. Where could it take us? How many barriers could we break down? How high could we climb? It began long before the Whitworth.
It began with the memoirs. There was a hole in me. A hole in Moss Side. A weird feeling. Never good enough. That's what they had given us. Who is they? The media. A bitter taste in our mouth, and their mouth when you said Moss Side. Well most of inner city Manchester. We had been Gun-chester. We had left the riots. We come from them. I don't know why them things happened. They were our stigma. I remember going for my first job interview in the 70s in a insurance company where the back of Marks and Spencers is now on Corporation Street. I was great. I has A* 0levels. The stumbling block was Moss Side. I didn't want to say it. They probably didn't want to hear it. I got the job. I've heard this from others in our long lengthy conversations, a lot of which you have been privy to. Moss Side. Moss Side. Moss Side.
When I began the memoirs in my heart and soul it was a dare. I dare us to talk with our voice. Our true Moss Side voice. Which includes innit, you know what I mean, fuck you, cunt. Our lot, inner city Manchester, loved hearing their voice reflected back at them. People who come to the Whitworth love hearing our voice. Love our real stories. So we dug it up as you know. Never been done before. Then are finalist in 8 awards. Some of them unbelievably prestigious. With prestigious competitors. The National Trust. Manchester International Festival. But we still don't quiet believe we have arrived, we are accepted, when we arrive here. As I said before I can only talk for myself. There was something inside of me that didn't go away till this video. It seems like nothing. The Friends of the Whitworth come to visit. I've been to visit them the Tuesday before. A bunch of posh ladies. And a bloke who is really shy. I encourage them to tell me their story first. How they help the Whitworth achieve what they need to achieve. You'll find out more about how vital they are in the video. Then I tell them my story. Our story. There is a subtle difference to the way I tell it compared to months ago, a year ago. 12 months ago we tell it with bravado. We tell it hard done by. We reflect back the story, the narrative, they have been telling us for years about us. We add the unsavoury details they are waiting to hear that will make them accept us. Instead I opened My Friends of The Whitworth story with: I am a multi award winning playwright. I have had residencies in The National Theatre, Contact Theatre, Peterborough Maximum Security Prison, Askham Grange Open Prison. 2016 we collected our Reno memoirs. 2017 we dug it up. 2018 we are finalist in 8 awards. We are currently in residence at the Whitworth. Do you hear that? This isn't just me. Next come the Reno 12. But then come you. Moss Side. We did this. We did this. Instead of thinking they don't want us here, like we did 12 months ago, in this video we feel like their equals. We don't sell our selves. Shit. In fact we listen to their grievances. We want them to riot too. Laughing. It ends up being really funny.
Monday night's video deals with the Moss Side riots. Our own riot enquiry. Which would look very different held in the West Indian Centre on Westwood St Moss Side. But screened in Central Library gives it clout. Under the umbrella of The Peterloo Massacre gives it weight. Attached to our Whitworth residency means people are listening to us. Early days.
Tuesday night's video says our story is important in its own right. With the present day technology this and how far we have reached would be impossible. How would I have got the Reno memoirs out? How would I keep us in touch with the excavation footage? The marquee would have been empty. How would you get residency updates? How would you feedback? We are doing the right thing at the right time. Madeline is the 5thacademic to interview me about what we have shown is possible with social media to engage a whole community, who they believe do not engage. That means at least 5 individual academics will go into their university career thinking differently about people like us. But so will those who read their dissertations. They will all teach differently. A new reality has been reflected back at them that wipes out all they believed so far. Watch yesterday's video. We don't hold back. We ain't scared of her. We are telling it like it is. Without our usual anger because our anger has been spent in the last 12 months we have been listening to each other in the flesh, and across social media: believing in the value of our own voice, our real expereince. To find out others who thought or we thought were above us are listening, watching us: is. You think what it is. And also in that video we map out a broad-stroke future and understand what we need and don't need to make our new narrative a reality for our descendants.
In tonight's video, it is obvious we see ourselves as equals. We don't speak to prove our worth, to sell them anything. Tomorrow night's is the 3rdriots after show discussion where all hell breaks loose. I'm being dramatic. There is a lot to exorcise, put it that way. Friday's film is us, the Reno 12, discussing the riots after show discussion. What is lovely about these 5 videos is watching our growth. Who we have become. My role is to watch, to listen, to entice these discussions, then distil them into art: like the decade timeline poem above our artefacts. Without these discussions, this new -found equality that is seeping into our bones would never have happened. It's hard to get an angle on something in real time. But you are living with us, through a revolution that has not shed a drop of blood.
Problems commenting use chrome.

#excavatingthereno †herenolive #equality