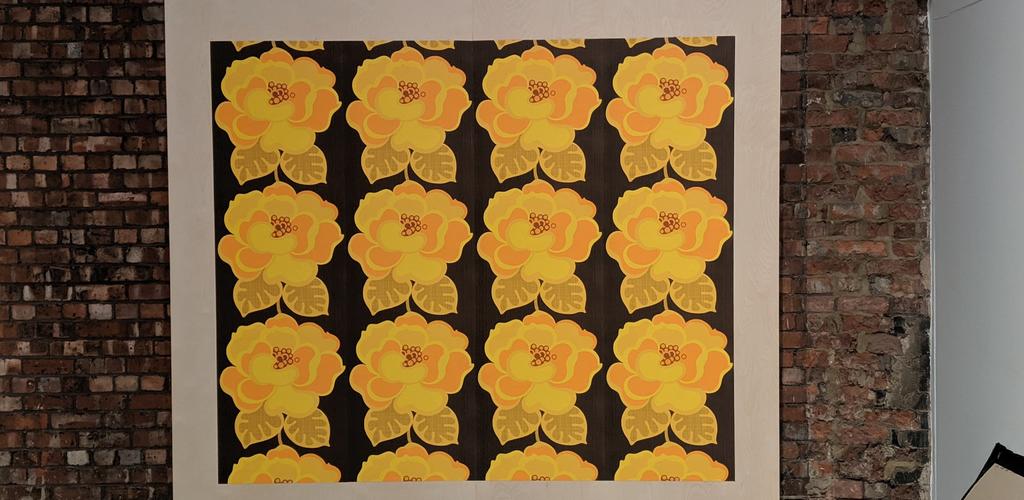 5 Wonderful Days
16 August, 2019
Comments ()
5 months into our residency. 5 fantastic films to show you next week, one each night, that chart the evolution of our resolve, understanding, power to affect change. Gonna tell you about 5 wonderful days this week that evolved our actual Whitworth space. That is our authentic 70s wallpaper supplied by the Whitworth. In front there will be a 70s sideboard and a telly showing some footage of old Moss Side through the 50s slum clearance, 60s and 70s prosperity, ending with the 80s riots that devoured our community. Found this on instagram: laurakayefeltham, 'featuring the best wallpaper. ever. So excited to see what comes next.'
Monday 12th August

Stayed home. Was totally honest in my interim Art's Council Report. I don't feel strangled any more by feelings of inferiority. There are 2 main evaluation questions.

A] Give us an outline of the activity delivered to date, and summary of progress against the activity plan.

In that I was able to summarise how the space will look in September. And the artistic journey we took to get there. Art is interesting in you have to follow your heart. At first I wanted to copy all manner of received artistic ideas because I wanted to be appear grown up. But, over the months, intuitively listening to our audience, the Reno 12, and reading the comment books I've come to realise that the human experience that is intrinsic in our work is more valuable than any artistic endeavour. Avoiding art is the way to go. Cleaning up and defining what we have already, giving it the right kind of lighting is the way to go. I was able to give the Art's Council a blow-by-blow account of what it will look like. And actually all though the journey was twisted to get there, we are in exactly the place we are meant to be at this point in time.

B] Tell us about any issues/challenges you have encountered, and any action you have taken:

I got to express my truth: all that has happened in our residency, good and bad: including the blog 'The battle for £11,000' http://thereno.live/linda-brogan/2019/05/24/the-battle-for-£11,000/, and its fallout, because the Art's Council asked this question. Writing it up, it felt like the Art's Council gets me the most in the world. They are not my artistic enemy but my friend. Through long difficult conversations with Whitworth director Alistair, and mediation with Sam, I don't have to be afraid of the Whitworth institution any more. The Whitworth have also began training with an independent company PILAA, that I will be part of, to help them as an instituion become more inclusive. We have affected that long-term change.

The institution doesn't matter at the end of the day. I do feel friends with them. I've made great friends with a lot of the individuals. The project matters more. And all that is possible from it. By expressing my thoughts to the independent organisation ACE that has funded this project since 2016, I got to revisit our project's true value. Its true mission. And level my budget. It is all good. It is a pleasure. It is fun. It is necessary. It is the best thing in the world to me at this moment. I am grateful to be in the Whitworth. I am grateful that the Whitworth finally have faith in my vision, our vision. We have complete autonomy in our space. We have colonised it. It is our colony. A fiefdom. A fertile plot of land we can call our own for a period of time.
Tuesday 13th August

Poverty & Power

Big big day: 2nd meeting to build a network of working class artists.

What do we need? Allies. Soldiers. Generals. People who can help us move forward. They must not always come from the arts.

How much does language play a part? We had a huge discussion about language. Posh language. Poor language. How we put down our poor language and pretend we talk with their posh language and how we get lost because it is not our true voice.

We questioned one of the participant's failed ideas. Coming up with 2 valid reasons why it failed. They had not believed in the value of their real working class immigrant experience. Also they had undervalued themselves and said they would do too much for £10,000, which overwhelmed them and made them unable to start.

Disentangling, then understanding these issues will dig healthy foundations for our Poverty & Power working class artist movement.

The Moss Side Riots: what was that about?

So much hurt. So much anger. So much trauma. Lost businesses. Decades of police brutality. Retired PC Ian Mack batted questions and accusations. Dashed hopes of a different more fair society. A community in ashes. I will screen the after show discussion next week.

I asked a question at the end. What do we want from this screening and discussion, cos we can't fix much in a day? Another screening and discussion. Truth and reconciliation.

The first of which will hopefully be in the Whitworth's "Parliament of Ghosts' exhibition [pictured] on the 12thof September. 6 till 9. Put it in your diary. If you have any story at all about the riots you need to get there.
Wednesday 14th August

Me and Suzy Mousah placed our friends on the purpose built memorial wall.
Thursday 15th August

This will seem simple and irrelevant, but it is actually huge and significant, we designed our first information card. It has our website, Twitter, Instagram, Facebook and email details on the back, asking for their email so we can stay in touch. And a barcode you can scan with your phone that takes you straight to here, our website. How cool is that? Our gorgeous website collage is on the front. That bit of card means we are taking our selves serious. We feel entitled.
Friday 16th August

Set the date for our Catwalk, 2017 Whitworth Colonisation 2nd birthday party to celebrate our completely evolved space. 21stNovember 2019. Put that in your diary too.
My most favourite thing of all that now happens on a regular basis is families come. Mum, dad, granddad, grandkids. Reno generations. Linda Jawando meets her first love Ince. She's with their duaghter Lorraine. He's with his daughter Lee-ann. There's a wonderful photo in the Whitworth doorway of the first loves and the half sisters smiling form ear-to-ear. Paul Kolade's daughter was just visiting the gallery unaware of the exhibition and seen her dad, who has passed, on the wall. Imagine that. You can't imagine that. Melvyn's mum, sister, and neice, scan the wall asking each other have you seen him yet. Then they see him. John our filmmaker's mum and Reno going dad come, and while they are there help him construct the new excavation photo wall. Fonzo's 4 years old daughter sees him on the screen, and climbs all over it kissing him. Fonzo goes to take a photo, and the guy watching Fonzs's memoir, suddenly sees Fonzo in the flesh. Magic is happening.

I'll tell you more about these encounters next week. I have to get ready to go to Tony Bello's life celebration where I will see loads of us, spend time with loads of us, with my community, with my poor voice, with my authentic voice. It's taken me 4 years to shake the shitty fake voice out of my head. The project has served nobody better than it has served me. For which I am eternally grateful.
First love. Half sisters.
Meeting Melvyn's mum and his neice.
Our filmmaker John and his mum and dad.
Fonzo and his daughter watching Fonzo on screen.
Paul Kolade's daughter on Instagram. Beautiful!

keye_kolade 'Incredible to stumble across old photographs of my dad and his mates at the @whitworthart. Massive credit to @excavatingthereno for creating this wonderful exhibition on the #Reno, which was a club in Moss Side, Manchester, where young black and mixed-raced people felt a sense of belonging in a society that rejected them. It was bitter-sweet to see this because many of the people that featured on the memory wall died way too prematurely, often leaving nothing behind. Society moved on and quite simply forgot about them. In this space, they're a precious part of local history, rather than a statistic on something horrible. In other words: they're remembered, even if it's only for once. I wish this was a permanent exhibition, because work like this really matters.'

Now isn't that wonderful. I'm proper moved. She totally gets it.
And we talk to the bigger mixed race family. Found this on Instagram too: moya_lm 'Just walked into this exhibition at the Whitworth and started sobbing. It's about the Reno, a club in Manchester that became a magnet for young mixed race people in the 70s I'm still crying typing this out but I want to share it because I've never experienced this before, never had such a visceral reaction to art in my life. I've never seen mixed race history done like that, never seen black and white individuals specifically be recognised by cultural institutions as existing in our own liminal lane, not just black or white but both, a grey mix of the two who don't fit fully into either world. This work by @excavatingthereno just smacked me in the face. Nightclubs were the first place I started feeling at home, like I fitted, that I saw my identity begin to calcify - Visions in Dalston gave me a sense of self that I'd never experienced before. Now this exhibition has shown me so many people that came before, that felt the same, that went through a similar process and I can't describe how powerful the sense of belonging and rooting within history feels. Maybe I'm overreacting, I don't know but often, while being mixed is incredible and special, you also can feel rootless, lost, especially if, like me, half of your parentage wasn't there, didn't pass their culture to you specifically, didn't give you anything to cling to and say 'this is my legacy, this is who I am, this is where I sit'. Thank you, thank you, thank you for this.'
Problems commenting use Chrome.

#excavatingthereno #therenolive #family