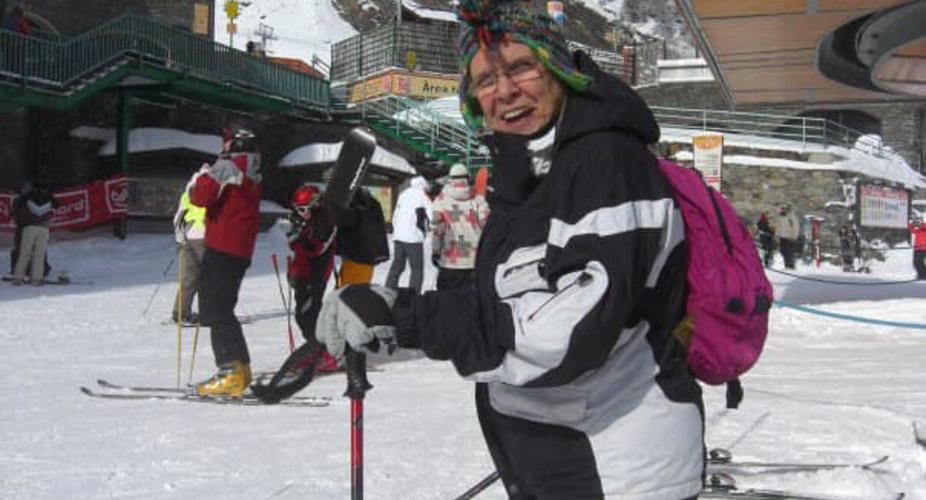 Dedicated to Julie Hand
09 August, 2019
Comments ()
A white MG pulled up, with spoke wheels. Someone, who looked like Mike Jagger got out. They had a vest on. And low slung jeans, with a hammer pushed in their belt. They had tits. It was a woman. They climbed up onto the roof of our disused corner shop and fixed it. That is what a woman can be? It was 1968. I was about 9. There was a gang of us. All open mouthed, looking up, in Cowesby St, Moss Side. We watched her ever action. She took no notice of us. She was focused. When she did speak she was posh as fuck.
She opened the shop as an off licence. It had draft beer from a barrel, and draft wine in a container she built into a continuous counter she designed. She had a girlfriend called Barbara, who drank brandy and looked like a cowboy saloon moll. She had a mad German Shepherd you couldn't go near. And this magnificent square ring with diamonds. And if I remember rightly she was still wearing it when I last saw her at Lynn's funeral 2 years ago. Lynn her soulmate. I am glad they are together.
Before Lynn there was Elaine who would make us the most fabulous Sunday dinners. And Julie would come out on the doorstep, to take Elaine out, in the sharpest suits. Me, Mandy and Susie must have been early teenagers by now. And working in the off licence pulling the draft beer and draft wine for the customers who brought 10 maybe 15 empty bottles in their shopping bags: all those secret alcoholics who just looked like our neighbours. The money was terrific. Much better wages than the £5 we'd get for going to the bagwash for her when we were little: £5 them days was a fortune. And all the perks: the rides out to 7 Miles Out the funky boutique in Stockport; my first cassette player, and Jimmy Ruffin & Jimmy Cliff to play on it; my first jeans and jeans jacket suit, Levis, bright red. She took us for our first holiday a week in a caravan in Wales. Driving me there in her white MG along my first bramble covered country roads. She hitched a trailer to it and took the whole street on regular day trips. And the fireworks in the shop at the back where the crates and barrels were stashed that Mandy burnt down. Julie could make money. She could always make money. Then there's Julie's mum and her Noilly Prat, a posh type of Martini, who came to live with her, and used help me with my homework. There was a lion. Yeah, you read that right, a lion.
The first time we ever met Frank Pereira was when he brought Julie her weed. The first time we ever smoked weed. All the cool guys in Julie's posh front room, upstairs, above the off licence, me, Mandy, Susie, and my brother Bos, a bit pissed from Julie's drink cabinet, a lot stoned from the weed they are passing us. Our kid giving it: 'don't make me take out me dagger.' Us 4 pissing ourselves, Frank is just looking at us. Before we know who Frank is. All to this really cool music blasting out of Julie's state of the art amp and deck. About 3 years later, Julie takes Susie down the Reno to buy chicken and rice. Susie brings us back the next night after she's been pissed down there the first night thanks to her brother Tommy and his mates Mark and Matthew Laryea and their crew.
The house she lived in for the rest of her life that her and Lynn went to see together, and knew it was the right one when they lit the fire in the derelict grate, Julie renovated: replacing the roof, the missing floors, the tiles, the kitchen, the toilet. Where she raised her son Charlie and then her grandkids, and Lynn's daughter Marley and that grandchild. My condolences to them.
I am 100% grateful that Julie drove into my life in a white MG with spoke wheels, and low slung jeans and climbed onto that roof in my street. I may never have wanted fancy things in my life. I may never have gone down the Reno. We may never have excavated it. Without a shadow of a doubt it was Julie who showed me what a woman can be: what a woman can achieve. I have to handsdown thank her for that. And oddly so does everyone who has benefitted by this project. It was Julie's funeral today.
#excavatingthereno #therenolive #love