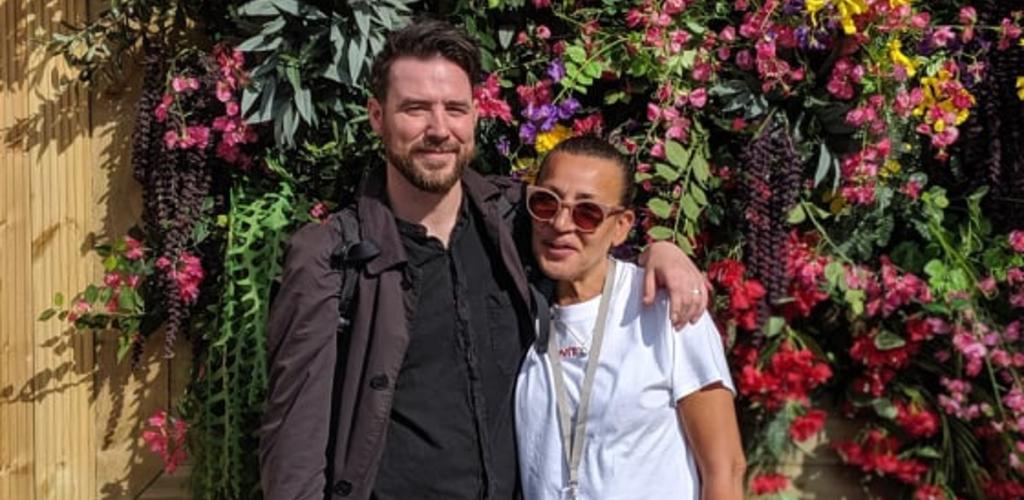 Trust
12 July, 2019
Comments ()
I get real scared some time when I am about to reveal who I really am. Especially that people will interpret me as arrogant. But I have a real plan that I have been really designing. I'm gonna run it by you. Thank you Narval Rickett for giving me the taking off point. Pic taken at MIF village in Albert Square.
July 9th Narval Ricketts [posted in Excavating the Reno group]

Wow I have to say that there was cold blooded murder !!! then when he killed him try to make out like the guy was a live for the camera to cover it " not being funny don't know if the cops ate black or espanic " but wow that was cold blooded murder rite there " no if no buts that's murder in the first degree !!!!
July 10th Narval Ricketts [posted in Excavating The Reno Group]

Hi all well I know this group is about the Reno nite club n memories into back into the windrush era's black African " west Indians ' white inglish Irish " Scottish " n so on "Asian n every nationality " but it is more focused on the " dark skin human ' ie black " mixed race " we also have to look what's going on now to our brothers n sisters " in America and others parts the world " let's reach out to all " and for every nationality ? fight n preach right ' I will always preach right.
July 11th Linda Brogan [posted in Excavating the Reno Group]

Narval Ricketts like any normal human being I hate police brutality. Sanctioned police murder. All the shit that happens in the world. And I know it must seem odd that I don't comment on the posts you post, but I am most definitely doing my bit in my own way.

I can't help everybody in individual incidents, but I think I can help us view ourselves differently, and therefore the world has to view us the way we view ourselves. Years and years ago, after 9/11, I saw a picture on the front of the Guardian. It was 3 dead Iraqi kids. Their distraught dad was weeping over them. No way in the world would the Guardian post a picture of 3 dead Swiss kids and their blonde dad weeping over them. It would be deemed as too distasteful.

That schism allows the police brutality and the sanctioned murders. They do not see us as human. It is not for them to see us as human but for us to see ourselves as human. This includes poor white trash.

My project is not about nostalgia. Not really. It is about us telling our story the way we tell a story. It is about us being the hero of our story. Only humans can be heroes. Simply put and I hope she doesn't mind me saying this, Anita King said to me the other night I used to feel ashamed about being from Moss Side, I know people who are ashamed of going down the Reno.

That is the story the condemning world has put in our head. The one that said no blacks, no Irish, no dogs to our parents. That told their great musicians to wash their hands in a separate sink. That made us rise up in 1981 and burn our own land down. Who then said we were cunts for doing that.

Until we see behind their indictment of us, and see ourselves as essentially good, we will expect to be hunted and they will expect to do the hunting. Mine is a longerterm quest with far reaching consequences. Our little stories trapped in the photos on our Whitworth Art Gallery wall tell each of us we are worthy of a real history, not just as an academic footnote of unsavoury characters and victimhood. Their default script about us. That we had weddings and kids and style and love. They make our younger generation feel like they belong. They have made Anita King feel proud to come from Moss Side. And understand that going down the Reno was a vital part of understanding her own identity.

I hope you understand what I am saying a bit. I can't distract myself into something I can't do something about. But I can keep going ahead to build a better future for all of us. Loads of love.
I am selling 3 things that directly lead to the change I have just wrote about.

1] An examination of the 1981 riots by us for us.
1819 - 1981 Central Library Thurs July 18th 2 - 4-30

As a multi award-winning playwright, and a Reno regular, I've been tempted to write a Reno play for many years. What held me back were the intricacies of the nuances. My way around that was to harvest the Reno itself. 2016 I collected our memoirs. 2017 we excavated the actual club with Salford University Archaeology. 2018 we were finalists in 8 awards. 2019 we are resident in the Whitworth Art Gallery. 2020 we will turn all we have found into an MIF 'musical' with international physical theatre company Gecko. Impressive hey?

To mark the 1819 Peterloo Massacre's Bicentennial, Manchester Histories asked us to respond to their by-line Freedom, Protest, and Democracy. Turn the date around and you have 1981, the year of the Moss Side Riots. You don't know how hard it was to get a cop to talk. Fortunately, generously, serving officer PC Ian Mack did. I've juxtaposed this with Melba Finni who was 13 at the time. We'll screen it on Thursday 18thJuly 2pm in Manchester Central Library. After show discussion is from 3-30.

What do I want from you? I want to harvest your opinion. Come. Watch. Have your say on film. Help us write an important part of our story, your story. What were the societal nuances that kicked it all off? Aged 21, that first night was exhilarating. Devastating to walk through the ravaged aftermath. To say goodbye forever to our greengrocers, butchers, Barry's where we all bought our jeans, Dickson's where we all bought our screws.

Was it their fault or ours? Or as Melba says 'what does someone who feels they are nothing and have nothing do to be heard?'

Manchester Histories' https://peterloo1819.co.uk/event/1819-to-1981-2/ holds our official blurb, 1819 to 1981 trailer, and an excerpt from the last post show discussion. Your varying backgrounds hold the nuances missing.
2] I'm gonna build an artist infrastructure so we are not on our own. Here's the invite I sent to professional, working class, & diverse artists I've been having these conversations with for years. People I trust.
Poverty and Power The Reno @ The Whitworth Wed July 17th 1 - 4

I've been produced at major theatres across the country. In 2010 with Shared Experience I was co-writing a play about 2 real characters, elect mutes, June and Jennifer Gibbons who burnt down their school in 1981, and were sent to Broadmoor. During our process I realized it wasn't a random incident, these 2 black girls hadn't just gone mad, isolated in deepest Wales they were joining the riots that were up and down the country.

Long story short, in rehearsal AD Polly Teale was making the girls fight a lot. I was sure if they had been blonde white girls this wouldn't be happening. But worse, she was asking the 2 white secondary characters what they thought, and telling the twins what to think. As we do, I was having this conversation with the actresses in corridors but going in an allowing it to happen. On Saturday morning I grew a pair and wrote to Polly to tell her my thoughts.

Sunday morning all hell broke loose. As hysterical as Blanche Dubois she was screaming down the phone that I called her a racist. She's been up all night. I had just been expecting a conversation. Her co-artistic director got on and opened with, 'at least you're not being aggressive.' I wouldn't take back my thoughts. On bank holiday Monday Nancy got back in touch and told me, ' I was not to speak in rehearsal. I could speak to Polly for 20 minutes after I was sure she had eaten. And I mustn't stop her on the way home because she has a family to go to.' I wrote back 'you do realize this play is called speechless and if we don't unpack the characters you're making the real twins speechless, the actresses speechless, and you're literally making me speechless.' At 6-30 their producer rang and said, 'don't come back to rehearsal and if you do the police will remove you.' I imploded. I have never wrote another play.

There is something wrong with me. There is something wrong with me. There is something wrong with me. Why do I cow? I know it is historical. How do I reach it to whittle it out? I had 18 months of psychotherapy. CBT. Mentalization techniques. All of them revealed another layer of what I thought of me, and what I was expecting them to think of me. But I still wasn't out of the woods.

As teenager I was addicted to pulp fiction slavery. The one place where there is a representation of me. Then lo and behold, I get my hands on some authentic slave narratives. I can't believe it. They're real. I'm devouring them and all their intricacies. 1000 pages in, Jacob D Green apologizes for stealing a horse to escape. All weekend it bothered me. There is something wrong with that sentence. A white man would see himself as a hero. Then it hits me. More than likely Jacob can't read or write. He is dictating his story to a missionary. Aligning him self with their values to get alms. Suddenly I see 2 Jacobs. One is kneeling cap in hand — his slave quarter camaraderie lost. The other sits his cap pushed back lifting his brandy in the Reno telling his horse-theft as a hero. Then I realize no slave narrative I've ever read is authentic: they're all defined by what the white man wants to hear. Then I see me kneeling to the arts. Also lost to my truth.

The Reno, simply put, was a rocking 1970s cellar club in Moss Side Manchester. Deemed notorious, or a rite of passage. To us 'half caste' born into no blacks, no Irish, no dogs, it was home. We'd have loved how he slapped the mistress, kicked the master, and stuffed two live chickens in his bag. He'd have been safe with us.

I've been tempted to write a Reno play for many years. But, no, the minute I'd begin the missionary on my shoulder took dictation: we need to be saved; we are victims. The Reno would kill me. Instead I harvested the Reno itself.

2016 I collected our memoirs.
2017 we excavated the actual club with Salford University Archaeology.
2018 we were finalists in 8 awards.
2019 we are resident in the Whitworth Art Gallery.
2020 R&D MIF 'musical' with international physical theatre company Gecko.
Impressive hey! What I have learnt on that journey is invaluable. Time to pass it on. Start a movement. I practised on Jo Cheung.

Jo speaking: ''I'm not privy to public displays of emotion (to anyone from the UK who's ever asked me where I'm 'really' from when I've told them I'm from Sheffield, I challenge you to tell me that this isn't learnt behaviour). I trained as an academic, and then as a pianist, and then as an academic again. One of those professions allowed me to be completely in control and entirely anonymous, the other required me to have a public persona and show a bit of vulnerability. Not something I feel terribly comfortable with, or that I'm very good at (at least not without losing it - why is it so hard to do both?) That said, when the feelings come, there's really no holding back, at least for me. They just pour out, like a massive, unstoppable tap. So, without further ado, here I go...

When I set up the Olympias Music Foundation in 2015, I had no idea what it would become or what it would be possible for us to achieve. We began with less than £500 a year to teach 8 kids from Longsight how to play the violin and flute, and to give those kids the confidence and skills to play in public after only 10 weeks. By 2017, we were teaching 28 kids across 3 different schools in Longsight and Rusholme piano, violin, cello, flute, trumpet, clarinet and drums weekly, as well as running an inter-school community children's choir, a refugee women's choir, African-drumming sessions for trafficked men and outreach concerts and music workshops across the city.

3 years later in 2018, exhausted and completely worn down by the struggle of it all, I met Linda Brogan at the Manchester Culture Awards (where she was nominated for Outstanding Contribution for Excavating The Reno Group and OMF was up for Promotion of Equality and Diversity). At the time, I had just submitted an application to Arts Council England for a project called Making Manchester - the result of 6 weeks of oral history and writing workshops with 60 BAME pupils at Dean Trust Ardwick School, in conjunction with UoM and Our Migration Story. The plan was to turn the material we'd collected into a musical work which the pupils would perform. In December 2018, Linda spoke at our International Migrants Day celebration at the Anthony Burgess Foundation. Everybody was enthralled.

At the end of January 2019, our application to ACE for Making Manchester was rejected. I cried (and not for the first time). A week later I wrote to Linda, asking if she would look over my ACE application. She said she was 'busy as hell', but wrote me detailed feedback on my application nonetheless. Linda lit a fire in my belly.

"You need to ask for more money [...] Don't be afraid of asking for a large amount of money. That is immigrant mentality. To help you see the value break it down into the amount who will benefit by participating. So if you ask for £50,000 and 500 participate that is only £100 spent on each."

"If you're going to do it, do it how you want it. If you don't get it, and there's no guarantee you'll get it, better to have asked for what you wanted and go down burning, rather than do it half-arsed. If you want to play with the big boys, better put on your big boy pants"

So, with Linda's feedback in mind, I doubled the amount I originally asked for, and spent the next 3 weeks hashing out an entirely new application. Gruelling 3-hour phone calls after Linda and I had both finished for the day, going backwards and forwards, making sure every sentence, and every budget item was exactly what I wanted, what I meant to say. No cutting corners - it had to be perfect. In June 2019, we received the news that ACE decided to award Olympias Music Foundation £22,650 towards Making Manchester.''

Your Art's Council England application is not a begging letter but a plan.
Your old friends are not someone you should abandon but someone you should embrace.
If they're not gonna get what your doing you're talking missionary.
They are your truest audience your army if you talk from them.
As Anita King told me last night: I used to be ashamed to come from Moss Side, but now I'm proud. I know lots of people who won't say they went down the Reno but now I understand it was a major step in developing my identity. If I had never gone to the Reno I would never have gone to Ghana.

My plan for the conference is:

45 minutes hearing our past pain.
45 minutes locating our potential army.
45 minutes working together to turn one of these ideas into a broad-stroke plan.
15 minutes to arrange our next date to carry on working together.
My week began on Sunday with seeing my guru, Prem Rawat, who gave me 4 techniques of meditation in 1981. https://www.wopg.org I began practising them 30 years ago. I practise them every morning for 1 hour. They are just coming to fruition. I rely on them. I have learnt to trust them. I have begun to trust me.
A Dream

Courtesy of MIF I have been at a MIF show every day of the week. And the one with the greatest message was the one I liked least, The Tao of Glass. https://mif.co.uk/whats-on/tao-of-glass/ In the Royal Exchange there is a guy. A white guy, from a nice middle class family. And he is telling us the audience that he used to come to this theatre when he was a kid. In fact he came to the very first show. And he used to sit there and think: I will act in this theatre; I will direct in this theatre. And then he tells a story of loving Philip Glass a renowned modern composer. And he loved Philip Glass and his deepest wish was to meet Philip Glass. And here he is in a show with Philip Glass. Who actually ends the show by playing the piano, frail. Possibly even his last. At first I am just sat there hating them. Fucking white privileged bastards. And we wouldn't give a fuck about this. And it is always about them, and what they like, and, and, you know the script. But today I realised there are 4 vital ingredients in his story.

He had a dream.

He trusted and followed that dream.

He realised that dream.

If he had never gone to that theatre he would not know how to have that dream.

And I must say once I got over my all consuming default hatred, my default script about them, it was actually an honour to hear Philip Glass play. Notice the word default. I didn't even have to think about it before it took me over.
So I am inviting you to attend 1819 to 1981 on Thursday 2 till 4 at Central Library, https://peterloo1819.co.uk/event/1819-to-1981-2/and after let's all go to MIF Village in Albert Square, and feel part of everything. It's like a sunny Xmas market with deck chairs and pink and green ice cream van. Let's go to the theatre world so we can dream, trust and follow that dream, realise that dream. That guy's fortune can be ours too. We just have to see it that way. See us that way.

In the future
A brown guy from a poor working class family will tell their audience
I went to that Reno/MIF show when I was a kid and dreamt:
I will act in this theatre I will direct in this theatre
He will rip up their and our default scripts
Entitled to be the hero of his story
Only humans can be heroes
It's not so easy to shoot a human in cold blood.
I leave you with something you mustn't miss: MIF's Atmospheric Memory at MOSI; only £8 in. It is like being in the future. Breath-taking. https://mif.co.uk/whats-on/atmospheric-memory/

Let's dream big. Those venues, that money, that expertice belongs to us too we just have to know how we want to use it. Some inspiration.
Trouble commenting use Chrome.

#excavatingthereno #therenolive #MIF