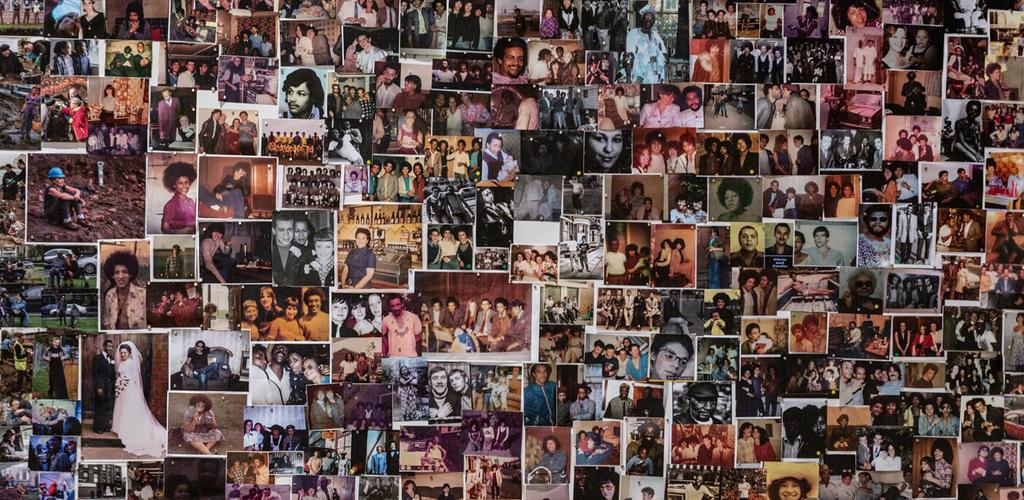 A Change Is Gonna Come
05 July, 2019
Comments ()
Our walls have changed. This is the last time you will ever see the montage looking like this. We're working on telling our story without talking to people. But we love talking to people. Genuine meaningful talks have opened with Whitworth Director Alistair. He does one thing I love, when I'm not sure what I am trying to say he waits without interrupting for me to find my words. Most would jump in on the gap.
'Linda.'

I turn round on Denmark Rd.

'It's Nik Niks. I'm your Rachel's friend. Do you want a lift?'

'No, I'm thinking.'

'I don't want to be one of those people who don't make it to the Whitworth. I'm Moss Side born and bred. I love your posts. I love when you're fuming. Yeah and that's how we say it. That's how we talk. And if they don't like it fuck 'em. Fuck 'em. They don't pay my mortgage.'
I'm a big believer in the Universe listens to you if you ask. It has just spoken to me through Nik Niks.

They don't understand, the institution, our language. We don't understand theirs. Me, and Alistair are navigating that ocean. When we hugged today it was really genuine. And we have begun to make plans for real change. I promised to keep it under my hat.
Then it spoke to me through Evie Manning, AD of Common Wealth in Bradford http://commonwealththeatre.co.uk/people/evie-manning/ Totally talks our language. Fucking hell man, my art twin sister in all respects. First time I met her she was talking about her Peterloo Massacre Bicentennial montage, and opened in her broad working class accent with: 'I bet you're sat there thinking what's that slut doing on stage' I had to scream back in mine: 'go on girl.' Can't wait for you to meet her in her clubbing memoir. Just got back from working on her fabulous vocal montage of protests in which The Reno gets the last words. Performed 16th August, actual Peterloo Massacre date, at Gmex behind Midland Hotel. You have the chance to be part of the performance.
The Universe only makes one request of me that I stay happy, follow my passion, avoid negativity. Fabulous Hulme in depth with Al and Steve: Iron Duke, Spinners, The White Horse. Mad how you forget how alive it all was. And that's the spirit I want to repossess in our space. Pure chilled. Hanging out. Feeling our vibe in a beautiful place. Geoff told me about how he only caught the end, as his daughters listen to our memoirs. And Stephen reading Mark Smith's great Reno summary laughing to his son and going: 'yeah, exactly, exactly,' transported right back down our steep steep stairs.
As my neighbour Nicola said when she visited: 'I get why all us kids and grandkids of the Reno I know feel so emotional when they come. I felt a sense of belonging.'
Film John Lloyd AKA White John

Problems commenting use Chrome.

#excavatingthereno #therenolive #change #world