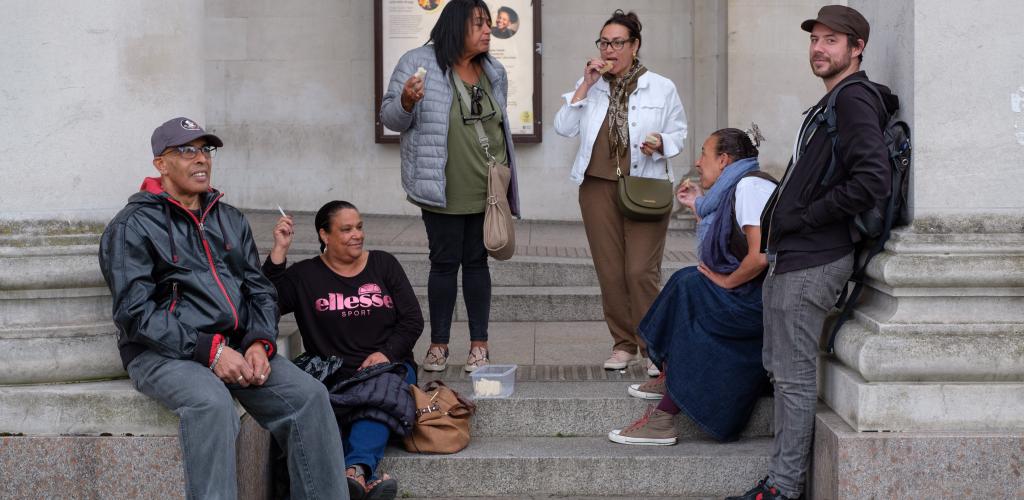 Mapping a New Future by Mapping the Past
21 June, 2019
Comments ()
Proper productive week this week. Moss Side Riot memoir screened. Poverty and Power conference planned. Reno mapped in the Whitworth. Reno 12 Central Library field trip taken. Pic Karen Rangeley.
Saturday

Screened 1819 to 1981 for the first time.

Peterloo Massacre bicentennial inspired.
Manchester Histories Festival and One Manchester collaboration.
4 different perspectives of Moss Side Riots
Next screening Thurs July 18th 2 till 4 Central Library
Come have you say
https://peterloo1819.co.uk/event/1819-to-1981-2/

45secs trailer
Sunday

Went to see Contact Young Company who came to visit us http://thereno.live/linda-brogan/2019/04/29/contact-theatres-young-company-cyc-visited-last-thursday/ 'Old Tools New Masters' at Manchester Art Gallery. Loved the poetry.

In the after show discussion Manchester Art Gallery Curator James said 'It isn't post colonial - the world. We are still in colonialism.'

Show director Tunde Adefioye said: 'We don't, people of colour, or working class people, know how to ask for what we need, or to envisage a future that suits us.' Asked him to meet me before he went back to Belgium.
Monday

Studying the Reno at the Whitworth photo wall I was suddenly overcome with sadness at all the time passed, and joy that we have been given a voice. Cos even though the pictures are silent they tell our story, exactly our story, not filtered through anyone else's idea of our voice.
Tuesday

Met with director Tunde. Had the most satisfying conversation. We came to an understanding about the way we make art to satisfy the colonial and not the ordinary folk. And to remedy this we must start talking in our voice, not the voice they have taught us. How I judge my writng now is: if the Reno, Moss Side, won't get it then it is infected with colonial bullshit. I include white working class artists. It is not necesarily a colour thing. That way we will grow our audience. Growing our audience puts bums on seats. Money in pockets. Our pockets. Power. To control our own destiny. Asked him to guest blog on our site.

As I was eating my lunch in the sun, a member of the Whitworth staff came out and said: 'Linda, I just want to say you are a pioneer. You have changed the way I think. You bring people through the door that don't usually come. And the institution will have to change because of this.'

I tweeted it.

Dr Jenna C Aston replied:

Well deserved comment @ExcavatingReno. 3 Qs back to the @WhitworthArt.

"Changed the way I think" - from what, to what? That artists live locally, in Moss Side? That black artists and histories have "value"?
In terms of pioneering approaches: is a residency what it takes for artists to be trusted, to be listened to; their experiences and perspectives are not valid otherwise?
The institution will have to change: why does it; how does it; when does it "change"? How does the institution perceive "change"? 3/3

I answered:

Love all 3 questions @heritagemcr, summarised.

A] Black artists' value? B] Residency? C] Institutional change?

Let's take control.

What do we expect?

Conference Reno space @WhitworthArt Wed 17th July 1- 4.

White working class artists invited too.

Bring posse.

Spread word.
Created a flyer with John.
Wednesday

In answer to frequent questions, on the opposite side to our montage, I created an internal map of the Reno using artefacts. Made room for the old photos of Moss Side and maps we'd be researching Thursday in Central Library.

Aims are: where the Reno was in Manchester; where it was on Princess Rd; what Moss Side looked like at the time; what the Reno looked like inside.
Thursday

Didn't expect to be so moved by old Moss Side footage in Central Library. Watch our faces watching them demolish a terraced house in the 60s. Probably the same expression watching Young and Black filmed in 1972, recollecting the overt, blatant and casual racism we had actually unwittingly lived through.

Had dinner with artists I've been having the Poverty and Power conversation with in corridors for the last 20 years. Concluded we're emotionally intelligent enough now to take this conversation into broad daylight. To get it sorted. They promised to promote and attend the July conference.
Friday

Equipped with all my latest understanding, me and Karen mapped the next draft of the photo-book: the close up. That will use her photographic eye, and my narrative skill to fine tune the Reno 12s natural flair that created the beauty of the montage in the first place.
Having trouble commenting use Chrome

#excavatingthereno #therenolive #maps