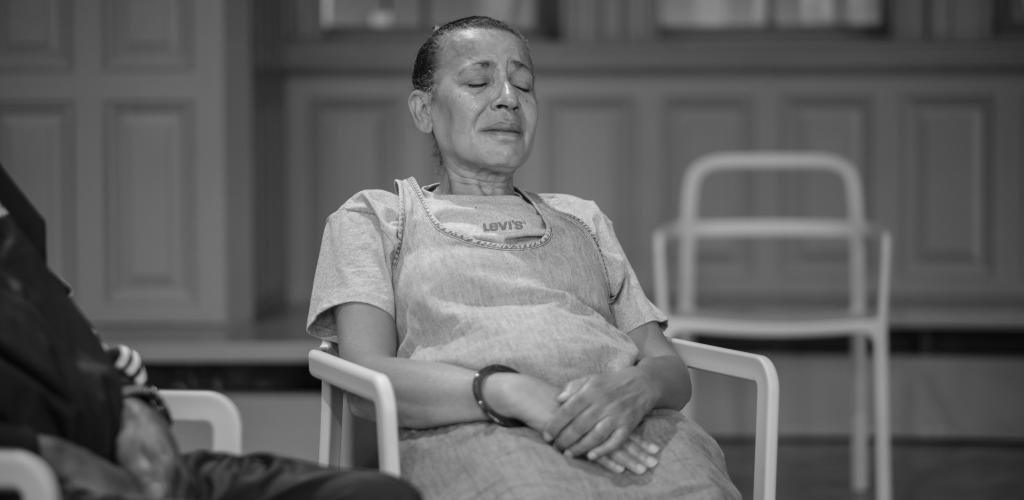 Maybe This Is What I Have Been Trying To Reach
14 June, 2019
Comments ()
I was so upset. I was so frightened. I was stood on the dance floor. I was on my own. I was alone. I was in terror. I had suffered a lot for a child back then, who was 16, 17. I remembered.
Ivern had been murdered on my doorstep. I had just had a 6 months abortion by cesarean.
I left my gang playing pool in George's Café 2 years before. We were pretty innocent. I fell in love. It was a struggle. I had been fighting with Ivern's first girlfriend for 2 years in the Minute Mart on the corner of the street. I had fantastic 0'level results. All left behind. A*s. I didn't go to university. My dad was not talking to me because Ivern was black. I was sneaking to see my mum in the daytime. I had an office job I never went to. Where there was a ginger woman sat at the end of the room looking back at us in the typing pool. I couldn't tell anyone about my secret life of shame or the other girlfriend. The favourite girlfriend because my wage is at the end of the month. My teeth being knocked out at the bottom of the stairs in the Russel when Pauline pushed me down them. Living in one room on Grosvenor Rd. Living in my own flat in Boundary Lane. Not knowing how to turn the boiler on. Washing in cold water for a month before I got the courage at 16 to ask the caretaker to help. The line of scum around the bath that Ivern took. The day he came out of prison and Pauline kept knocking on the door because I hadn't been to visit him on remand when he had burnt her with the iron right through to her flesh the yellow bubbly part for her £695 maternity allowance. Sitting on the bed holding her six month baby's hand and telling her she could have him. The lying when he knocked on the door. Wearing my orange nightie to open the door. Him coming through the door. Being in bed. Knocking on the door. The pram wheeling up and down up and down outside the door. The screaming when she ran in. She must have took the knife then. Cereal was all over the floor. Him fighting with her at the door. Him stepping back as if he had been punched. Sat at the top of the stairs waiting for the ambulance. It looks like a tiny hole. A slash the width of a cheap breadknife. He's gonna be all right. He was talking. He was always quiet. He was known for his dancing. I first saw him in Moss Side Youth Club. I next saw him in George's café. He was bending over the pool table. Our eyes met. Pauline came in with the blue washing basket. He hadn't done the washing. She threw it across the pool table. He was ashamed. We were together from that moment. We went to a shabeen. Me and my crew. Then they stitched him up wrong. And didn't turn his ventilator back on. It was about 2 weeks later when my sister came into work. He's dead. I got there in time to watch them wheel his body out looking like wax. 3 weeks later when they put me on the ward with women who couldn't have babies. I had milk fever. There was no baby to feed. Pauline's friends had broke into my flat and wrote cunt bitch bastard on my walls. That is the first night I went down the Reno.

Tuesday 12thJune 2019. Magical day with physical theatre company Gecko who will help us transform our combined stories into an Manchester International Festival 'musical.' Amazing to be relaxed in your body with yoga techniques that change the very air around you. Then led in a trance into the Reno down the streets of Moss Side to meet your 17 years old self. To witness how scared you were at that age. I was so upset. I was so frightened. I was stood on the dance floor. I was on my own. I was alone. I was in terror. I had suffered a lot for a child back then, who was 16, 17. I remembered. To feel tears streaming down your own face as you tell that kid 'It will be all right.' Because, here you are today.
Photo by Karen Rangeley. Having trouble commenting use Chrome.

#excavatingthereno #therenolive
On Saturday Morning Yvette Brown commented below.

It was a tragic story for all concerned but in my view the real victim is not here to defend himself or tell his side of the story. I'm sure the family who lost a loved one would be devastated to read this. Especially knowing that some events have been changed for dramatic effect.

Hi Yvette. Although I have not changed anything for dramatic effect you are right about me omiting facts. How much I loved him. I was addicted to him. He was addicted to gambling. How the night I first saw him in Moss Side Youth Club a crowd was surrounding him watching him shuffle. How he stopped for the beat, raised leg poised. How he was fluid. How he was gentle. How attractive he was. How I missed him for the longest time. How I used hear his moccassins walk up to my door and when I'd open it no one was there.