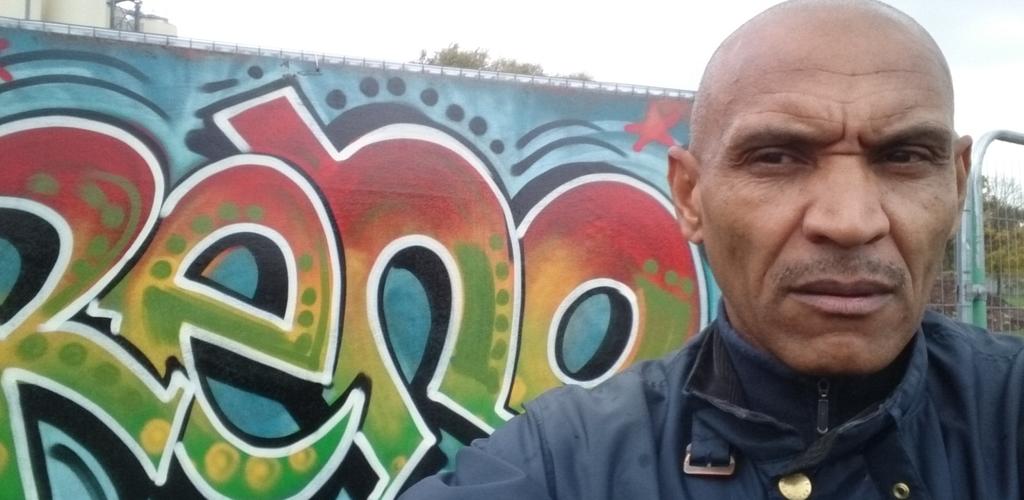 Photo-book: Real Exhibition: Merchandise: Pop Up Parties
23 April, 2019
Comments ()
Keeps taking me a while to get over major triumphs. Then I suddenly realised I've actually designed a photo-book, with Rude Gal, while I've been missing: and our real exhibition that will open in September. You have to understand the current exhibit is actually a workspace. Kind of didn't understand this for a while myself. Me and the Reno 12 have been creating merchandise to sell to fund our real exhibition. Including another book that documents our trials and tribulations so far called Why I Wanted To Burn The Whitworth Down. And we've sourced the equipment to do pop up parties in Whitworth Park when the weather is good.
Our Photo-book

Our photo-book will be made from our photo montage currently on the Whitworth wall. Won't bore you with the details. Letting you know though it will cost £30. And before you get a face on you like Kojoe Taylor in the pic above, our photo book is completely unique: never been done before: never likely to be done again. Our excavated teen selves and our dead will be displayed on beautiful paper. Imagine. Imagine what it does to what we think we are entitled to in the future. And how we are going to present it is so ground breaking I imagine it will win a whole heap of prizes again. Cheaper than a night out. Cheaper than a meal. A lifetime keepsake. Passed on through generations.

Available September 12th to coincide with our true exhibition.
Our Real Exhibition

I'm gonna transform the space into a temple. Pure Game of Thrones. Pure Egyptian Gods. Pure drama. Pure theatre. It will be breathtakingly beautiful. Lit like the Gods have arrived. And a soundscape of our subconscious that will take you right back there. I don't want to spoil it by giving you details. Today I met with Manchester Museum's Egyptologist Campbell Price who will help me understand the details, including 'the weighing of the heart.' Now isn't that beautiful.
Merchandise

1] T-shirts will be arriving at the end of this week: our logo, on black, or white: £20. 'What conversation would I have if I didn't talk about race' in our website orange on military green. Not as wank as it sounds, cos, until I asked myself that question was I able to stop seeing life through the prism of disadvantage, and see the full spectrum that allowed me to conjure the Reno as a glorious theatrical temple and feel entitled to claim that beauty. And before anyone goes on with themsleves all kinds of debauchery probably went on in an Egyptian temple too. Laughing.

2] 6 postcard designs by the end of next week: £2.

3] Woven sew on patches that commemorate the Reno at The Whitworth March 2019 to 2020, available by the end of May: £4. Sew it on your jeans like we used to sew on woven Rizla packets and Ganga leaves back in the day.

4] A book that commemorates my trial and tribulations within the organisation called 'Why I Wanted To Burn The Whitworth Down': made from sections of my blogs but a weekend you don't know about. Intrigued?

Photos of all when they are here.
Pop Up Parties

Summer is almost here. The Whitworth is surrounded by park. Keep your eyes and ears open ready to grab bottle, a weed, some sun cream, maybe slap together a picnic at a minute's notice, and come join us. We'll provide the music. Booming. And the vibe. Let's be young again. Won't cost you a penny. Except what you buy for yourself. Might even make Kojoe, pictured, happy. Smiling.