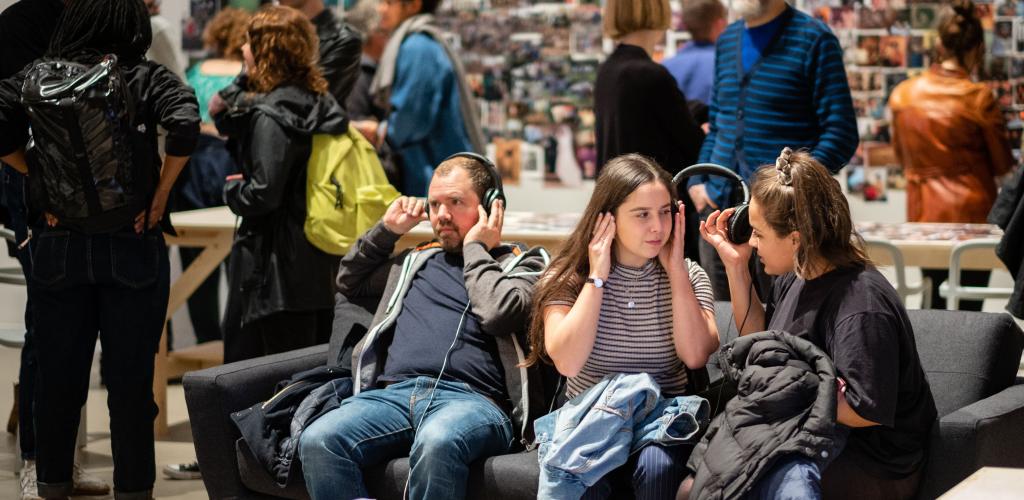 Delirious With Tiredness, Happiness and Satisfaction
29 March, 2019
Comments ()
You had to be there. And fuck you if you weren't. Proper laughing. All photos by our Rude Gal, Miss Karen Rangeley. Who may well have been groomed.
I'll blog about it Monday.
Madam rocks up looking sensational with her slutty walk. About an hour later, free wine, not to mention the tequila she's necked earlier, she's out on the same steps screaming 'I can't find me fucking handbag'. We think she may well have given the AD a fucking tit rub.
At one point all 3 opening galleries: ours, The Reno @ The Whitworth, Joy For Ever, Ancient Andes Textiles, and Persian's rocking dancefloor were full: there was a queue for our memoir headphones, the students on the steps were smoking weed in the Big Wigs' faces, they were just inhaling, everyone was chilled.
Enigmatic Fonzo rocks up, 2 hours late, after outfit prepartion, with no dinner invitation, walks straight up to the top table, and steals the show.
And this morning I received this in my emails from Sam Lackey our curator. Laughing. When yesterday we were on the stairs, rapiered up, like Errol Flynn and Basil Rathbone about who's text would go on the wall first. A long story.

Hi Linda

I just wanted to thank-you for all the energy and drive that you bring to The Reno at the Whitworth and more widely to the Whitworth altogether. The success of last night's PV was due in no small part to the feeling that the Reno project, the regulars and all the other Reno-loving people bring to the gallery. It feels alive in a different way and I am incredibly appreciative of what you all bring to the gallery and the university. It is important.

THANK-YOU.
I think Sam may well be pregnant now with a mixed race baby of her own. Look at that look in her eye.

Long live #excavatingthereno #therenolive
Wonderful excavation/ teen photo collage designed and constructed by these 4 sensational ladies.

@Dionne Richardson, @Carmen Jones, @Suzy Mousah and @Sabina Quarcoopome