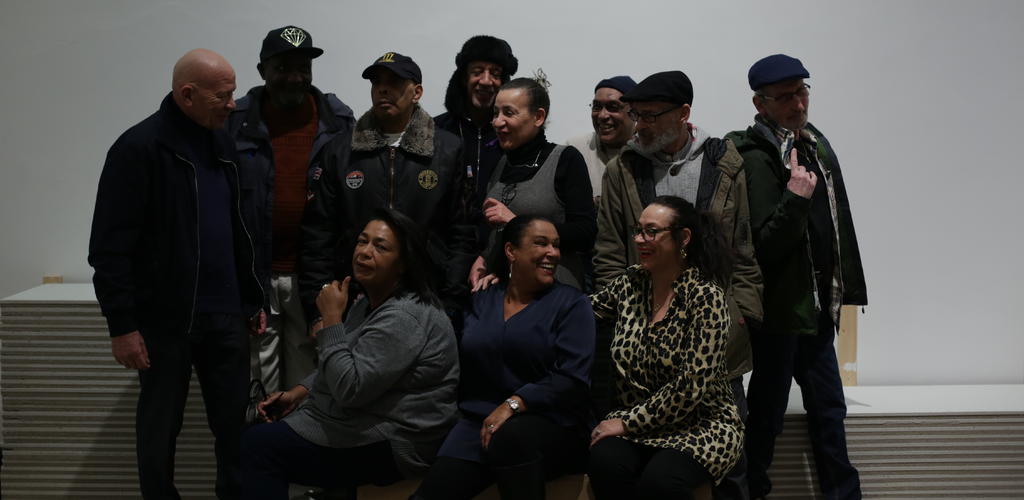 Making The Album Cover For Our Fountain Of Youth Invitation
08 March, 2019
Comments ()
Jeff Bassey's brilliant concept is to cut the youth out of the original Reno collage. And replace them with us now. In this video we're looking for the right pose. With our wonderful photographer Karen Rangeley, AKA Rude Gal. And Mr Lloyd who shoots all these videos. They have been so wonderful to us. xx
Here's the original website collage.
So, see that grouping in the middle we're gonna cut that out, keep the rest, and like I said use it as an album cover on our invitation poem. Obviously the photo above is too dark. Notice how we are now taking control of the art in this project, instead off being led. We're stamping it with our DNA.
We're taking over our gallery on March 15th at 11am. You are welcome to come.

But our official Whitworth opening is Thursday March 28th at 6pm. You know the bit with wine and smoozing like you see in films. I'll post a real invitation gif next week.

Come to both. I'd love you too. Though word of warning we won't be completely set up on the 15th.
Photo by Ed Watts, Whitworth head of learning. That's our Fountain of Youth timeline poem wrote on the wall. We''ll be adding photos next week. The black marks show where they are going.

And get on this, all that white pannelling is the soundproofing out of the South African William Kentridge exhibition we'll recycle into the reconstructed Reno.

Notice the sign, saved by me mate Whitworth head technician Paul Smith. Who helped me every step of the way to work out how to store all this material. He knew it would amuse me to see the South African boxed in. Laughing.
Trouble commenting use a different browser. Chrome works fab.

#excavatingthereno #therenolive