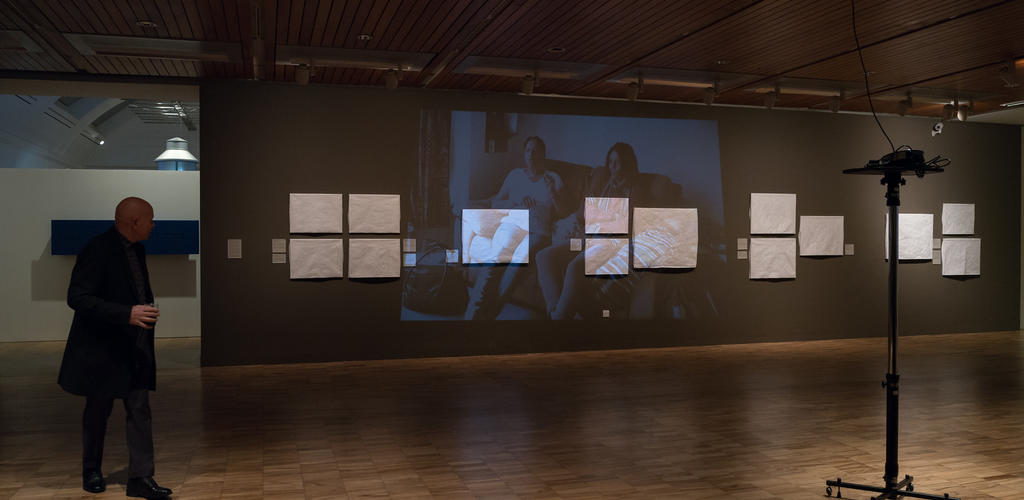 Moss Side's Collective Consciousness
26 February, 2019
Comments ()
In 2015 the collective consciousness of Moss side believed they could not achieve anything, that all avenues were closed to them. I'm sticking my neck out here, but maybe the average Reno person had a inkling of shame associated with going down there, fostered by the collective societal consciousness of the day. And us half-caste believed we were now black, and at the very best mixed race though we didn't quite feel that. Photo by Karen Rangeley taken in our 23rd November 2017 Whitworth colonisation.
Collective consciousness (sometimes collective conscience or conscious) is a fundamental sociological concept that refers to the set of shared beliefs, ideas, attitudes, and knowledge that are common to a social group or society. The collective consciousness informs our sense of belonging and identity, and our behavior. Founding sociologist Émile Durkheim developed this concept to explain how unique individuals are bound together into collective units like social groups and societies.
In 2015, who could have believed we could tell our Reno memoirs on film? Who would believe we would have excavated the Reno? We would have a marquee on site? We would spend a few days backfilling it drinking left over wine and brandy and Sobers would bring his fabulous chicken for our picnic by our fire? Or we would have a fire in the gambling room fireplace and be happy in each other's company again? That, we would exhibit our artefacts in the Whitworth, for one night, and they would have to put tissue paper on the pictures to make sure the light from our memoir videos didn't damage them? And loads of us would turn up in the Whitworth Art Gallery? And we would dance to Persian's music? And then go to Big Hands? Were different people, including Stan Finni, and Brian Evans, and loads of people were saying you don't know what you've done [in a good way]? But I did. I had a plan. I wanted to change our collective consciousness. Our shared beliefs, ideas, and knowledge that we as a social group within society believed about ourselves.
Then society's belief began to change. They began to shower us with prizes. We reached 8 finals. Their sheer numbers voting caused them to win. They have foyers, desks, publications, websites that make you cups of tea, and family tickets. They are part of the society, who up to that minute believed, like we did: we can't achieve anything, and all avenues are closed to us. Look what we achieved to be nominated to be in the running with them. Look what we achieved. Let that sink into our collective consciousness. Look what we achieved: 7 more nominations. In London I talked in front of all the most prestigious museums and art institutions about us, about what we did, what we achieved. I did a full performance. Swore every second word. Let that sink into our collective consciousness. That I went as me. I went as us. I went as who we really are. I am writing a paper with Mike Nevell the director of Salford University Archaeology, constructing a formula to enable them to do other successful community digs in Hulme, Greenheys, and Chorlton on Medlock. Because what we have to do is normalise our existence inside the societal collective consciousness, not just ours.
And in some ways it has got nothing to do with colour and a lot to do with postcodes. We have to believe, we have to believe we can do anything. That is what we have to believe. We are worth everything. And tiny things meant that to me. The day they dropped the green work cabins on the Reno excavation site, they dropped them willy nilly. I was scared to say it, but I said it cos it was part of my plan that everything be the best, we are worth the best, nothing can be substandard. I looked the driver in the eye, and I said, 'you have to pick that up'. It's the case of huge chains and winches. He looked at me. 'You have to pick that up. It has to look like this.' And I showed him my plan. The 3 green cabins had to be in a horseshoe. But look what the horseshoe did. It created that wonderful atmosphere. That wonderful little courtyard where we enjoyed our Suzy Mousah lunches. He looked at me. I was scared. 'You have to pick it up.' Fonso Buller looked at me. The man looked at me. Then he picked it up. Fonso Buller hugged me. We knew what it meant. We knew what it meant as we walked away arm in arm. Everything had to be the best. That is what our collective consciousness will grow to expect.
Looking back at what they say we can't do, what they say we are, and the listing of atrocities they did to us doesn't serve us. It serves the rest of society to keep us looking back. Permanently upset keeps us tethered to the ground. We just have to believe in what we have done, and what we are doing. We are changing our collective consciousness. Don't look back and let them catch up. I no longer care about things that used to pain me. Yeah, slavery happened. The Congo happened. But it didn't happen to me. It didn't happen to us. And it shouldn't be in our collective consciousness. It is not our cross to bear. They happened to those unfortunate people who lived it. It is part of their collective consciousness. Berating people that did it uses up our precious time on this earth. Uses up precious neurons in our brains, we could be using to achieve, when they probably don't care. Besides the real perpetrators are long dead like their victims.
I have no idea what will happen in the Whitworth. I know it will happen beautifully. Just like I spent the hours hammering in the pegs when the marquee was lifting in the wind. It will always be the best quality. I intend us to come to expect that. In our collective consciousness we will have achieved a series of major art works. Collected our memoirs that talk of our past. Unearthed our holy grail; visited it; prayed in it; laughed in it; danced beside it. Backfilled it at our leisure, with pride. Then brought the whole thing on the road to make the first bold strike out. We are pioneers. We have crossed the cultural divide, the sea of no hope. Our kids, grandkids, now know there is possibility. We are pioneers. We have sailed from scarcity to abundance. There are resources here. We can use them to build a better future for us all. Embedded in the metaphor of building a Reno in our Whitworth Art Gallery. To create an inspirational, aspirational collective consciousness, a set of shared beliefs, ideas, attitudes, and knowledge that are common to our social group. Understood by the rest of society as this is now us.
Phil reads the beginning of our Whitworth timeline poem beautifully. As we get ready for the real take. Enjoy.
Having trouble commenting try a different browser. Chrome works well. #excavatingthereno #therenolive