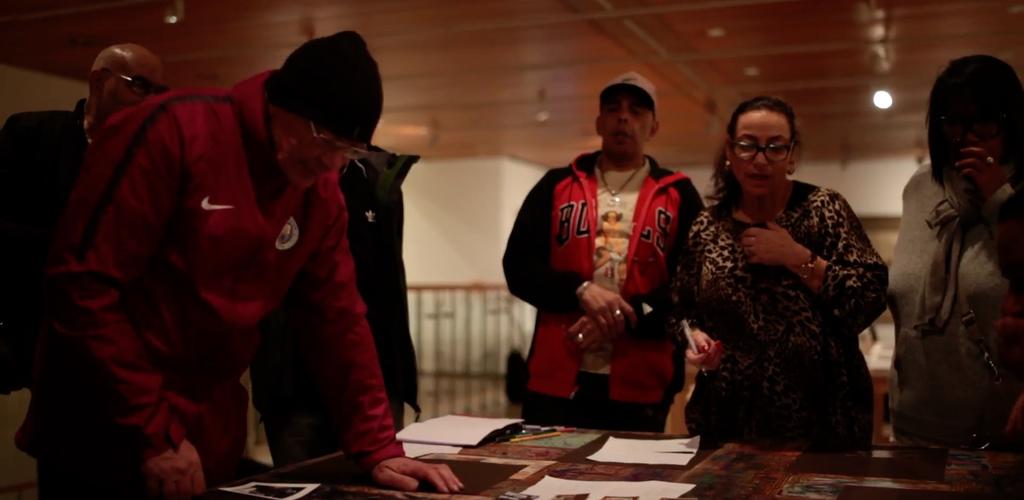 The First Ripples
11 February, 2019
Comments ()
I'm quoting @Barrie George tonight who is getting infected with poetry vibe. 'Pebble. The pebble was a random thought, that was tossed into to the pond of the Reno. The ripples from that pebble reached the ears of the arts council, Manchester council, Salford university and other contacts. as the ripple grew it touch the Reno regulars who's memoirs began to make the thought a reality. With the help of Salford archaeologists the Reno came back to life !!.photographed and documented by John and his team..the volunteers would peel back the years and memories of a time when being half-caste meant that black n whites would frown upon them The Reno was where they could meet drink and dance till the early hours . The ripple continued to touch the whitworth art gallery where artefacts would be displayed amidst the music of the 70s. Still the ripple continued and touched the Reno twelve who are bringing the Reno vibe to life in the whitworth art gallery for all to view and fell in March. Still the ripple rolls on to were ???' Gwaan Barrie George.
Teamwork: we use Barrie's pebble metaphor to set our imagination alight to conjure our photo-book of our journey.

Dionne: 'It looked like a collage.'

John: 'That image doesn't have to be a snapshot of that precise moment it's your frame of mind.'

Persian: 'This should be here with that because this is where it started.'

Barrie: 'The next layer is Alec Park.'

Suzy: 'It's gonna all come out in a circle.'

Karen: 'That's what you first saw.'

Carmen: 'That needs to go where Linda is here.'

Me: 'Next came the Xmas Party, did you get that?'

Barrie: : 'Yes, that's there.'

Stevie: 'What you're missing, the one where you David and Thingy are sat there.'

David: 'And the fencing?'

Susie: 'But Alec Park is what started getting people involved.'

David: 'Me and Jeff did the whole fencing.'

Karen: 'You weren't just going Alec Park now I've done this you were . . . linking with me, linking with the archaeologists, you were making contact with all these different organisations.'

Barrie: 'That's another contact Linda had to make then it spills out to us then.'

Me: 'D'you know who the first proper meeting was it was with Stevie for you to help me to get people to come to Alec Park.'

Stevie: 'Yeah, yeah, yeah.'
Oh plus in the Royal Exchange I met our first 7 pre 1937 memoirists. An England before blacks. Doreen was born in 1932, and Jill in 1935. To be honest the others are born in the 40s. They're stories are proper interesting. I didn't ask their permission so can't share anything I heard yet. But boy when you listen do people have a story to tell. And they link into ours in such unexpected ways. I'll keep you posted.
If you're having trouble commenting try a different browser. Chrome definitely works best with Macs. Looking forward to answering you here.
And getting proper excited. Just over a month we will actually be in our space. And wait till you see it. I gave over some of the control to let the Whitworth dress our workspace to their standard. As Sam said, 'It is our specifications therefore we will pay for it.' I am bloody ecstatic as well as grateful. We're gonna be posh. Smiling.