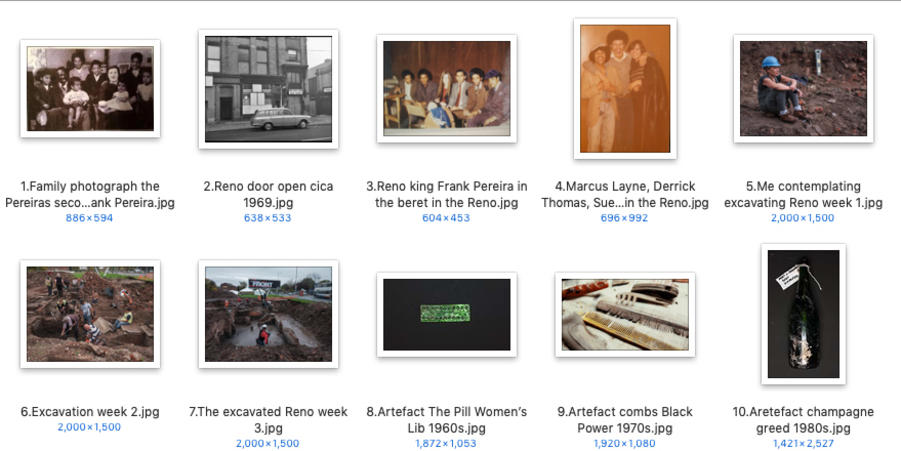 It's Taken Me 60 Years To Become Me: Dedicated to CHORLTON ON MEDLOCK
01 February, 2019
Comments ()
Suddenly the project makes sense to me. Since October, weekly, me and the Reno 12 have been excavating, as Carmen says, our soul. Through that and monthly artist meetings we came up with our resurrected Reno to excavate below our story. We've worked out the practicalities of our gallery workshop space. I've negotiated its layout and funding with the Whitworth. We've delved into articles and documentaries posted in Excavating the Reno FB group. We've answered comments. In the middle of the night last night it suddenly all made sense. The picture tonight is our press contact sheet. And we end with Triggy interviewing Sean, as we continue to practise our interviewing technique. And get to know our digital artist.
I'm not sure if the title should say be or become. Become myself or be myself. The one thing in the Reno that was a real art form that everyone admired was someone who could be themselves. Don't get me wrong people got marks for the character they created. And if they did it flawlessly we forgave them. Some people were so fucking mad they didn't realise it was a character they thought it was really them. Or it was really them. And that is what we loved. Even writing, as I write I know that an audience is watching me. Or there will be an audience reading me and I am frightened of their judgement. But just lately that fear is abating because I am judged favourably. I am doing a great feat. And so far I haven't put a foot wrong.
I wonder in the Reno were the people with the big personalities feeling that too? But of course they must have been. Whether they dwelled on it or not is another question. Did they judge themselves? Or worry about others judging them? A great example is Frank. But he had his money on his side, and that innate ability to lead.
I am leading now. I have to play everything by ear. That is an art: to respond to your environment. Enough about me! But actually it is all about me. And that is suddenly, well over the last few days, but suddenly in the middle of the night, I am writing this in the middle of the night, it suddenly became clear that it is all about me. 3 specific moments in my life that are all linked into a specific place. CHORLTON on MEDLOCK. And they probably prevented me from becoming me. They do play into it somehow.
One was in Grafton Street, Chorlton on Medlock, the Facebook group that really interests me, and when I am thinking about collecting the memoirs of those that came before us I think of Chorlton and Medlock Facebook group. Chorlton on Medlock is buried below the university. Just like the Reno was buried. We can't go home. We can't just turn up and visit its streets. Their pre 1947 photos in their Facebook groups are classically white English. I was born there in 1959 in a thriving ethnic community of immigrant settlers. Both communities mourn its loss. Their diverse memoirs will attract diverse audiences.
I was 9 months old. I am stood in my cot. I know I am 9 months old because when I ask my mum when I am 30 if it is a true memory she said 'you must have been 9 months old'. I am stood in my cot. I am holding onto the bars. I am looking through them at my mum and dad. My mum has a flowered dress on a summer dress 1950s. It was 1960. And my dad has on high waist zoot suit pants, a sharp crease down the front. And an open necked white shirt. My mum has white shoes with an asymmetrical peep toe with a tight expensive knot above it. They were stylish back then. They are dancing. Smooching. My dad's trilby is pushed to the back of his head. He has sly eyes that make him very sexy. He is looking at her. She is looking at him. The moon is shining through the floor to ceiling window, making a oblong on the floor, their dance floor. They are in love. I was part of their love. I felt their love. I loved them. He would bring her jewelry on a Friday. Costume jewelry. She would throw it in the back of the open fire, saying she can't be bought or some other shit. She must have saved them. Or maybe he did. They would end up in bottom of the wardrobe in her keepsake box. I would take them out of their velvet jewelry box, and the asymmetrical peep toes, and think I am going to own them one day. Maybe I would also own that kind of love, that Humphrey Bogart and Lauren Bacall kind of love. That is another story that takes place twice in HULME, on both sides of its bridge. One began in 1974. The other began in 2004.
My second defining moment is also in Grafton Street. There is an old white woman with white hair and slightly horn-rimmed glasses. My mum will grow into her. The old woman is stood with her hand on the stone gatepost. She is stood in the saggy bit of the worn stone steps. She has a big bosom. Her worn apron crosses over it and is tied. She gives me pennies. I go to the shop next door. It has really high steps that are far apart because I really have to try for my little legs to get up them. I am 3 years old. I buy white fluffy bonbons. Which are my mum's favourites. Not that I am buying them for my mum. The lady in the shop reaches over the counter. I am vaguely aware that I am an anomaly. That I am special and different, and this day is about me. I must make this old white woman and the woman in the shop like me. The woman stood on the steps is my nana. I have never met her before. My mum ran off with a black man. Who happens to be my dad. The threpence worth of bonbons are given to me in a pointy triangle white paper bag.
Now think about what I am saying. Little brown me, who I can't hide, in my white sticky out dress, and my white ankle socks, and my black patent shoes. My mum always dressed me smart. Because, as my mum said, 'the world will judge you differently.' Little chubby legged me, reached up to the counter knowing that my parent's acceptance relies on this pillar of the Chorlton on Medlock society, the shopkeeper, and my white nana, another pillar of Chorlton and Medlock society's acceptance of me.
Now the title makes sense. It took me 60 years to become me.
Well I've landed. 12 have landed with me. We are training ourselves to gather these stories. Not to get anyone, but to investigate how we have all been had. Creating an enemy is the way the rich divide and conquer. They stay rich. We stay poor. Like I read in one of the Excavating the Reno posts this week: someone's white English granddad accepting his poverty with pride because as he said 'at least I'm not black.' That would indeed be impoverished. After watching the documentary 'Morning In The Streets' filmed in 1958, https://www.youtube.com/watch?v=z9RZ5ul4SOs&fbclid=IwAR233eTQFA0LQsd6FU0Xf3Jd7y-tffCrng7opUURtuycs2hkU8bZkO3Mcj8 again posted in Excavating the Reno FB by @Philip Collins Snr, I absolutely understand we were all impoverished but while we were pointing the finger at each other we weren't pointing it at them.
The test this week is to interview someone we don't know. We chose people we are familiar with: our digital artist Sean, and our cameraman John. We find out it isn't too much of a leap, as you will find out by watching our 2 hours workshop broken into small memoir bites and posted here weekdays. Listening creates empathy: one human to another. So, our residency is not just about me: it's about all of us.
Sean: 'I was born in 1988.'

Interestingly, the same year as Akala is talking about.
Oh, and the third thing is a beautiful thing and made my dad forever human to me. I may be five now. And my brother has pulled the arm out of my doll, my Xmas present. And my dad walks me to the doll's hospital. I'm holding his hand. It's a day like today. Cold and slippy, but I am holding my dad's hand, which always meant clinging to one of his big fingers.
Don't forget having trouble commenting use a different browser. And I'd love you to comment here, rather than in Facebook. That way you comments become part of our history. The history we are making now.