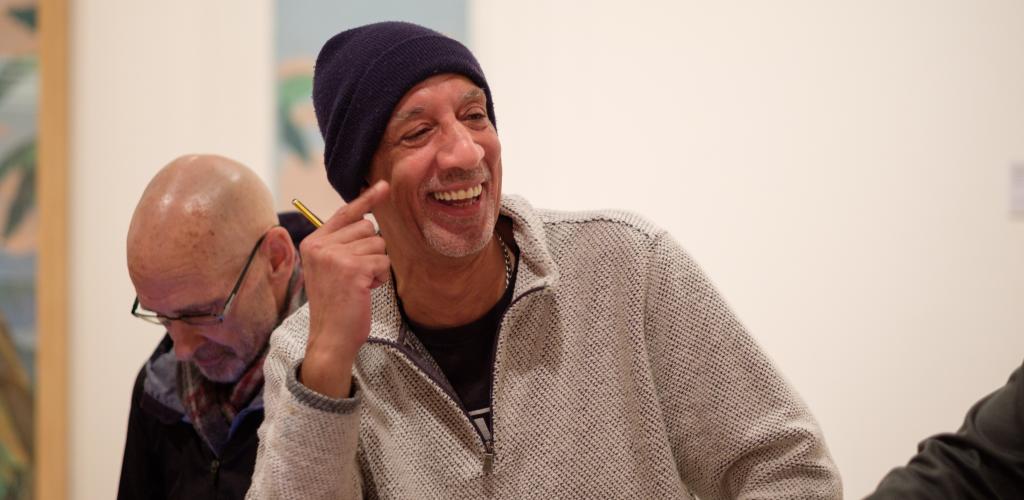 Do You Want To Help Tell Our Mancunian Story?
15 January, 2019
Comments ()
Do You Want To Help Tell Our Mancunian Story? To contextualise our mixed race story. When were you born? Before 1937 is particularly interesting to us. Both black, and white, and mixed race people. Come join us when we take up our gallery in the Whitworth March the 15th to register. Fab photo of our Phil is by our very own Rude Gal photographer Karen Rangeley.
I put this out in some Facebook groups today.
When were you born? Would you like to contribute?

I am a multi-award winning playwright. I was born in the 50s in Grafton St in C on M. My dad was Jamaican. My mum was Irish. My mum's mum and her whole family ostracised my mum for running off with a black man. It was common practise then.

In the 70s a lot of us 'half-caste' as we were known then used to go to a cellar club on the corner of Moss Lane East and Princess Rd in Moss Side called the Reno.

As a playwright, funded by the Art's Council, I collected Reno memoirs and posted them on our website http://thereno.live/about gives more detail.

45,000 related to our memoirs. 2017, with Salford Uni Applied Archaeology we excavated the Reno. 80,000 watched our excavation. 2018 we were finalist in 8 awards. 2019 we will begin a residency in the Whitworth Art Gallery where we will reconstruct the Reno, collect memoirs from the 50s and before, both black, and white, that contextualise ours.

Telling a Mancunian history from the mouths of who lived it not from a history book. These posts are our video diary of our research & development to plan why, what, and how to achieve this.

When were you born? Would you like to contribute? Thank you for your interest.
Among many other fab replies I got this from Soraya Kennerk
Soraya Kennerk 'Yes I was born facing grafton street near whitttworth art gallery and I am from a mixed race marriage and my Mam was Irish met my dad in the bowling Green on crafton street when she was a nurse at thee MRI my life mirrors yours in so many ways ,my mams family told her not to darken there door step again for marrying a darky as it was put my mam went through hell had a lot of nervous break downs through out her life because of all the racism, and being born mixed race is hard where do you belong where do you fit in always feeling like some thing is missing , I was always close to my dad and feel I'm more like him than my mam yeah it was great being brought up in moss side and c on m but there was a lot racism and it hurt cut deep left wounds that stays with you forever I think the children of a mixed race marriages suffer my mam Fort tooth and nail for us kids for ever fighting with neighbours over name calling but no one would mess with my mother she had one Irish temper on her one look would make your blood run cold , but she was a good mother we always had a lovely home and home cooked meals a house full of luv but also very crazy at times so many arguments my mam was very beautiful 5 foot 11 jet black hair beautiful big eyes and a beautiful complexion I can see why my dad fell in love with her my dad was also very handsome a bit of a play boy in his time, my mam was a land lady owned a house on graffton st Lloyd street upper brook street Rabby street amongst others over the years also a stall on Denmark road market my mam was well known in thee area and well respected she had to be hard because life was hard she came from a wealthy farming family in Dorset Weymouth the jurassic Coast such a beautiful part of the world, I asked her why she came to Manchester from such a beautiful place in the country side not far from Weymouth beach she said she wanted to see the big city and ran away from home with a friend and when they got to the train station her friend got cold feet and went home but my mam was determined to get away from her controlling religious mother who lived in the dark ages, I always wonder how my mams life would have been if she had stayed home and married a white man I'm sure it would have been so much better for her she missed her home her dad her brothers even her mam, she was never happy there was always sadness in her eyes breaks my heart when your a kid you don't notice these things until you grow up my dad also had his own people looking down on him for marrying a white women people can be so cruel there for I do not believe in mixed race marriages they bring a lot of pain Especially for the children you know the film east is east I swear it was wrote about my family my mam and dad our life's every detail my dad had been married before an arranged marriage he was very young and he ran away from it , it's uncanny they even owned a chippy at one time my mam made Home made pies it didn't last long like most of the things they done my mams words your dad and I have a love hate relationship and boy wasn't that the truth they both made a lot of sacrifices for us kids love them both miss them so much they broke the mould when they were made such amazing characters I wouldn't change them for the world, our house was one mad house but I would go back there in a heart beat x'
Made me cry. Like a mirror of my own life.
Barrie: 'The question I sometimes have is: 'why did you do the Reno dig?'

Phil: 'A stepping stone to get a voice in history.'

Well we are about to walk on the other bank.

As Susie says: 'I didn't know my dad till we went back to Ghana together.' [He lived with them all her life. She was 34 when they went back.] 'That's when he started telling stories of his childhood.'

Here's us further solidifying why we should include others to contextualise our own life and get a better understanding of our self and each other.