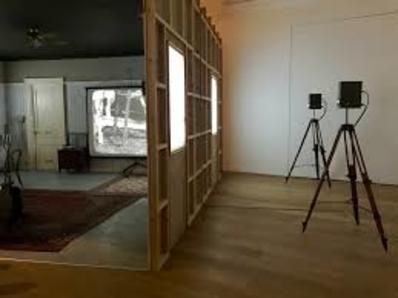 Protest
28 November, 2018
Comments ()
Nikita takes us to see William Kentridge's 'Thick Time' the reproduction of a Paris hotel room where Trotsky lived when his speech was banned. The banned speech plays in a 'window'. Trotsky's political views are being given voice today. It feeds the design ideas we've just manifest.
Phil: 'You can actually make a modern protest about something from the past . . . There's something perhaps for us where we can make our protest now.'
I have spent months designing the Whiworth residency to march my army out of the ghetto. When Phil expresses what he took from the Kentridge exhibition, I hear our chains clank as they hit the floor.
Academics study this shit; our struggle. Me and Salford University Applied Archaeology director Mike Nevell are writng an article for the Journal of Post Medieval Archaeology. Listen to what Mike qoutes in one of his sections.

MN: A central part of The Reno project are debates around who should have access to heritage and how far archaeology should be seen as a common inheritance. In the late 1960s the American planner Sherry Arnstein developed a structure for summarising how bodies like these represent the various power structures in contemporary society and how they interact when important decisions were being made, particularly in the planning process. Arnstein's 'ladder of citizen participation' has eight 'rungs' grouped into three broad categories: 'Nonparticipation', 'tokenism' and 'Citizen Power', the latter including the rungs of Citizen Control, Dele-gated Power and Partnership. Arnstein defined citizen participation as the redistribution of power that enabled the 'have-not' citizens presently excluded from the political and economic processes to be deliberately included in the future. Although critiqued within a public health context by Tritter & McCullum, who called for more recognition of the process of participation itself, and in an environmental planning context by Collins & Ison,10 who argued for a social learning approach that recognises the complexity of different group inter-actions in this field through a series of nested learning and partici­pation steps, there is still much in this model that is relevant to public and community archaeology practice in Britain and beyond. Particularly relevant to The Reno project is the way in which Arnstein's model allows decisions within a single project or process to move backwards and forwards across the spectrum of the 'ladder of citizen participation' from 'Nonparticipation' through 'tokenism' to 'Citizen Power'.

LB: I don't even fully understand what it means. But I know they're talking about us. And it is that paradigm that has to shift. My bit will be wrote in our language.