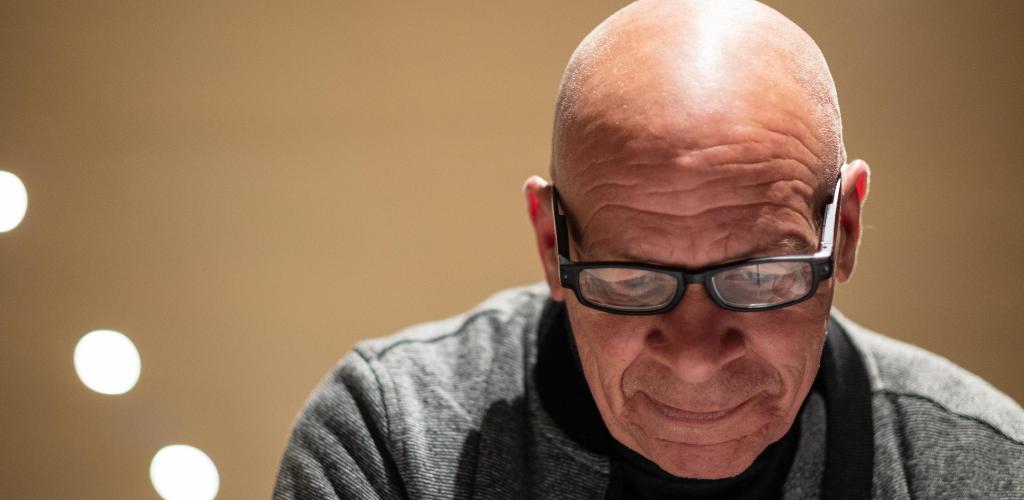 Fuck Him & His Boots
22 November, 2018
Comments ()
Barry has begun 2 new careers: a sex symbol, and a photograph curator. Look how calm we are now we know what we're doing. Photo Karen Rangeley. Film John Lloyd.
Karen: 'As well as your narrative you're also starting to think – see the colours there.'

Me: 'Yeah, the colours look great together.'

Barry: 'There's subtle movements here . . . she links it . . . it goes from her – she's doing a similar job, and that's the product.'
I woke up in the middle of the night thinking about swearing. Hence the title. Like the £8 pencil it's another form of elitism. I'll talk about it more tomorrow: it's gonna take a bit more thinking about it. But it begins with. People meet me. They love my passion. They hire me. Or ask for an interview. The minute I arrive they ask me not to swear. It's a way of shutting me down. Making me bland. Acceptable. Assimilated. Cutting me off from my true voice so I fit their bland picture. They do it to us all. It is a form of self policing. A CCTV camera on our morals. Think about films like the Matrix. How we are governed. Swearing is so subtle, it appears like madness for me to bring it up. It is just a word. That somehow the world has decided is a really bad word. Cunt is almost akin to stabbing someone. And if you use these bad words you are not entitled to be part of polite society. At one time the whole English Court spoke French. And the bible was in Latin for similar reasons. It is these tiny things we have to forage out for our revolution to run full term. The things they have got us to believe are bad about ourself. That mean we have to live underground like Linda Hamilton's Beauty and the Beast. Who remembers that one? And Demolition man. What they have decided is good is good and entitles you to clean air, good food, and art.