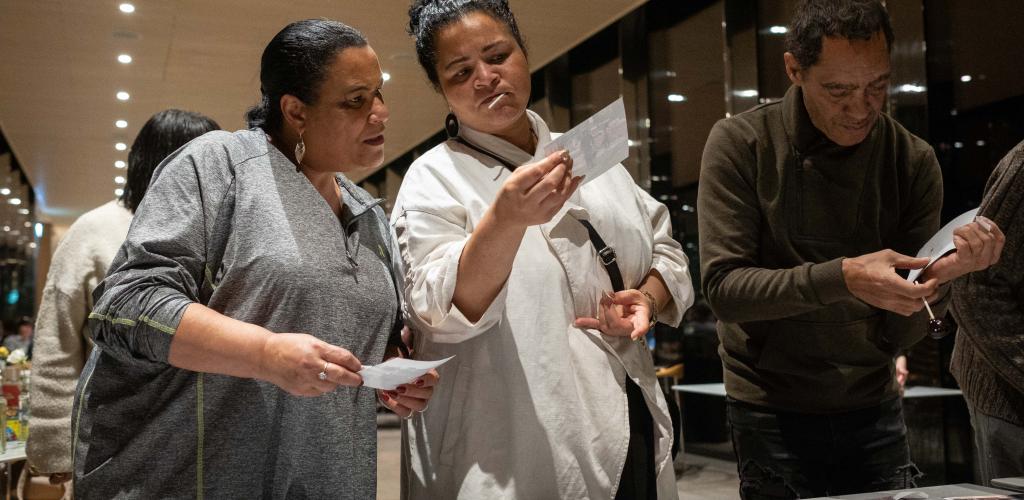 Revolution
14 November, 2018
Comments ()
I've never worked with a group to edit photos before. Watching these films of the session I abandoned to go to This Is Manchester's Individual Making a Difference in the Community Award, laughing, I realise the group need to be given more direction. The tables need to be set out so people are not bunched together. The process of art is always a learning curve. It always starts on the surface and then like the excavation itself goes deeper. Top photo by Karen Rangeley.
Editing excavation week 3 that started on Monday the 23rd of October 2017, the final week, we are going to start in a different place. I'll surprise you. But we need to start from an engaged place. Like Blue Matthews Mason says in one of her many fabulous posts about the Reno project: people told their heartfelt stories, the memoirs, then got knee deep in shit. Why?
And I am hell bent on this at the moment: who do the participants want to be when you leave this project? This combination of why and want should be examined before we begin week 3 edit on Thursday. Also we should look at week 1 edit and week 2 edit to engage with the narrative we are beginning to tell. I am proper excited to be waking up to all the possibilities.
From an audience point of view too: these films would be far more exciting if the participants were excavating themselves. Not the what-we-didn't have: but the what we can have. There could be individual pots of gold at the end of this rainbow. I am talking from experience. I didn't envisage this project cold. I asked myself the same questions, I am guided by only what I can make possible, helped by meditation, coaching sessions, tons of self help books, and the Secret's law of attraction which says what I think about will come about. Ain't all this proof that this does happen.
What I am trying to say I think is in a normal revolution ever fucker goes mad killing ever fucker. What if a tiny pocket of people, like us, just changed their own mind-set. Then infected other oppressed mind-sets with their liberated mind-set. Not a drop of blood need be shed.
On my way to Manchester Cultural Awards tonight as a finalist in Outstanding Contribution Award, and, seperate, the Manchester People's Award. Little old me, bred in Moss Side. I mention the awards to demonstrate my point. And also they look fab on the projects CV. Good for flashing in people's faces when we need things. Laughing. And they are a fucking marker of what we have actually achieved, all joking aside.