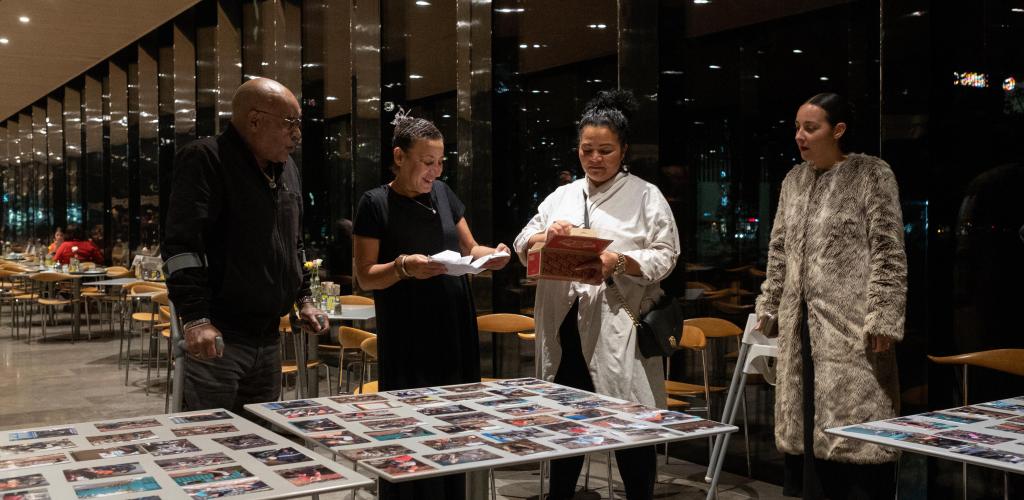 Four Truly Fab Meetings This Week
09 November, 2018
Comments ()
I'm a bit fucked today. I've done so much last week. So many great things are growing. Photo Karen Rangeley of Me and Rachel at The Whitworth before we left for This Is Manchester Award.
Monday: Ed, Sam, Nikita the Whitworth.

I met with the Whitworth to discuss how our space should look. I've been thinking on a budget. But Sam is thinking gallery quality. They showed me these beautiful trestles made by one of their master technicians. They have 9. We are going to get another 17 handmade so each of the Reno 12 and me has a pair.

We will top these with top quality blockboard. And a piece of Perspex to fit so each can protect of display what they are working on at the time. Then we discussed a seating area. Again I was thinking budget. Then Sam told me about a project she did in her last gallery where the sofa she used was the colour of their trademark. Then we agreed why not do that here. So now I am envisaging a beautiful space with 13 handmade workstations of beautiful fresh good quality pine. Block board tables tops. A large coffee table made in the same style. Oh just remembered: we were talking about how to display our memoirs when we are there. Then Sam came up with the great idea of having them on a telly. So we have the 13 x 8' x 4' workstations dotted around our gallery. Then in the far corner we have a 'living room' type section with fabulous quality sofa's the same vintage green as the Whitworth sign, surrounding a handmade coffee table that matches our workstations. A handmade sideboard that also matches holds our 60'' TV where people can sit down and watch our memoirs as we work. And we can sit there and have group discussions. So we have created a brand that matches the Whitworth. Then we will personalise that brand with say cushions we decorate and all our materials as our exhibition evolves. Sound really magical, grown up and valued to me.
Tuesday: Karen Shannon Manchester Histories Festival

Now this one is really special. Don't know how it pans out yet. Manchester History Festival has asked us back to do something more grand. Remember we talked about Excavating the Reno in Manchester Central Library last year. Next year they want us to do something around Protest, Democracy, and Freedom of Speech. They're thinking of course Peterloo. Later on that night it came to me.

Peterloo 1819. Riots 1981.

Peterloo: the cavalry charge.

Riots: the police charge.

Gonna take a lot more thinking about but there is a gem there. Salford University Applied Archaeology who dug up the Reno also dug up Hulme Barracks where the 1819 cavalry came from. They have artefacts. Medals and shit. The 1819 have no way of telling their story. There are loads of stories from the 1981 riots that have never been documented. Including the police. Loads of photos. We could build a pictoral map of 1981 Princess Rd. We think of Protest, Democracy, and Freedom of Speech as big things that people discuss. But as excavating the Reno proves by actually putting freedom of speech into action: saying what the fuck we want in our own voice we are actually protestin, and as our journey proves we are changing the fabric of society and causing a democracy that we are now part of.
Wednesday: Mike Nevell Salford Applied Archaeology

Get on this. The Journal of Post Medieval Archaeology want me and Mike to write a paper about how we did it. Archaeology is really interested in putting a case forward for more digging up the recent past. And we are that case study. We decided on 8 topics we will expand into a proper thesis. Approach. Community. Validity. Strategy. Budget. Individuals. Learning. Legacy. So basically instead of shit little community digs where an archaeology department decides they are gonna dig up say Leaf Street Baths, and hope the community get involved, they are gonna learn how to do it the way we did it so they get the maximum involvement we did. And instead of loads of small projects they want to spend the money we did to ensure the communities involvement is as high quality as ours with all the spin offs of ours.
Thursday: Mark Ball Manchester international Festival

Smashed it. He signed off on Gecko being with us for 3 weeks to help us turn our material into a musical. And we are being allocated our own Manchester International Festival producer. We had the most marvellous time together. There are times when I am on fire and not a bit conscious, where I stand up, and paint it all out on the ground and I watch the fire catch in their eyes and know they have to have it. He has to have it.
Thursday Night: This Is Manchester Awards

Didn't win Individual Making a Difference To The Community. But all we are doing absolutely shows that me, the project, the participants, and you who are bothered about how we are doing, is not only making a fucking difference we are changing our world.

I don't know how to think of any of this yet. Not in a crystal clear or metaphorical way. I just know. Here's an anecdote; last night when I was at the This Is Manchester awards I wasn't at our Whitworth Residency. Karen Rangeley our pro photographer who took the session wrote to me today. 'Just watching some of the mini films, cant help smiling at the lovely atmosphere...the Renoheads mingling and fitting in very comfortably with Manchester's trendy art crowd..as though they've always hung around galleries.' I absolutely fucking love that.

Fuck protest, democracy and freedom of speech. I see it in terms of the big house. And this is my belief. At first I wanted to burn the big house down. Don't all revolutions do that? But that is hurt and pain, resentment and frustrations and we all end up with nothing. By taking the memoirs, the excavation the Whitworth colonisation out of the hands of any arts organisations to begin with I was saying we are not being brought into the big house to play banjo in front of the fireplace anymore. And now here we are in the big house drinking tea out of china cups. And get on this, they are making it for us. Smiling.
No film tonight. Don't know where they are. They'll be back on Monday.