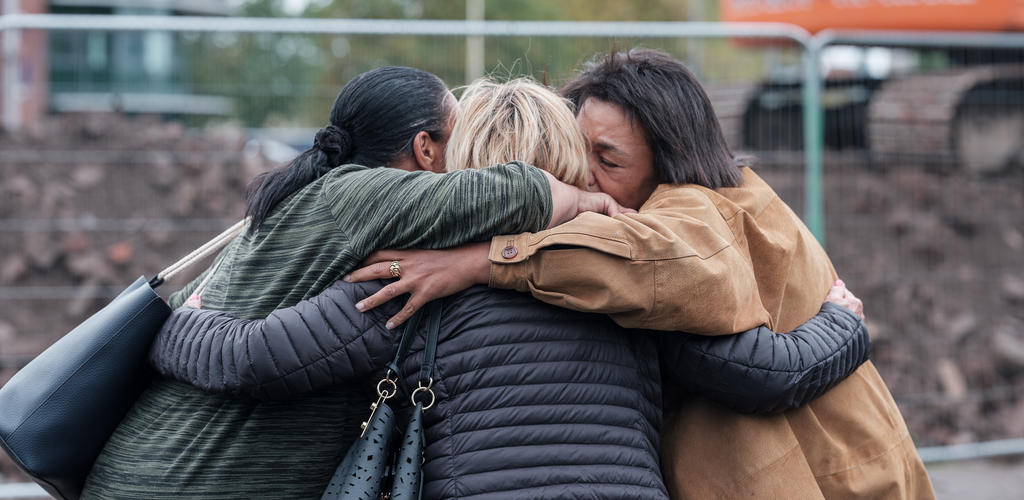 Market Research: New Year's Eve Party at The Nia Centre Hulme?
14 September, 2018
Comments ()
I am asking your opinion before I put any energy into it. Photo by our Karen Rangeley.
The Nia Centre in Hulme is hosting a type of New Year's music festival. Their theme is to integrate musical generations. Each of the Nia's well-defined areas will have a different scene going on.
At the top of the building will be us the Reno. Our own DJs, Persian, Hewan and Dennis. A dance floor room with a gorgeous ceiling that we can fill with balloons or ticker-tape ready for midnight. With fab walls for projecting our Reno teen, memoirs, and excavation photos and footage like lava lamps to make us movie stars again. There is also a small chill out room that we can make really comfortable. I guarantee you it won't be just a get together in a soulless bar. But an excavating the Reno occassion.
Below us on the ground floor in the main theatre is young music. Those who still go on the scene like Susie Prouse will know it. I think there will also be reggae.
Below that will be live jazz in the basement.
Cons. The room is up two half flights of stairs. Obviously that isn't too good for the disabled amongst us. And a bit shit for us who smoke. But I am going to make outside look fabulous with DBN lighting, they lit the excavation, plus plants and benches and candles. So as you walk up it is a fairy tale.
It is all night. There are 500 tickets. A minumum of 150 will be specifically allocated to us. You will need a ticket. You will have to buy them rapid once released. All areas are accessible with this ticket. It will cost £20. Offset by bringing your own booze.
I am only going ahead if at least 75 people say yes now. Or it won't be full of our friends we want to spend New Years Eve with. I think it is a good place for us to catch up with each other again. Chill out. Talk about what we have achieved so far. The future. The Whitworth. The musical. Get pissed and stoned. Dance to our favourite music. Get to know some new stuff and people. In the arts it is not what you know but who you know.
And Invest in the Nia Centre who are eager to invest in us. It is definitely going places. Remember I loved the cool chilled atmosphere of the Battersea Art's Centre on Wednesday and Thursday when I went to meet Gecko for our musical. The Nia Centre has the most potential to become as hip as the BAC. Getting in at the beginning gives us an emotionally invested say in how it develops, and how that development can be mutually beneficial.
Tell me what you think. I am genuinely asking the question. I am genuinely inviting questions. Requests? Ideas? It has all the potential to be a beautiful special ocassion. We haven't had one this year.