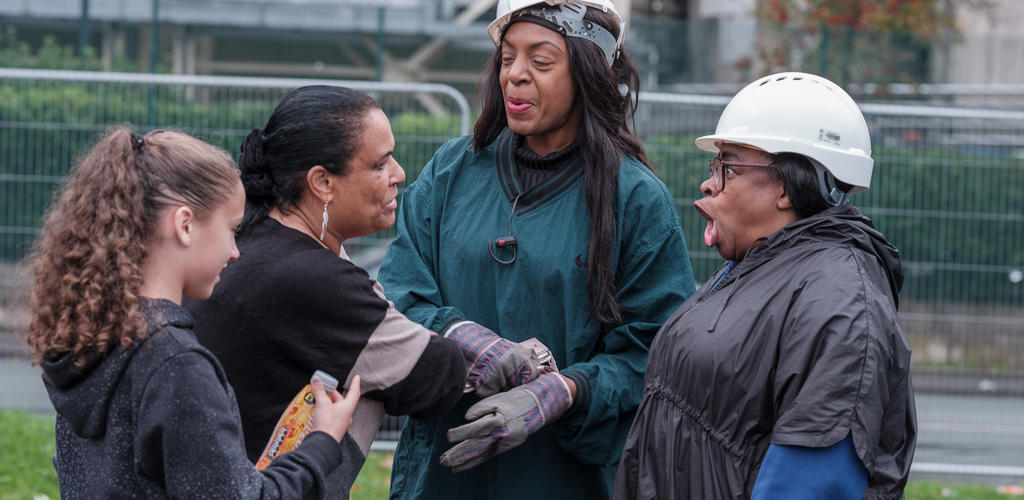 All That Glitters Is Not Gold
07 September, 2018
Comments ()
Thank you to all who threw themselves into campaigning. Thank you to all who voted. Sorry. We didn't win the National Lottery Award. I am not remotely disappointed. In fact I'm relieved. I've no idea why. Except, we can get back to our own journey now. And I no longer feel under scrutiny. Photo curtesy of Karen Rangeley. Exactly how I expect Barbara to respond. Laughing.
It's led to marvelous things. As I've been told everyone is talking about us, and in everyone's view 700 nominated, 7 finalists, 6 Goliaths, and tiny little us, we did win.
1] On Monday I have a meeting about our musical. I intend to leave signed on the dotted line.
2] On Wednesday I have a London meeting with one of the biggest, most ingenious UK theatrical companies who will help us realize that musical.
3] On Friday I am meeting with an up and coming Manc venue about our theatrical New Year's Eve party. Keep your diary free.
4] Early October I'm in talks about staging my plays as a mix of professional actors/set builders/costume designers and local non-professional actors/set builders/costume designers. Meaning anyone of us who wants a go.
That voting campaign was an awful month for me. Laughing. Never sucked so much dick in all my life. Proper laughing. But I have learnt how to use twitter.
And if I haven't got round to it yet add yourself to EXCAVATING THE RENO FB group. Let's settle down now and really get to know one another. Let's build a real relationship. Anyone who has asked to be my friend must be interested in the project and its possibilities because I don't post about anything else. There is a lot we can achieve.
Been having pure artistic conversations this week. Feel rejuvenated. For the first time in 20 years my life feels normal again. I was saying to our Whitworth digital artist, earlier today: before I had to go to work because Rachel turned 16 and I couldn't just change my Social Security book any more, my life was pure artistic. I had a fabulous community. I hate that word. Rachel would go to school. I'd tidy up. Mine and Tom's friends would come round. And by the time she came back at 3-30 we'd be stoned out of our mind but we'd have righted the world. Laughing. I don't smoke weed any more. But apart form that there ain't no difference. Except I am legally entitled to do that now. Proper laughing. Come join me. That's all being an artist is really. But then you get to turn your maddest thoughts into something others can see. Be it a piece of writing. Or a marionette in a play. I can't wait to rewrite and restage Black Crows. I can't wait for us to do it together. I can't wait for you to see it. To act in it. To paint its scenery.