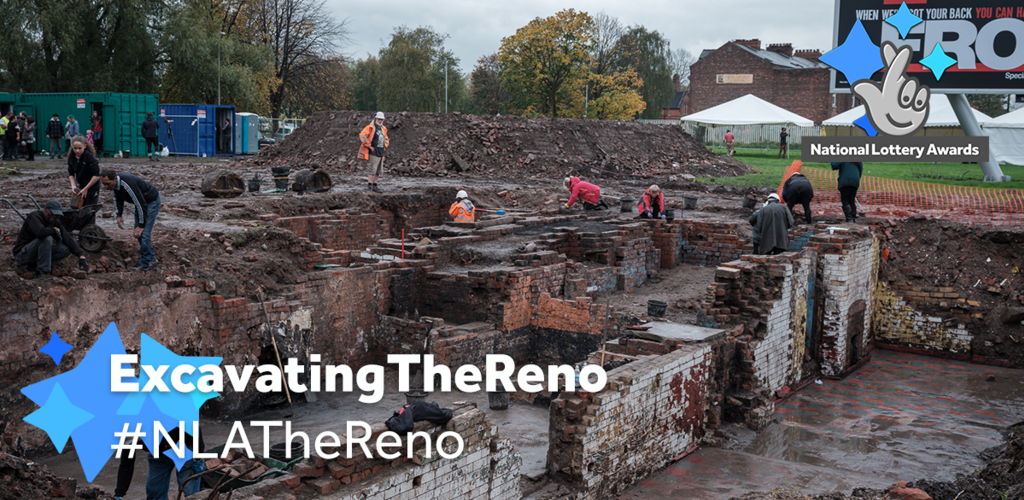 Excavating The Reno is a National Lottery Award Finalist
27 June, 2018
Comments ()
CONGRATULATIONS to us. VOTE TODAY. Been sat on this news for a month. Almost killed me. We have to win this by vote. Links and rules below.  Share, share, share. Make it your goal today to get 100 beside you to vote.
Tell all your family, friends, neighbours, work colleagues to vote for us.

Invite all your Facebook friends.

I've took to telling strangers.

Share share share.

Make it a goal today to get 100 beside you to vote.
Phone: 0844 836 9699

Your supporters can register a vote for your project by calling this number. Calls cost 5p but please be advised that connection charges may be applied by some networks, so please check with your provider.
Twitter: #NLATheReno

For the duration of the campaign, your project has its own unique hashtag. #NLATheReno

Anyone who tweets this hashtag or retweets a post containing this hashtag will register a vote. Only one vote per account is allowed regardless of how many times they tweet or retweet. Paid promotion is not permitted. Furthermore, our social media voting partners will monitor this platform and may not count votes from accounts which one or more of the following attributes:

Less than 10 followers
A poor follower to following ratio
No profile picture
Posts from bot accounts/clients
Do one of each. Vote online, by phone, and twitter.
Rules

You can use your other social media accounts to encourage supporters to vote for you on Twitter but only posts on Twitter using your hashtag will count.

All voting is independently verified by the Electoral Reform Services.

It is permissible to collect votes for manual input online or via telephone, i.e. if someone wants to vote for your project but doesn't have access to a computer or phone.

I have included voting capture forms for you to record these votes. Please note, the ERS will notice multiple votes from a single IP address or telephone number.

As a result, it is important you hold onto these forms to produce as evidence of legitimate voting if asked.

If you are intending to input multiple votes collected from an event or canvass, it is best to let me know in advance so I can let ERS know should they question voting activity.

Should you have any further questions about voting or anything else to do with the National Lottery Awards, please do not hesitate to ask.

Regards,