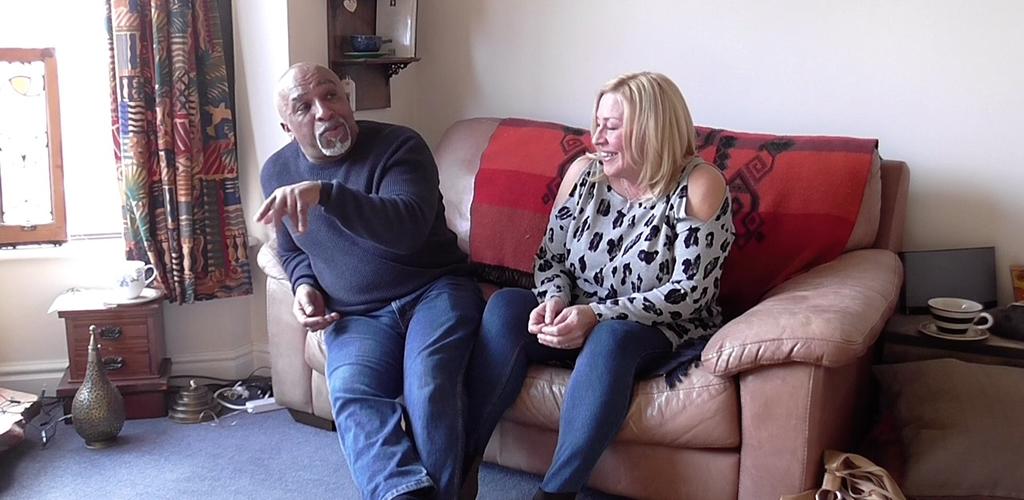 3 Massive Meetings This Week
15 June, 2018
Comments ()
3 Massive Meetings this Week. First, Saturday: Manchester History Festival. Second, Tuesday: the Reno crew most loyal to the excavation to decide what to do with our Whitworth space; and our artistic crew who will help us do it. Third, today: The Whitworth staff. Totally lost my anger. Everything is looking so good. Like Ray and Julie in their memoir, pictured. Look at their feet. Look at how much they get each other.
Manchester History Festival

It is music centric. The young bloods see us as the golden era. I take my place on stage. Yeah, we were.

'I am part of the golden era,' I joke.

What do they mean by that? We don't have to scrabble round for venues. We had our own. We can go there 7 nights a week. All day Sunday. We are a way of life. A philosphy. A cult. That occured to me today walking towards the Whitworth. We were as good as a cult. A true fully fledged part of the counter culture. Authentic.

So they ask: 'where can we go to hear authentic music?' Then they suggest our original Reno DJs should play at some of their spots. Why not? Amazing, we will inject new blood into the new bloods. Deep conversations to be had. Good place to have them is when we take up residency in the Whitworth.
'What shall we do with our space?' I ask the Reno crew most loyal to the excavation.

We're sat around a bunch of tables in the back of beyond in the Whitworth. We've been outside for a while being ourselves. We've been inside and sussed out our space. It's a big place.

Myra Trigg jumps up. She can see it in her head, how we should recreate the Reno. Then they are all having great ideas at once. Really engaged. And I am really grateful because if no fucker said anything I would really be in trouble.

'And we'll have music,' Brian Thorne says. And I remember I have a Bose that has great sound. And our space is taking shape already.

'We could decorate it like the 70s' says Dionne Richardson. Because we'll need the place to be comfy while we put eveything in place.

'We can look at their collections and take out art that most speaks to the Reno,' I say.

'Like a Picasso,' Dave Trigg laughs.

'They have fucking Picassos.'

He can't believe it.

Till Nikita the Whitworth curator who photographed the artifacts says, 'no that is true.'

'We can exhibit anything from their collection along with ours. But first we have to look through our excavation photographs. Thousands of them, most taken by Karen Rangeley, and make a choice about which will make our individual 12 page spread that we will stitch together to make one photo-book that speaks to us. Not an arty book, not the way they would like it to look, say, mental with all our fucking heads cut off, but art by us, for us.'

'12 perspectives,' Sue Taylor Thomas confirms.

'Yeah, 12 different perspectives: only we know this story.'
Meeting the Whitworth Staff

Maybe that last sentence won't mean a lot to you. How important our perspective is. How unusual it will be to have a glossy high quality photographic book told from our perspective.

The quickest way I can sum it up is usually we are brought in from the field to play banjo in front of the fireplace. Then left to fuck off back to our rags.

My mission, gone all evangelical now, is, no, I am staying in the big house. We are staying in the big house.

Today, I spent a whole day in the big house. They were great actually. It was a pleasure. Proper friendly and inclusive. The Whitworth want to change their way of thinking. Their new artistic director Alistair Hudson is fabulous. He did a lot of good in his last gallery. MIMA. Look him up. It is pure serendipity that our paths have crossed.

But I still want to take it one step further. Art has a flavour. I said it the other day in the meeting with our Reno lot. There's no way on earth I can take what we have unearthed and douse it in that fake flavour. Its flavour has to be authentically us. That speaks to us and people like us.

Like our memoirs. Our photo-book, our film, our exhibition, has to be as honest as our memoirs. Fucking hell, I don't want to be run out of town for coming off with some bullshit after all our hard work. We still have to get each other. I hope to keep our feet entwined like Julie and Ray's.