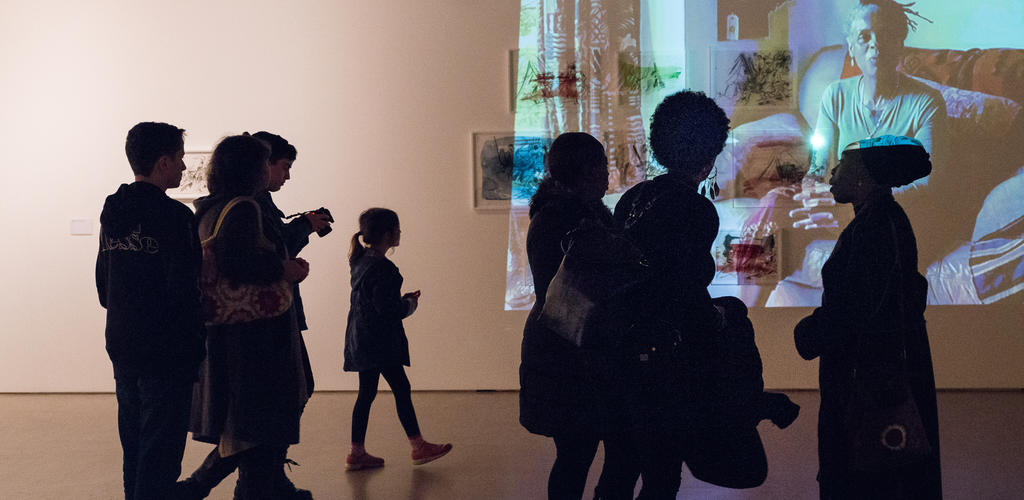 The Reno@ The Whitworth
We had one night in the Whitworth. I secured a year for us. Got the green light today. Read below. People would kill for it. Our artefacts plus our art in the Whitworth. Just submitted my Art's Council proposal for the money. Photo curtesy of Miss Rangeley AKA Rude Gal.
I am writing in support of Linda Brogan's application to ACE for The Reno@the Whitworth. This follows collaboration on a one-night project, Excavating the Reno, held at the Whitworth in November 2017. This event, where we exhibited artifacts from the dig, showed interviews from the project, hosted Reno DJs and welcomed the Reno Regulars to the gallery, highlighted the potential of a more sustained relationship with Linda and her collaborators.

We are committed to offering Excavating the Reno a gallery space for a minimum of 6 months and a maximum of 1 year, from March 2019 to March 2020. During this period we would invite Linda to undertake a critical residency within the Whitworth and to develop the Reno project in a form of creative co-production between Linda, the Reno Regulars, the gallery and our wider constituents.

We will commit to offering creative and logistical support to Linda and would welcome her voice within the gallery.

Yours sincerely,

Alistair Hudson
Director, the Whitworth and Manchester Art Gallery
We will be working together before March though. If we get the ACE money we'll be writing the text for our photobook, archive, excavation, and artefact photos. Different book than Rough Trade's. Launching it at the Whitworth as part of the Book Bound Fair this October.

We'll be planning our purchasing for our gallery. It's massive. And beautiful. It's called the sculptor gallery. Upstairs with a brick wall on one side. Like a NY loft apartment. We'll be buying sofas and shit for it. It will be our space. We'll make it into a Reno we would like today at our age. Its ours all day long 9 till 5.

March, editing our excavation footage into a film-poem and launching it as a red carpet Whitworth affair before submitting it into global film festivals.

The same day we'll move into our gallery.

In there we will generate real art work about the way we were brought up and shit. Good shit too. Initiated by our artefacts. I want to insert our art into a glass ceiling, one you can walk on. This is my concept.

'Below is ours. Dark. Warm. Music seeps out. There's a black door. Do you dare? Or are you taking the stairs? Up. Calm. Clean. Ordered. You look down through the ceiling. Glass stained with our artwork, underfoot. We look up into a white space, overhead. Listen. They're laughing. Without a word said, it is a public conversation.'

Whitworth are more than a bit anxious about that but it is all a negotiation that we shall all be part of.
I hope you are pleased.

All dependant on getting the ACE money.

Last time I worried about it on my own.

I think we know each other well enough now to go through it together.

And if it's a no I'll just read my feedback and apply again.

This opportunity is going to be ours.

For us and our kids.
And her collaborators means You. x
To me it is about fucking off the glass ceiling and all of us having a chance.