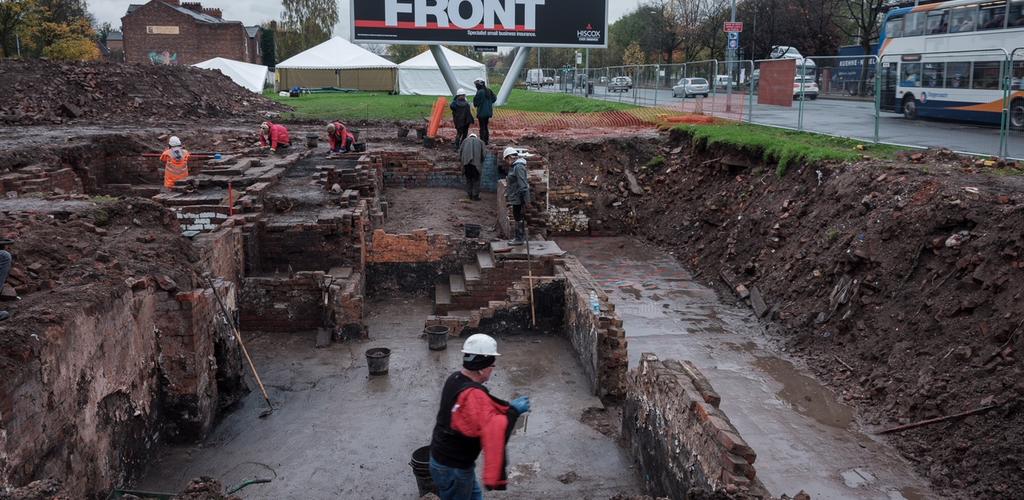 People Who Made Excavating The Reno Possible
13 November, 2017
Comments ()
A few people have thanked Linda and her team. I'm gonna attempt to thank all those that made this epic feat possible.
Before we even got near the site.

May 2016, Art's Council Officers, Alison Boyle and Leroy Philbrook listened and taught me how to build my funding application with a plan, and budget the plan.

May 2016, Sarah Elderkin, the Principal Policy Officer in Manchester City Council championed the idea from day one. And cried on the 28th of October 2017 when she saw it achieved.

June 2016, for weeks I filled Manchester Museum Curator Bryan Sitch's desk with post it notes about us Reno folk. His interest and questions were instrumental in getting the first £15,000 Art's Council Grant to record our memoirs.

August 2016, after 3 rejections from MCC Development Officers, Sarah Elderkin chaired a meeting where permission to dig up the land was granted.

The deciding factor was my knight in shining armour Adam Thompson, Salford University's Prinicipal Archaeologits who appeased MCC's fears by promising to produce, free of charge, an in depth risk assessment, our 07-10-17 test dig.

Adam and archaeologist Sarah Cattell who you all met on the dig, worked with me throughout October 2016 to build the plan and budget.

Plucked from a plea on twitter, Alex Darke designed and James Seddon of Cotton built our website for pennies, because they loved the project.

October 2016 to May 2017, 63 individuals gave me beautiful, poignant, funny, informative memoirs to post on it.
I became so immersed in our world I forgot the rest existed. Hence a rejection on the Art's Council second bid, they need to know big names are interested.

So thank you Contact Theatre, Nick Hern Books, Manchester International Festival, Rochdale Literature Festival, Blue Moose Books, One Manchester Housing Association, Battersea Arts Centre, and The Royal Court for coughing up the £5000, 10% matchfunding, I needed to get the £50,000 for the actual dig. Their logos run at the bottom of the page.
The actual dig.

Archaeologist Sarah Cattell my rock throughout.

Archaeologist Andy when it was questionable if we could safely dig down 10 feet, Andy jumped into the pit and dug down to the Reno kitchen floor.

John Lloyd for pulling a camera team together, again on a shoestring, Harry Johnson and sound Pete Butler. Including all the paraphenalia like memory cards. For editing all our nightly updates. Which meant his day was 12 hours for 4 weeks straight.

David Trigg, every day, for 3 weeks, digging like he is 21 when he's 66. Jeff Bassey also every day till he was damaged in action but came back to sort and clean finds and build a great relationship with Kerry our finds specialist.

Brian Thorne, Ivan Smith, every day. Myra Trigg, Sobers, [who also provided salt fish fritters and jerk chicken to die for], Barry George, most days. Carmen Jones the days she could. Portuguese Alcina, Posh Margaret who made it look cleaner than my flat. If no one else turned up I knew I could rely on them. There are loads who are gonna hate me for not mentioning them. Billy and Les for their dedication to their sign. Deborah Laird for really cleaning 2 smashed toilets.

Dionne Richardson for life-saving stews brought in the chassis of her Silver Cross that baby diva Blue was sat in, and digging. Site Momma Suzy Mousah. Big up to Suzy Mousah. We always had cups, hot water, clean canteen cabin [after we'd been shouted at for a bit], sandwiches with the crusts cut off, and a chicken soup. And June Brencher Prouse who provided that hot water and anything else we needed from her house two blocks away.

Thank you to anyone who brought food. Natalie did a whole platter of fish cakes sweet potato and sour cream that would have sold well in a posh restaurant. Lee Johnson would arrive with bottled water once a week. A Godsend. Me, Carmen Jones, Ivan Smith, Brian Thorne, Barry George and Mia Mousah, Suzy's granddaughter, shared the last 2 bottles, like we were on hard labour after building a Roman brick road around the excavated Reno on the Friday before the celebration, so anyone disabled would be able to walk around the lit site unhindered by mud. The camera team, the archeologists pitched in too. By the end of 3 weeks we were a real team. Us who were there and experienced it know who we are, and I am sorry if I have forgotten to mention you.

And professional photographer Karen Rangeley, there most days, for free, took shots of all who worked. Thanks to all who turned up on their allotted day. It was a sight for sore eyes. Believe me. Your hard labour brought our lost Mecca to light. Karen, for free, took shots of all who visited. I must thank all those who visited. They made it fun. That made the site electric. They made it feel worthwhile. They created another integral community. And I know for certain that Cameraman John and photographer Karen Rangeley would be Reno devotees now, day in day out, if it still existed. In fact I watched Karen turn rude gal at the celebration.
The Celebration

Thanks to Nick, Karen's boyfirend, DBN lighting for giving us such a fairy tale pretty site and amazing artistic lighting in the actual excavation for a 1/4 of the price, again because they loved the project. These are big hitters, people, they don't have to do anything they don't like.

Same goes for Melvyn Cootes of Tubes who provided those fantastic looking and sounding turntables and speakers. Again 1/4 of the price. Indebted to both.

Helen Ryan Lewis who is now the offical Reno Ticket Tout, big shout out. I think she sold 120 if not more tickets single handed. Therefore she is responsible for buying 2 of the 8 Whitworth Art Gallery projectors for the 23rd. Hoping you'll work your magic again to get people there too. This time for free Helen. Wayne Mantrax for giving me a great platform to spout about how epic excavating the Reno was, and then getting on board to sell it. Barbara Bell for her daily touting with new little flyers.

Fonso Buller for coming all the way from Cornwall fo the entire 3 weeks. For bringing an energy that is uniquely his. That phoned everyone on 5 page list I gave him to make sure people came. That blessed the site with plump rose petals. That came into his own in the tent just like he used to in the Reno with his whistles and his MCing and calling out the names on the glorious projection on the ceiling.

Thank you Vance Taylor for that projection that made the tent feel like the most glamarous 80s club. Like something out of Scarface. And made us all look like screen idols. The living and the dead. Looking forward to seeing the bigger, badder version at the Whitworth. Urging you people to upload your teen photos to be part of this.

Thank you Persian, Dennis, and Hewan for playing for nothing. For making us boogie like the devil was in our soul and the ground was hot beneath our feet.

Thank you all for buying ticket. Thank you all for coming. Thank you all for being blown away. Thank you all for being in good humour. Everyone of us was a part of that team. We really were.

Looking forward to seeing you all at our exhibition at the Whitworth on the 23rd 6 till 9pm. Bring you kids, grandkids, mums, dads, neighbours, but make sure you can get rid of them for the after party.
Whitworth Gallery say:

An evening of stories and music celebrating the people and energy of the Reno, 1971-1981. Since, October 2016 Linda Brogan has filmed personal memoirs of the demolished subcultural Moss Side cellar club, the Reno.

To mark the excavation of the Reno, the Whitworth will hand over it's spaces to the Reno's community as they project their stories, huge across gallery walls, install their artifacts as statues and blast their music at a pop-up Reno bar. Through these interventions, Linda is questioning, who cultural institutions are for, who has been excluded, and what stories haven't previously been given space?

"Memoirist, family, friends, online audience, will swarm, noisy, laughing, glasses in hand, the building will belongs to us. We will have colonised it" Linda Brogan

For more information on the Reno and to watch the memoirs visit: www.thereno.live
Reno Nightclub Facebook page

And I almost forgot to thank Milton Willis and Phil Collins Snr for keeping the Reno alive with their site. How much harder would my job have been without it. Milton is responsible for gathering most of the memorial wall pictures. And Phil for posting specific appeals like: tell your memoir. And both did killer memoirs that enliven the spirit of the time as well as the Reno the place.
The Media

Thank you to BBC Northwest, ITV Granada Reports, Manchester Evening News, Two articles in The Guardian, one seen, one not yet, and the BBC One Show for putting our Legendary Reno on the National Map.