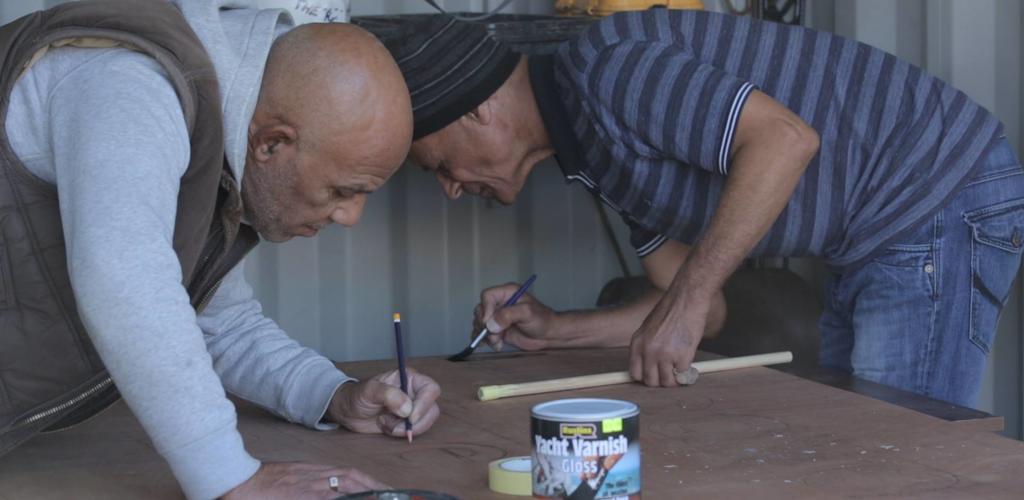 Day 7
17 October, 2017
Comments ()
Site looking gorgeous. Has to be seen to be appreciated. As Elliott Macauley said today in a Facebook post: went down the Reno. Man does he look good. Feast your eyes girls.
Okay. So yesterday we had beautiful blondes in 10 denier. Today we had hardcore half-caste in designer welllies. Susie Prouse aka Sabina Quarcoopome in lime green accessorized with reflective sunglasses. Hope Karen Rangeley uploads the pic. And Deborah Laird in Cath Kitsonesque deep pink flowers on turquoise. Laugh. Only my mixed race sisters can make me laugh like that. Bad no raase.

Collected Reno Party ticket money off those not comfortable to buy on Eventbrite. Come down and do that too. £10. To fund Whitworth Art Gallery colonisation.

Visit from my glamarous daughter, Rachel, newly Mrs Lawrence, having a life over because she's back off her honeymoon.

Portuguese archaeology enthusiast Alcina dug a huge hole in the store cupboard behind the Reno kitchen looking for fragments of a blue and white cup. It gets you like that. Dave Trigg and Brian Thorn uncovered a full set of stone back steps we had no idea existed. Poor Jeff Bassey has put his side out working like a bastard. Deborah swept the exposed Reno walls so they look like a tended Roman site. More beautiful sandwiches off Suzy Mousah. Stew promised tomorrow off Dionne Richardson, wearing designer sunglasses and a dogtooth throw to dig. Her and Rachel are gonna party on the 28th in their own right, not as a foetus. Or as Susie said: a sperm in their dad's underpants.

Men where there too. But it felt like sister power today.

Big up to Billy Marbell who now has a sign writing assistant Les Wiliams. Grand unveiling tomorrow. Of course Phonso. Cameramen John, Peter and Harry also dug. And Ray Da Silva, who I threatened to kill when he tried to worm out of digging with a bad back, dug a wonderful trench in the backyard which we will need to get in and out seeing as the actual stairs is now trapped under Princess Rd's pavement.

Sorry to anyone I forgot. Nearly forgot tomorrow digger back to uncover the actual dance floor. Stay tuned for that.
A ranked soilder is down.
Elliott's track also called Sunshine, that inspired my choice of music tonight. You'd have thought asking him what his favourite track was I'd have had the common sense to play it as our backdrop.