Day 5
13 October, 2017
Comments ()
Archeologist Sarah Cattell said when she was leaving: 'it's not like leaving a normal site it's like leaving a club.'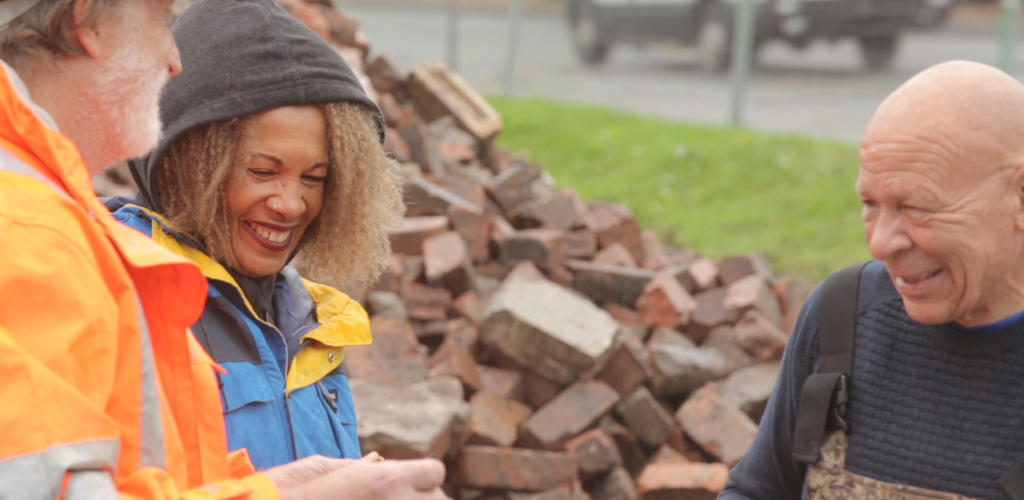 It struck me today what is really going on. There is a big hole in the ground that me and my friends have dug, and nothing else matters. That's what the Reno felt like. Nothing else mattered. And it still has its old lure. Everyone who has been on site to dig comes back, or promises to come back. Myra Trigg hated leaving.

Huge generosity too. Not everyone likes to dig. Suzy Mousah brought sandwiches and cleaned out the canteen cabin. Selwyn Nartey dug and brought steak, rice and peas, and dumplings the day before. Bryan Evans brought bun and cheese for all. Dean, Derek Thomas's son bought patties and dumplings. And there is a loaves and five fishes thing going on because we share and we are satisfied. Went a bit Biblical there.

It does feel prophetic. If the concrete from an old flyer board had been poured 6 inches to the right, looking at it from the pavement, the Reno would have been destroyed. The rest of the ground surrounding the Reno and the courtyard has been dug up at one point, and is completely gone. We are so lucky. Today, that all really struck me.

And once you start digging and a wall is being revealed, or when Stella Quainoo found some bits of a blue plastic sign and wanted to find the rest to piece it together, you get another type of addiction.

And people I know were addicted have turned up. And professional photographer David Gleave took a couple of wonderful photographs, and somehow he captures the war-zone they have lived through. There was also that side ot our life. The early 80s.

And back to Dean. He just casually said: ' hello Linda', when he arrived, and smiled. And I have never met him before, and I screamed, you know I'm hystericall, 'you have to be Derek Thomas's son.' His eyes and mannerisms are identical. But he doesn't have the walk. No one has Derek's walk.

And then him and Dionne Richardson, who is digging for her dad Desmond and her mum Veronica, 2 Renoheads, found out they were related. Derek and Desmond are first cousins, making Dean and Dionne second cousins.

And Phonso used a load of plump petals him and his daughter had picked to honour the ground. And Ivan Smith told me he used to sing with Marcelle King. And Everton Lewis rocked up. And Barrie George and David Trigg and Jeff Bassey dug and dug, and dug, and dug like they have for 3 days. And Brian Thorne and Ivan rolled a slab of stone out of a stone stairwell none of us recognise, like the workers must have moved the stones to build the pyramids.

If you get a chance over the weekend to pass by, take a look. It looks like a Roman temple is being unearthed. Our temple is being unearthed. And even in the rain today it felt wonderful to be there, and be back with each other.

Sorry to anyone I haven't mentioned. You know you were there. Oh, Ann Sarge turned up looking like every blaxploitation movie star in full make up. As you can see in the photo she looks bloody wonderful. What a life we have all lived.
Persian is talking to archaeologist Andy, who went down the Reno, and you know Jeff Bassey
THANKS TO ALL WHO TOOK PART THIS WEEK IN WHATEVER WAY YOU DID.

Including Gail Allott who can't be here because she lives in Brighton but she bought 4 Party tickets on Eventbrite to donate.