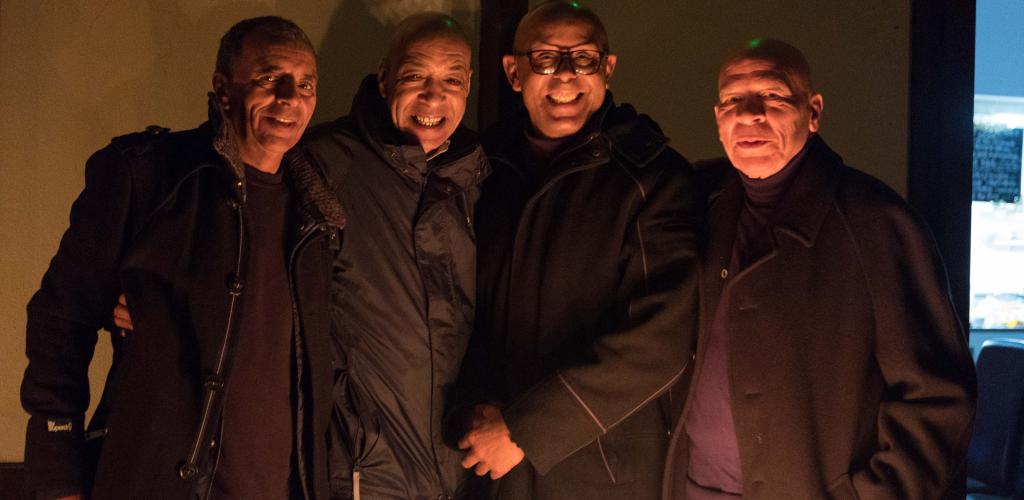 Friday 16-12-16 Reno Xmas Party
19 December, 2016
Comments ()
John Sibthorpe, Albert Macauley, Stan Finni, and Barrie George
A few more photos of hardcore Reno Regulars 1971 to 1981 taken before professional photographer Karen Rangeley had to get off, and the party took off on black people time.
https://www.dropbox.com/sh/l61nt57hlyolbvk/AACOSJVZYZ5KlELRsOTrxDxLa?dl=0
Notice the sweet tin I'm carrying. Those are the Mandy baked space-cakes that did for me. Instead of working the room, getting phone numbers and times booked in for their video memoir, I'm now paranoid, too relaxed, and just want to sit with my oldest friend in the darkest corner of the veranda and eat. One guy even said to me, after, the way I body swerved him was like a slap in the face. Hahaha!
This bit I wrote when I was cleaning up this post in February 2017. Frank Pereira was coming. But Suzy Mousah came onto the dance floor and said Frank wasn't feeling well. Encouraged by the fact that he was going to make the effort I was just waiting for him to feel well. Goes to show, you never know the time or the day.
Albert Macauley
Suzy Mousah
Melvyn Adae
Sabina Quarcoopome
Steve Smalls
Melvyn and Sabina [Susie]
The Buller Brothers
Fonzo, Carlos, and Lanza